WASHINGTON ― Congress was supposed to act by Monday to help undocumented young people who came to the U.S. as children, also known as Dreamers. President Donald Trump and Congress broke that deadline. Some lawmakers insisted that court decisions that allowed some Dreamers to renew their deportation relief meant the deadline no longer mattered.
But many Dreamers could be subject to deportation despite the court rulings.
Some people who applied for renewed protections under the Deferred Action for Childhood Arrivals program are still awaiting approval, which means they could lose their jobs, driver's licenses and deportation relief, even if only temporarily. Many other Dreamers are unaffected by the court rulings because they never held DACA protection in the first place, either because they were too young to apply or failed to do so.
Immigration attorney Jessica Jenkins, who works at the San Jose, California, nonprofit Center for Employment Training, said that her organization works with about two dozen Dreamers whose DACA status is set to expire in the next two months, and only three have heard back about renewal. She has one client whose DACA protection is set to expire on March 9 and is still waiting to be approved for renewal. The Dreamer applied in January, soon after the first of two courts issued injunctions requiring the Trump administration to reopen the program to people who had been previously approved.
It's unknown exactly how many Dreamers are about to lose their protections. When Trump ended DACA in September, he allowed recipients to apply to renew their two-year permits only if they were set to expire on or before March 5. If the courts hadn't intervened, DACA holders were expected to begin losing status at a rate of nearly 1,000 per day beginning March 6, based on when each individual's permit expired.
Now, because of the court orders, all DACA recipients are able to apply for renewal. But the government doesn't prioritize applicants whose DACA protection expires soon or has already lapsed, so they could face long wait times.
Some people have been approved for renewal, but it's likely that many others will temporarily lose their protections and work permits during the approval process, which can take months. Only about a third of Dreamers with DACA status set to expire in March had applied for renewal by the end of January, according to the most recent figures from U.S. Citizenship and Immigration Services. Of all DACA holders with permits set to expire after March 5, only about 14,000 had applied by Jan. 31.
It's possible that many more DACA holders applied for renewal in February and early March. But the rate of people applying in January was concerningly low, said Philip Wolgin, who works on immigration policy at the progressive Center for American Progress research and advocacy organization.
Some of the people with pending renewal applications as of the end of January already lost their protections. Although they may get them back, they're vulnerable in the meantime because the Trump administration has said it will arrest even those not designated as a priority. Immigration and Customs Enforcement detained a Dreamer whose DACA had lapsed in February but then released him after criticism from officials and the public.
"It doesn't matter that you have a pending application in," Wolgin said. "If your DACA has expired, you're not protected from anything. They just can and will go after you."
Most immigration reform advocates rejected the idea of the March 5 deadline, although it was one often cited by Trump and Congress. Some DACA holders who were offered an opportunity to renew under the original phase-out of the program failed to do so and began to lose their protections well before March 5.
By ending DACA, Trump also shut out an estimated 120,000 undocumented young people who came to the U.S. as children and would have aged into the program, which most Dreamers are eligible for only after they turn 15.
"Congress has interpreted it as a deadline, but for us the deadline was Sept. 5," said Kamal Essaheb, policy and advocacy director at National Immigration Law Center. "That's when the program really went away."
Supporters of action to help Dreamers aren't giving up just because Congress didn't meet its own deadline. Hundreds of Dreamers and allies gathered in Washington to mark March 5, including by engaging in civil disobedience that led to arrests. Democratic lawmakers called for action in floor speeches and at a news conference at the Capitol.
"We're pretty much just making as much ruckus as we can so people know this is something that still matters."
White House press secretary Sarah Huckabee Sanders said it was "pathetic" that Congress had done nothing and was "using the courts as an excuse." She accused lawmakers of failing to try to help Dreamers, although the White House rejected multiple bipartisan proposals last month and put forward a plan that didn't pass the Senate.
The failure to move by the "deadline" was painful for DACA recipients. Multiple Dreamers at a rally on the National Mall on Wednesday said they had believed Congress would do something by March 5 but now don't expect it to in the next few months. It's still worth being in Washington to try to draw some attention to the cause, said Kelvin Lopez-Garcia, a 21-year-old college student from Wichita, Kansas, who was able to renew his DACA status to November 2019.
"Right now, we're pretty much just making as much ruckus as we can so people know this is something that still matters," he said.
Before You Go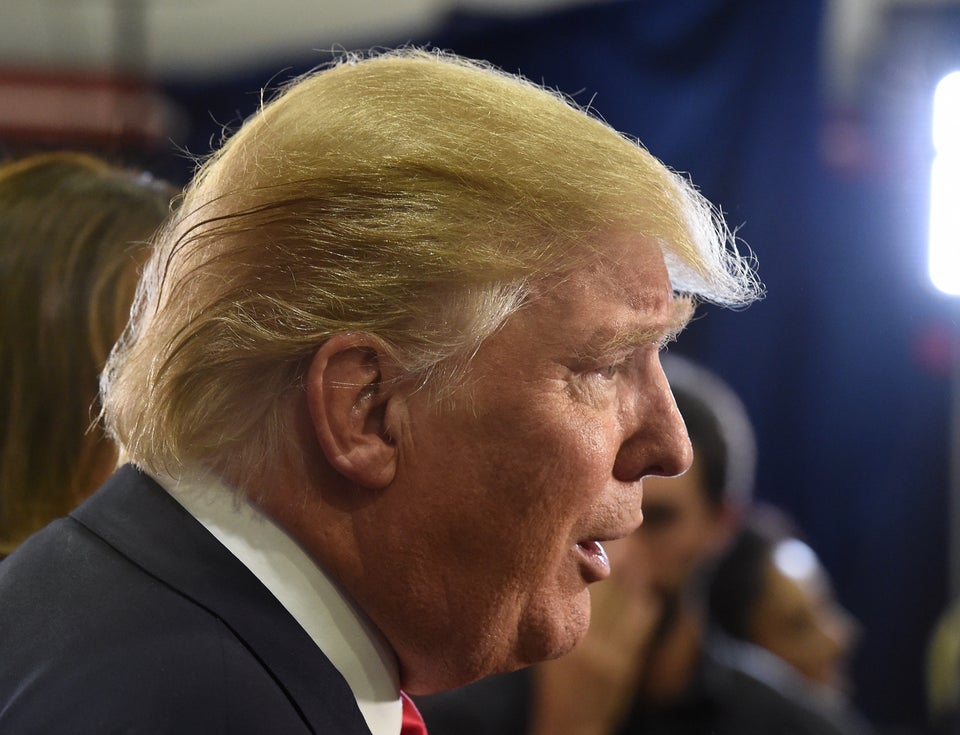 How Donald Trump Talks About Undocumented Immigrants
Popular in the Community