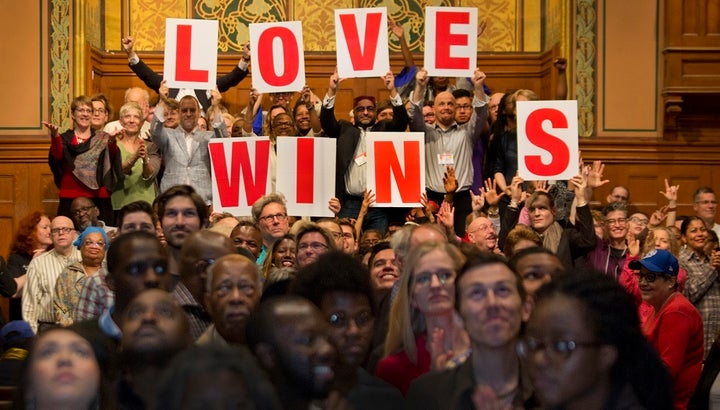 I was just up on a mountaintop in New Mexico for a few days at an event called WIDEN. With five dozen young adults and five elders—my husband and I among them—we listened as Father Richard Rohr helped us imagine what it means to be spiritual activists.
Fr. Rohr taught us when John's gospel says "the Word became flesh" in the first chapter, it meant all flesh. Not just Jesus, but you, me, all the people, the animals, and the planet are all word-made-flesh. St. Francis of Assisi knew this, and so does Fr. Rohr.
I'm down from the mountain, back in Manhattan, watching the news, thinking, "Wow, we are in a state of emergency!!"
As POTUS opens his mouth and spits out venom and hatred disguised as patriotism; as he stands up for statues AND seeks to pull down every just and ethical statute helpful to human kind in the name of politics, I hear word-made-flesh.
I hear the flesh of God's people rising up and speaking out. "O say, can you see," I hear, "we are connected to each other. We will not stand idly by as you take away the dreams of 800,000 young people protected by DACA. We will stand with them and for them. We will call every representative, go to every town hall meeting, and demand that this land of immigrants keep making space for our Latinx brothers and sisters."
The word-made-flesh that is the compassionate heart of Americans is speaking, "O say, can you see? We will fight to take down statues and symbols of white supremacy. We will not honor violence, hatred, cross-burning, and lynching as though we are proud of it; we loath it, and we will take those symbols and any statute that reinforces oppression down."
As Harvey and Irma open their mouths and roar a swath of rain, wind, and destruction on seas and land; as the earth shakes and quakes, cracking open mountains and throwing tsunami tantrums, I think they are word-made-flesh. I hear, "O say, can you see how you have not cared for Mama Earth? How the waters are rising, the icecaps melting, the weather patterns changing? I am trying to get your attention. You must stop using my seas as a toilet; you must stop putting poison in the air; you must stop tearing holes in me, and taking out my goodness."
You and I: We are word-made-flesh. Our hopes and dreams, our prayers and resistance that stand against hatred and stand for revolutionary love—those are God's dreams. We are weeping God's tears. We are speaking God's commandment to love Her with everything we have and our neighbor as ourselves.
If you are in New York City on Saturday, come to a DACA rally to urge POTUS and our national leaders to leave DACA in place, to value the lives of the 800,000 people who are also word-made-flesh. Meet the Middle Church contingent near Columbus Circle at the southwest corner of 58th Street and Eighth Avenue at 1:45p, and march to Trump Tower to remind our nation that these young people are made in the image of God.
If you are in New York on Sunday, come to Middle Church at Second Avenue and 7th Street at 9:30a or 11:45a. Join us to sing and pray and stand in the presence of revolutionary love. As we remember 9/11 and claim the power of human connection, reflect on your own image-of-God-ness and your call to change the world.
Friends, this is an emergency. Mama Earth has been hurt and is showing us her wrath—the result of our ignorance and ignoring her. POTUS is intent on pulling down every just and ethical statute designed to support people on the margins—women, poor people, Black and Brown people, immigrants, and religious minorities. He cares more about statues that human hearts; more about reducing taxes for the wealthy than providing health care for all of us. As for Congress, most Republicans are intent on staying in power and dismantling Obama-era legislation rather than standing up against POTUS and for the people of our nation. Democrats need to become more creative and find ways to collaborate with the other party and govern. Our representatives must all stand up for what is just, what is right, what is fair. They must all ask themselves WWLD—What Would LOVE Do? And then they must do it, with courage and boldness.
This is an emergency. This is a time for a revolution, a love revolution. In cases of emergency, we know how to do this. We rescue each other from rising waters. We pull down moldy plaster and rebuild. We board up windows together, or fly each other out of danger. We open our doors and our hearts. We stand up, we march, we sit in, we die in. We change the law. We change the tide. We make it better. We take care of each other. We have each other's backs.
We know what revolutionary love looks like, and we know how to live it out loud as justice and advocacy. This IS an emergency. In case of emergency: LOVE.
Support HuffPost
The Stakes Have Never Been Higher
Related
Popular in the Community