WASHINGTON ― A 22-year-old "Dreamer" ― a woman covered under a program established by then-President Barack Obama for some young undocumented immigrants ― spent a week locked up and fearing deportation because of a mistake by Immigration and Customs Enforcement officers, the agency confirmed Thursday.
ICE released Riccy Enriquez Perdomo later Thursday evening.
The officers had detained her last week when she went to an immigration office in Louisville, Kentucky, to help someone from her church post bond. She told the officers she was allowed to stay in the U.S. under the Deferred Action for Childhood Arrivals program, but they didn't listen, according to her family members and immigration advocates.
ICE officials said in a statement that officers searched for Enriquez's information in their databases and determined she was not a lawful permanent resident, which they said she initially claimed to be. During that review, they saw she had DACA status that expired in March, the officials said.
"Only after further investigation was it determined that her DACA status had been renewed on Jan. 31, 2017," according to the statement.
Although ICE released Enriquez, she remains under an order of supervision and ICE kept her work permit, driver's license and Social Security card, Lynn Tramonte, deputy director of America's Voice Education Fund, a pro-immigrant group, told HuffPost. ICE did not immediately respond to a request for comment on her documents or whether she still has DACA status.  
DACA recipients ― so-called Dreamers who came to the U.S. as children without authorization ― aren't supposed to be deported under the program Obama set up by executive action in 2012. But immigrant rights advocates say they are seeing an uptick in Dreamer detention under President Donald Trump.
Enriquez's case was particularly unusual because the government was set to deport her even though it hadn't revoked her DACA status, which she received in 2015 and renewed in January, according to her family and lawyers helping with her case.
She wasn't arrested for a crime first, nor had she done anything else to lose her protection under DACA, they said. She was detained anyway ― and it took a week for her to get out, even though her DACA status had not actually expired.
Even as the program remains in effect, however, Trump has pushed for tougher enforcement of immigration laws by ICE officers. And immigrant rights advocates said this is increasingly leading the agents to make their own decisions about whether to respect the protections provided by DACA.
"In Riccy's case we have yet another example of ICE field agents who have been emboldened ... to act in a way that clearly violates the federal government's promise to DACA recipients, and it's simply unacceptable," National Immigration Law Center supervising attorney Josh Stehlik said on a call briefing reporters about the woman's detention.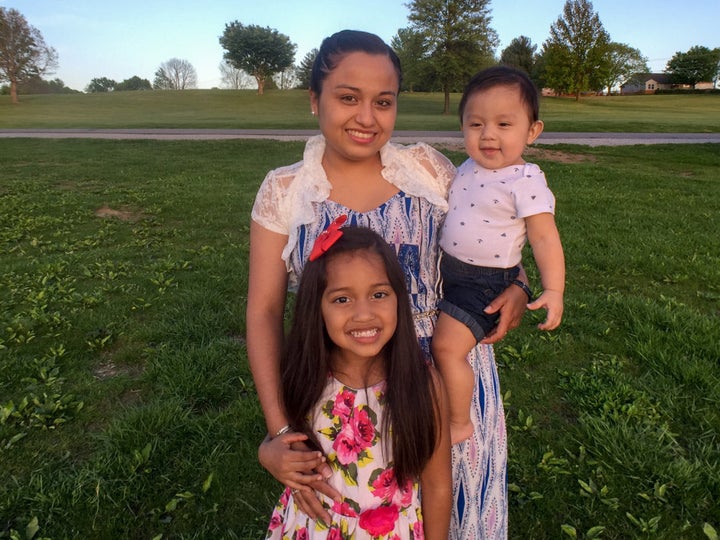 Enriquez came to the U.S. from Honduras without authorization at age 9. Although she had a prior deportation order, she has been approved for DACA twice. (Individuals with removal orders are still eligible for DACA if they meet other requirements.) She is a married mother of two children, a 5-year-old and an 11-month-old, and lives in northern Kentucky in the greater Cincinnati area. 
Enriquez's brother-in-law, Robert Cote, said ICE moved her around to different facilities including one near Chicago ― and kept the family up in the air concerning her whereabouts. He said an ICE officer in Chicago, whose name he did not get, told him that DACA was no longer in effect since Trump became president. 
Cote called it "great news" that Enriquez would not be deported, but he expressed concern about what her case meant for other DACA recipients.
"We still can't miss the point that this is still going on," Cote said on the call with reporters. "It's still happening to people. ... If [agents] are not enforcing the DACA program, this might not end here."
Enriquez's cause received national attention, including from Senate Minority Whip Dick Durbin (D-Ill.), a co-sponsor of legislation to give Dreamers permanent legal status. He said on Wednesday he was disturbed by reports that a DACA recipient had been detained, and that then-Homeland Security Secretary John Kelly, who now serves as White House chief of staff, had previously assured him "that no one with DACA would lose this protection unless they violated the terms of the program."
"I intend to hold him to that commitment," Durbin said in a statement.
Immigrant rights advocates said they want Trump to make clear to ICE agents that DACA remains in place and that a repeat of Enriquez's ordeal shouldn't happen again. 
"This never should have happened in the first place," Tramonte said. "This is supposed to be a policy that's still in place and this administration needs to act like it."
This story was updated to include information about Enriquez's status with ICE and the confiscation of several documents.
BEFORE YOU GO
PHOTO GALLERY
How Donald Trump Talks About Undocumented Immigrants