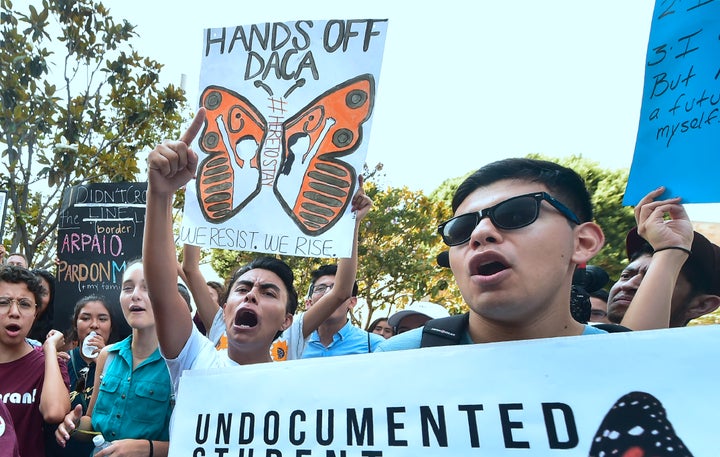 Over the last five years, Dreamers ― immigrants brought to the United States as young children by their parents without documents ― have paid fees, passed background checks and applied for work permits so they could step out of the shadows. They've earned a chance to fulfill their potential, contribute to our economy and enrich our communities.
The dreams of a brighter future that fuel these young people are made possible by the Deferred Action for Childhood Arrivals initiative, or DACA, which began accepting applications five years ago this month. Since then, nearly 800,000 young people nationwide have been granted the peace of mind to grow, work and study without fear.
These young people pursue careers that range from serving our country in the military to joining the ranks of police officers to teaching the next generation of leaders in the classroom. William Medeiros, who was brought to the United States from Brazil when he was six years old, proudly serves in the Army. He's not alone. Harbinger Saini, a native of India who has also lived here since he was six, has been ready to fight for the only country he knows, wherever the U.S. military wants to send him.
Yet, these are uncertain times for Dreamers across the nation. Many hardworking, patriotic people like William and Harbinger dread what could come next. The Trump administration has sent mixed messages about DACA. Some have taken this as a license to disparage Dreamers and scorned other hardworking immigrants who are simply labeled dangerous criminals. As the son of immigrants, I find such fearmongering repulsive. As the father of three daughters, I am heartbroken when I meet young people living in fear that their hopes and dreams will be dashed.
Last month, I led a group of 20 state attorneys general in sending a letter to President Trump urging him to keep DACA in place and defend it against those who are calling for its termination. As the chief law officers of our respective states, we communicated a clear message to the President: DACA is not only an overwhelming success story for DACA grantees, their communities, and our states, but it is also a fully lawful exercise of executive discretion. Presidents of both parties, from Eisenhower and Kennedy to Reagan and Obama, have exercised discretion in their enforcement of immigration laws in a constitutional manner, safeguarding groups of individuals who are not priorities for deportation and thereby reserving enforcement resources for higher priorities.
In the late 1950s, with the advent of the Fidel Castro government, hundreds of thousands of Cubans fled to America. President Dwight Eisenhower, a Republican, and later Presidents John Kennedy and Lyndon Johnson, both Democrats, exercised their power to permit Cubans to stay in the United States, before Congress passed legislation that allowed this group of immigrants to remain here.
In the 1980s, President Ronald Reagan allowed approximately 200,000 Nicaraguans who fled to the United States to stay without a law in place authorizing their presence. Similarly, President George H.W. Bush used his discretion to permit nearly 200,000 Salvadorans to remain in the country after they escaped civil war at home.
Even one of the most conservative, originalist voices on the Supreme Court ― the late Justice Antonin Scalia ― recognized in an opinion he wrote for the court on an immigration case in 1999 that presidents have a long history of "engaging in a regular practice... of exercising [deferred action] for humanitarian reasons or simply for its own convenience."
"Instead of frightening young people, we should help them succeed.""
Congress has re-written immigration laws twice over the last 60 years, but it has not restricted the president's ability to use discretion in enforcement decisions.
Due to either a misunderstanding of our laws and traditions or a cynical decision to overlook them, some want to end the highly successful DACA initiative. They're threatening to sue the Trump administration if the president does not rescind DACA. But their efforts are out of step with the views of most Americans, or even of most of President Trump's supporters. Nearly 8 in 10 voters support allowing Dreamers to remain permanently in the United States, including almost three-quarters of President Trump's voters. At a time when immigration stokes passions on both sides, most agree that young people should be off-limits.
Donald Trump and I don't agree on much. But we can all agree that Dreamers who benefit from the DACA initiative are "incredible kids" and that we should treat them "with heart," as the President has said. Instead of frightening young people, we should help them succeed. After all, our children are this nation's most precious natural resource. Why would we expel budding innovators and entrepreneurs to another country and let them boost that economy instead of our own? Why would we deprive our military of committed servicemembers who would help keep us safe?
Any policy that harms Dreamers harms all of us. It's time for President Trump to follow through on his promise to Dreamers and protect this lawful initiative that's consistent with America's dearest values.
Popular in the Community