WASHINGTON ― At midnight on Thursday, the Trump administration will stop accepting applications from young undocumented immigrants to renew deportation protections and work permits, even though as many as tens of thousands of eligible individuals have not yet submitted their renewal forms.
Thursday was the final day for certain young undocumented immigrants who came to the U.S. as children to apply for a two-year renewal on their Deferred Action for Childhood Arrivals protections after President Donald Trump announced a phase-out of the program. Not all DACA recipients were eligible to renew, but those who were had just one month to send in the forms and come up with the $495 fee.
As of Thursday morning, about 118,000 DACA recipients of an estimated 154,000 eligible for renewal had submitted their applications, according to U.S. Citizenship and Immigration Services. About 60,000 of those applications came in on or after Sept. 5, the day the administration announced it was ending DACA.
The agency is prepared to accept courier deliveries ― but no walk-in submissions ― up until midnight at three locations in the Phoenix, Dallas and Chicago areas, so the number of applications is expected to rise. But the fact that about one quarter of eligible DACA recipients had not yet applied for renewal as of Thursday morning was concerning to both lawmakers and immigration advocates, who said the Oct. 5 deadline was unfair in the first place.
"I just think it's unacceptable," Sen. Kamala Harris (D-Calif.) told HuffPost. "If ultimately they want to end DACA, it is wrong but it is within their rights. But at the very least, have a process that has integrity, which includes giving all of these young people direct notice of what they're doing. They didn't even notify them directly. They notified them through a press conference."
She and Sen. Lindsey Graham (R-S.C.) asked the Trump administration on Wednesday to extend the deadline, noting that many Dreamers live in areas hit hard by recent hurricanes and that the application fee is high for a group of people often paying for school or helping to support their families.
"They have designed this whole system for these kids to fail," Harris said. "And that, on top of everything else they are doing, is wrong."
Rep. Michelle Lujan Grisham (D-N.M.), who chairs the Congressional Hispanic Caucus, said it was "a sad day in America" and called the 30-day renewal period "arbitrary and rushed."
"Now, the President recklessly and dangerously leaves young patriots who have met every requirement to earn DACA status unprotected from deportation," she said in a statement. "Not only is this shameful, but it tears at the moral fiber of who we are as a country."
Citizenship and Immigration Services, which operates the DACA program, has largely rejected the requests to extend the deadline. Eligible DACA recipients in Puerto Rico and the U.S. Virgin Islands will be allowed to renew after the Oct. 5 deadline because of the devastation caused by hurricanes. But this extension involves a relatively small number of people: As of Wednesday, 15 of the 28 eligible DACA recipients in Puerto Rico had not yet applied to renew their protections, along with one of the nine in the U.S. Virgin Islands, according to the immigration agency.
The Trump administration is not offering an extension for DACA recipients in Texas and Florida, which were also hit by major hurricanes. That is because "power was restored rather quickly in [Florida and Texas] and Harvey and Irma didn't affect those states the way Maria (and Irma) affected USVI and Puerto Rico," said Citizenship and Immigration Services spokesman Steve Blando in an email.
As of Wednesday, about 28 percent of eligible DACA recipients in Texas and 35 percent of those in Florida ― more than 4,700 people in the two states combined ― had not submitted renewal applications, according to the agency.
While Citizenship and Immigration Services did not send notices to eligible DACA recipients, Blando said it "carried out an extensive campaign online," including social media posts, press releases and information on its website.
Immigrant advocacy groups worked to get the word out, holding clinics and information sessions to help people apply. They also raised millions to help people pay the fee for their renewal applications, although they couldn't assist everyone. The Mission Asset Fund, a California nonprofit, said it raised $3.8 million and granted financial assistance to 4,958 people around the country. A scholarship fund led by the advocacy group United We Dream gave renewal fees and money for expedited shipping to more than 1,300 DACA recipients. In New York City, the New Economy Project's NYC Dreamer Fund provided renewal fees to 117 DACA recipients living there.
United We Dream advocacy director Greisa Martinez said she thinks advocates in general did a "tremendous job," given that three-quarters of eligible DACA recipients had submitted their applications by Thursday morning. But that doesn't make the deadline less "cruel and inhumane," she said, pointing out that not everyone who was eligible applied and that some young undocumented immigrants were not eligible at all.
"It's awful," Martinez said. "It's just awful."
Before You Go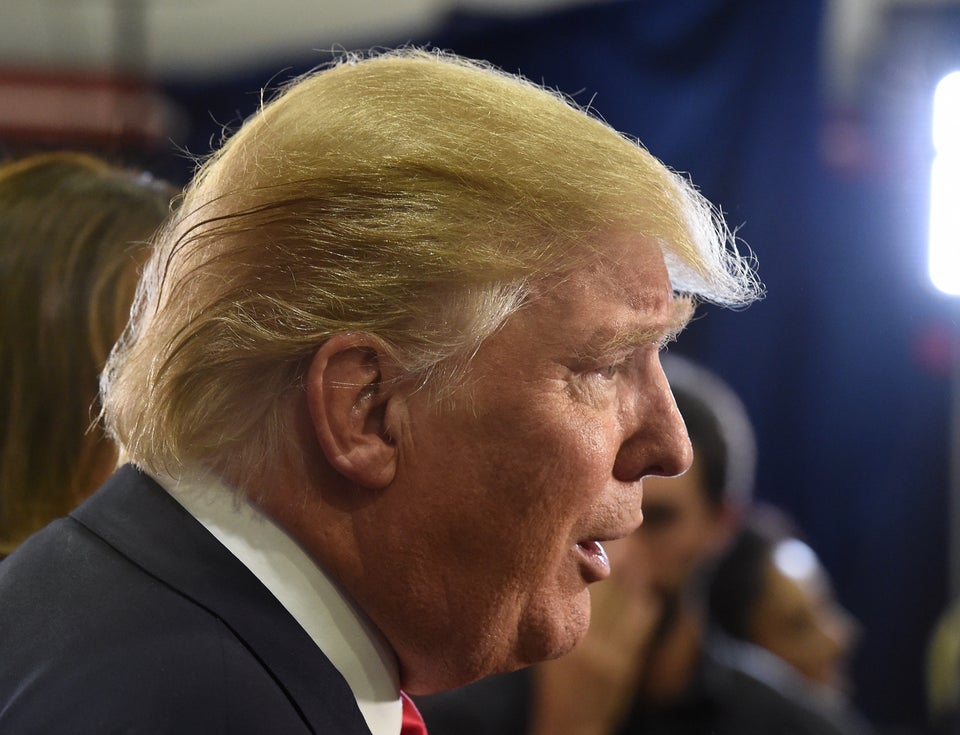 How Donald Trump Talks About Undocumented Immigrants
Popular in the Community