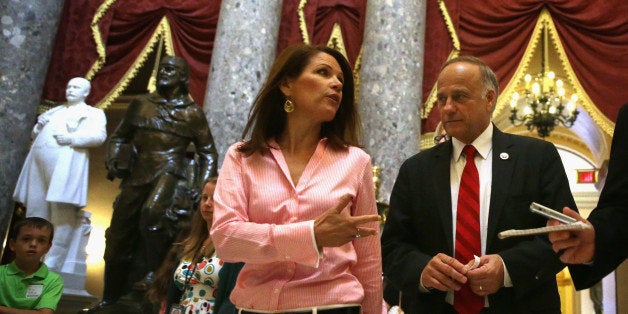 If Republicans want to understand how well their minority outreach efforts are working, they would do well to look over the vote call for Friday's symbolic House vote to end the president's policy of deferring deportation for immigrants brought here illegally as children.
In a vote that highlighted the demographic chasm separating the Republican Party from an increasingly diverse America, virtually all of the 212 House Republicans and four Democrats who voted to kill the Deferred Action for Childhood Arrivals program, or DACA, were white non-Hispanics.
President Barack Obama used his executive authority in June of 2012 to create DACA, which exempts many undocumented immigrants who arrived as children from deportation for a renewable two-year period. Those who benefit from DACA may work legally in the United States.
Only three of the House Republicans who supported the measure were Hispanic: Rep. Raul Labrador (R-Idaho), Rep. Jaime Herrera-Butler (R-Wash.) and Rep. Bill Flores (R-Texas). The party's other three Hispanic U.S. Representatives -- Reps. David Valadao (R-Calif.), Ileana Ros-Lehtinen (R-Fla.) and Mario Diaz Balart (R-Fla.) -- opposed the measure.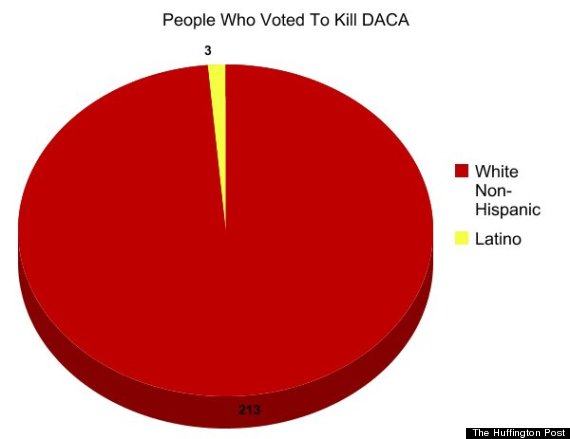 Those opposing DACA were also overwhelmingly male, with the party-line vote again reflecting the GOP's demographic composition. Women casted only 18 of the 216 votes to end the program that provides deportation relief to some 500,000 undocumented immigrants, often called "Dreamers" after the failed legislation that would have provided many of them with a pathway to citizenship.
No House Republicans are black.
But Friday's vote signaled that, at least for now, Republicans aren't interested in toning down the party's hard line on immigration.
Republicans have long criticized DACA, viewing it as an overstepping of executive authority and an affront to their enforcement-first approach to immigration policy. The House voted along similar party lines last year to approve an amendment that would have ended DACA.
This year's unprecedented influx of more than 57,000 unaccompanied minors at the border has prompted Republicans to double down on their opposition to the president's policy of deferring deportation for law-abiding migrants brought here illegally as children.
Calling all HuffPost superfans!
Sign up for membership to become a founding member and help shape HuffPost's next chapter
BEFORE YOU GO
PHOTO GALLERY
Why Latin Americans Really Come To The U.S.