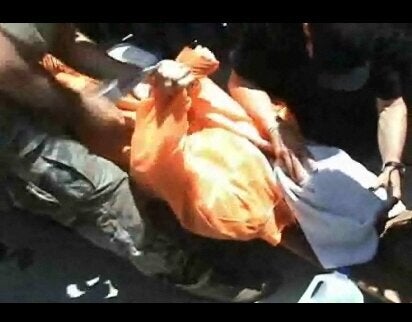 A U.S. soldier is accused of holding his 4-year-old daughter's head upside-down underwater because she would not recite the alphabet, according to court documents.
Joshua Ryan Tabor, 27, was arrested Sunday, January 31, when police in Yelm, Wash. were responding to a domestic disturbance.
According to court documents, Tabor was "irate, intoxicated and walking around the neighborhood with his Kevlar helmet threatening to break windows." Tacoma News Tribune has more on the abuse:
Tabor spoke to a Yelm police officer and said that he and his girlfriend had "held her down on the counter and submerged her head into the water three or four times until the water came around her forehead and jawline." He said that she was face-up when her head was in the water. He added that they gave this punishment for the 4-year-old "refusing to say her letters."

Tabor told police that his daughter is afraid of water "and was squirming around trying to get away from the water. Joshua did not act as though he felt there was anything wrong with this form of punishment."
Police say that the girl's back was covered in severe bruises. Tabor's girlfriend, who allegedly participated in the abuse, also told police that when the girl wet herself, she was sometimes forced to sit in urine-soaked clothes.
Tabor was released on $10,000 bail and restricted to Joint Base Lewis-McChord as a condition of his release. Tabor's daughter was placed in Child Protective Services. Yelm Nisqually News reported that the child's grandparents were coming to pick her up.
Related
Popular in the Community