Eight months earlier, his toddler daughter Magnolia (aka "Maggie") had been diagnosed with a rare neurological disorder called Rett syndrome, and all YouTube ad revenue generated from the video would go toward funding clinical trial research to find a cure.
Now the dad is continuing his fight to find a cure -- for his daughter and the 350,000 other girls and women affected by Rett syndrome. The debilitating disorder almost exclusively affects girls and generally involves slowed development, seizures and a progressive loss of the ability to move, talk and use hands, among other symptoms.
After Mark and Priscilla Zuckerberg announced the Chan Zuckerberg Initiative for "advancing human potential and promoting equality" in December 2015, Tesler decided to reach out to the couple for help.
The dad created an emotional video calling for the funding still needed to develop a cure. Addressed to Zuckerberg and Chan, the video shows Tesler holding cards that explain Maggie's condition and the potential for real breakthroughs in Rett syndrome research.
"My daughter cannot speak. She cannot use her hands. Walking is difficult for her. She spends most of her day hyperventilating," his cards read. "And that is considered mild for Rett syndrome."
"Rett syndrome's cause is known and identifiable to a single gene," he adds. "Symptoms have been proven in the lab to be completely reversible. But as a rare disease, financing and support for research is limited."
"With scientists so very close and the support of CZI, we can eradicate Rett syndrome once and for all," he told The Huffington Post. "Gordon Gray raised 10 million dollars to get his daughter into a clinical trial for gene therapy for Batten's Disease. Using that as the benchmark, with 10 million dollars we can get the gene therapy treatment into clinical trials and hopefully save all these girls with Rett," he added.
Within two days of posting, Tesler's video reached the eyes of Mark Zuckerberg.
"I saw your video! Thanks so much for sharing Magnolia's story. She sounds like a wonderful girl fighting a tough battle, and she's lucky to have a dad like you. We started the Chan Zuckerberg Initiative to help kids like Magnolia grow up healthy and reach their potential -- and one of our goals is to cure, treat or manage all disease by the end of the century. So tell Magnolia we're working on it, and we'll be thinking about her!"
Tesler told HuffPost that he hopes people will continue to respond to and share the video, and that they will press the Chan Zuckerberg Initiative to act. "With the foundation's help, we can cure Rett syndrome within the decade," he said.
The dad also posted Maggie's sweet reaction to Zuckerberg's comment on her video.
Today, Maggie is 5 and a half years old. "She is a fighter in the true spirit of the word," Tesler said. "She struggles with walking now and she is constantly gasping for air now, but she still trucks on. She still smiles and giggles."
The dad added that Maggie's interminable spirit is what keeps their family fighting for her. "She knows what Rett syndrome has taken from her, but she doesn't let it keep her down," he said, adding, "She knows walking is hard and she will probably fall, but she still tries. Walking up and down stairs is frightening, but she forces her body to do it."
Tesler has pledged to be as persistent as his little girl, and he hopes others will understand why.
"Imagine if your daughter had a severely debilitating disease that limited every single aspect of her life," he explained. "Now imagine that the cure was out there and the only thing in your way was funding. I don't have the resources to fix this myself, but I can make my daughter's voice heard and hope that people are compelled to help us cure this."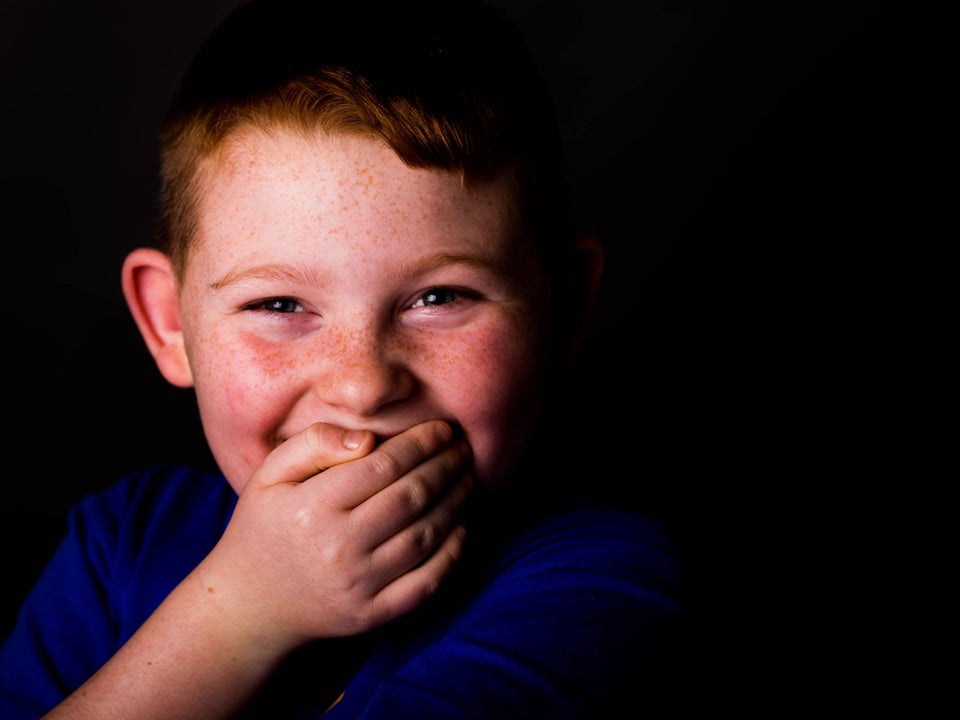 Portraits In Honor Of Rare Disease Day