After 6-year-old Auren repeatedly requested a $20 advance on his allowance, his dad Mike came up with a creative way to respond.
Mike created a hilarious rejection letter from DAD Savings and Loan (tagline: "Because, apparently I look like I'm made of money"). The letter states in part, "After reviewing your account, we have find you have insufficient funds, and a history of not doing your chores."
It then notes, "Furthermore, over $80.00 has been spent on discretionary entertainment expenses since Christmas. This is an unsustainable amount of expenditure, and we cannot further compound the problem by financially assisting with occurring further debt at this point."
Mike told The Huffington Post that Auren had been asking for $20 to buy a new toy all day, despite being told "no" many times. "I was in my office, and he had clearly been bothering Mom, who gave him the idea to 'go ask Dad for a loan on your allowance,'" the dad said, adding, "I knew 'loan' wasn't in his vocabulary up to that point, it was his mom that sent him my way with that idea! So I thought it would be funny to send him back to her with a loan rejection letter in hand. I knew he'd need her to read it to him."
"While I am teaching my kid about managing money through other ways, this one was really meant to make Mom smile," he continued.
After doing a quick Google image search for "dad bank," Mike copied and pasted the funny letterhead into a Word document and wrote "some banking jargon." The whole process took less than five minutes, he said.
His wife found the letter so hilarious she suggested they share it on Facebook and then Reddit after receiving positive reactions from friends. "We figured there might be other parents out there who could relate," Mike said.
The couple was right -- the letter quickly shot up to the front page of Reddit. "If I had known how much it would take off I would have proofread the thing for some very obvious errors, but oh well," the dad added.
As for Auren, he "got the gist" of what the letter meant: no. "It was pretty over his head, but I think he finally picked up on the fact that we weren't going to budge. Unfortunately, the wife was pretty amused at being internet famous for a day, so she caved and bought him the toy last night -- no payback necessary."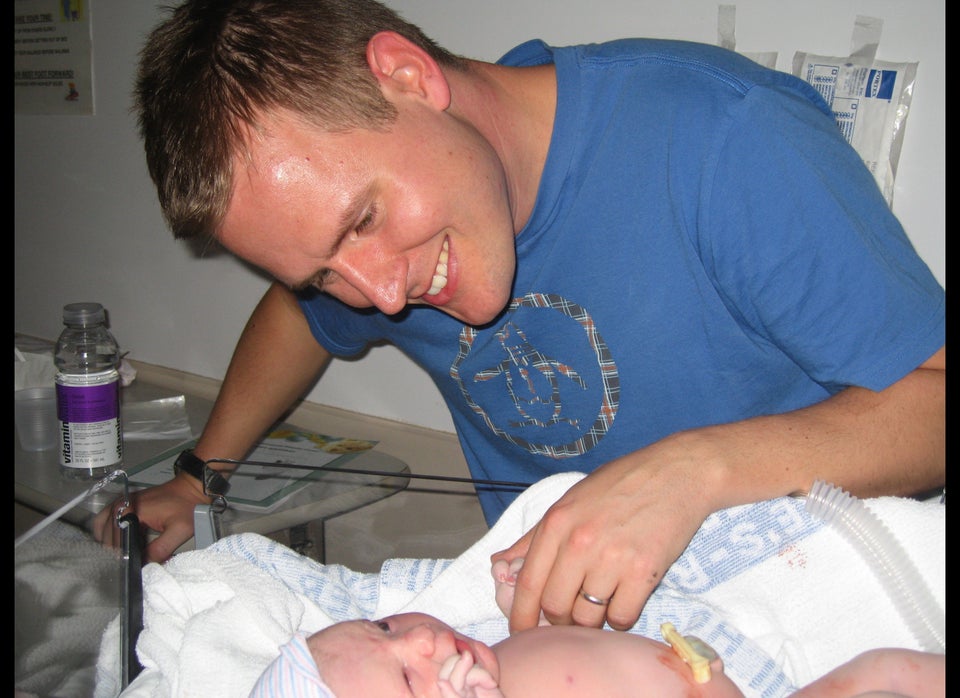 First Photos Of Dads And Babies
Related