A dad on Facebook has shared his story about the day he had "to be the mum," and he didn't spare a single hilarious detail in the process.
On Sunday, Bradley Kearns from New South Wales, Australia, wrote on Facebook about the many adventures, or misadventures rather, he had with his two kids after his wife had to receive treatment for a problem with her liver. The dad wrote that he "had to be the mum" and described the next 16 hours of taking care of his 2-year-old son Knox and 6-week-old son Finn as "a backwards 100mph roller coaster that takes you through waterfalls of vomit, shit and lots of tears."
From making sure the kids were fed to getting them to sleep, Kearns ran into a lot of obstacles.
"As the night rolls on and my patience wears thin, I reduce myself to keeping Knox quiet by allowing him to place stickers on my (very hairy) legs," he wrote. "He was being quiet... 'It's okay, I can shave them off in the morning' was the thought. 'Just don't wake Finn.'"
Kearns later wrote that his mother-in-law arrived the next day to find him "unshaven, hair a mess, wearing the pants and socks from the day before."
"I have not even mastered the ability to keep my own personal hygiene as a mum let alone the ability to keep a house, educate children, prepare meals and even venture outside for activities," he wrote.
His honest Facebook post has clearly resonated with parents and has racked up more than 57,000 reactions as of Tuesday. Kearns told The Huffington Post he wanted to provide readers with a comical peek at the reality of parenting and has started a Facebook page called DaDMuM to share updates after his initial post.
"I just want them to get a laugh and an insight into the challenges I faced being the parent who wasn't home due to work commitments," he said.
Kearns also told HuffPost his wife will have surgery on Wednesday due to her inflamed liver. In an update from Tuesday, he wrote about visiting her in the hospital and realizing how much she does while he's at work.
"Earlier that day when I was talking to Sarah in hospital about the previous night ... she said, 'I want you to write this down so you always remember just how hard it is.'" he wrote. "It is hard, It's really hard."
In another update, Kearns also shared a photo of him and his sons and wrote that she is "one very missed Mummy."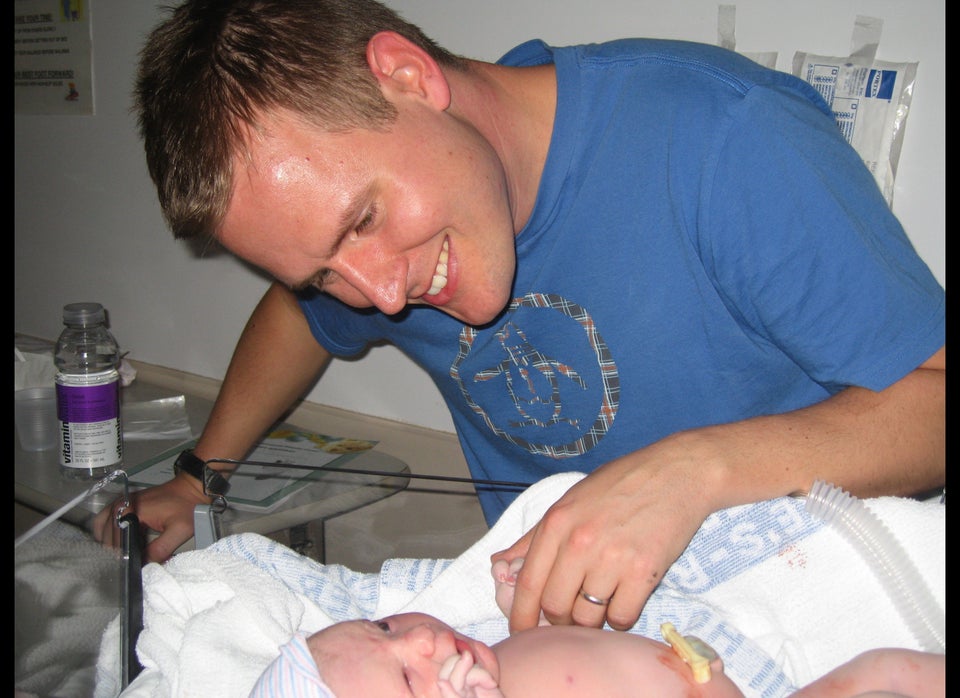 First Photos Of Dads And Babies