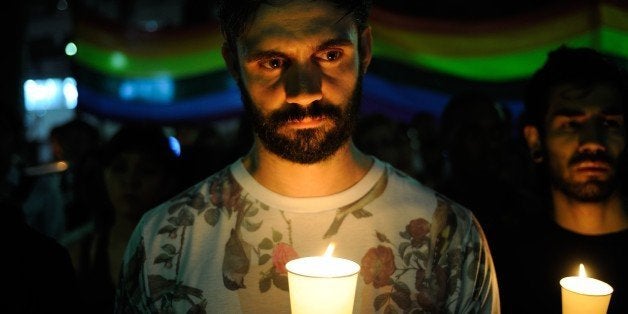 When I heard about the shooting in Orlando I was on a flight from London to Toronto and the wonderful Irish woman next to me wanted to be certain I was okay. Immediately I began watching the news, watching every Canadian outlet report about it, showing their support and caring for our community. I was impressed with the international response, but I, myself, was numb. It didn't affect me. I don't know anyone that was harmed. It was just another mass shooting. However, I did connect that this was an attack on my community, the LGBTQ community. This was an attack on our safe place.
When I had landed at the airport, and had ability to send a text, I texted my dad. I asked if he would be making a statement,
If you are, there a few things to consider. Of course, guns. But mostly, homophobia (imagine that I could have been a victim, purely because I am gay). Secondarily, it's a reminder that gay men are not allowed to donate blood because of a federal regulation...You could have been one of those parents.
It didn't take him long to respond, assuring me that he would be making a statement and noting, "I'm very blessed to not be, but my heart is aching for those that are."

Even at that point, I continued feeling numb, accepting that this was simply more collateral damage in a world that turns a blind eye to hate and discrimination. Logically, I understood the implications of the event. It was a glaring reminder that we have no real control of firearms in this country; but also, it was a blatant realization that hate persists, so purely in this country simply because some love in a way others believe they shouldn't be allowed.
I went on with my life and over the next couple days I scrolled past Facebook post after Facebook post, nearly annoyed that every single person felt the need to weigh in. That is, until I read an article about Jason Benjamin Josaphat, the youngest victim and graduate of one of my high school's rivals. I can't say if it was hitting close to home because he grew up merely miles from me or if it was because he was so young, but I completely broke down. Every emotion that I had subconsciously been damming up until this point broke through at once and I couldn't stop. Through tears, I texted my father again:
I think I was numb before. But reading that I just broke down. Dad, it might be hard to understand, but for a gay person, a gay bar is one of the only places we can feel community. One of the only places we can feel safe. Out in public we can't get near the one we care about without fearing some recourse. Now no one can feel safe in that safe place anymore. It could have been me.
I finally internalized everything others were expressing in their Facebook posts, and what I had expressed to my dad. "It could have been me," and it could have been any number of the family I gained when I came out and accepted who I am. As a youth, I spent my life feeling alone and misunderstood. I didn't feel secure and imagined that if anyone were to discover my secret, I might not be safe. When I finally accepted my sexuality and came out, I found security among the new brothers and sisters I found and in, of all places, gay bars. Even to this day, when I am with a man that I am dating and I want to hold his hand or kiss him, I often refrain; if I decide to give him a peck on the cheek or squeeze his hand I am never without the fear that someone might be disgusted and bring harm to either or both of us. That is, unless I am in a gay establishment. These gay establishments are known regardless of the town. They have subtle ways of informing any patron in need of a safe haven that "you are safe here."
Sunday night, that all changed. Because of hatred, LGBT individuals have lost that safe space. Many don't even have safety in their homes and now can't feel safe in the one space they could before. Because now we know that we could be targeted, not only for who we love, but even for going to the one place that we can truly feel safe, feel whole, feel like we belong. It took everything I had for me to pull myself together and walk into work that morning. I was flooded by the realization that I'm still not safe. These last nine years since coming out were actually a mere game, where I was fooled into a false sense of security.
I know that as time passes, I can probably be lured back into that sense of security. But, I imagine for those at Pulse that night and those who lost loved ones, they might not. I ache for them. I hope for a day when we can truly have a strong sense of security, within or without gay establishments. I hope for a day when we don't take one step forward, but two steps back. And I implore those that can affect that change to do so; not only policymakers, like my father who wants to make change, but society as a whole. We can't forget, even as the news continues to make inferences and catchy headlines, that humans lost their lives on Sunday. Humans.
REAL LIFE. REAL NEWS. REAL VOICES.
Help us tell more of the stories that matter from voices that too often remain unheard.