Marty Pants has been a professional balloon artist for 15 years. This month, he used his talent to help his daughter become Wonder Woman for a day.
Pants, also known as "Smarty Pants" for his balloon business, is a stage entertainer in Chicago. His daughter, 5-year-old Penny, has recently grown to love the franchise "DC Super Hero Girls." She especially loves the character Wonder Woman because "she's super strong, super fast and super smart" and has an awesome jet.
Because of her affinity for the characters, Pants wanted to take Penny to a comic con event in Milwaukee. He mentioned making an invisible jet out of balloons for Penny to wear with her Wonder Woman costume, and of course, he had to deliver.
"I should know by now that I shouldn't promise a 5-year-old anything I'm not willing to actually do!" he told The Huffington Post.
Pants said that the project was "a labor of love." His daughter is both his "biggest fan and toughest critic," which motivated him to get the jet just right. Penny helped by inflating the balloons with an electric inflator, while her dad tied them. The jet required about 275 balloons.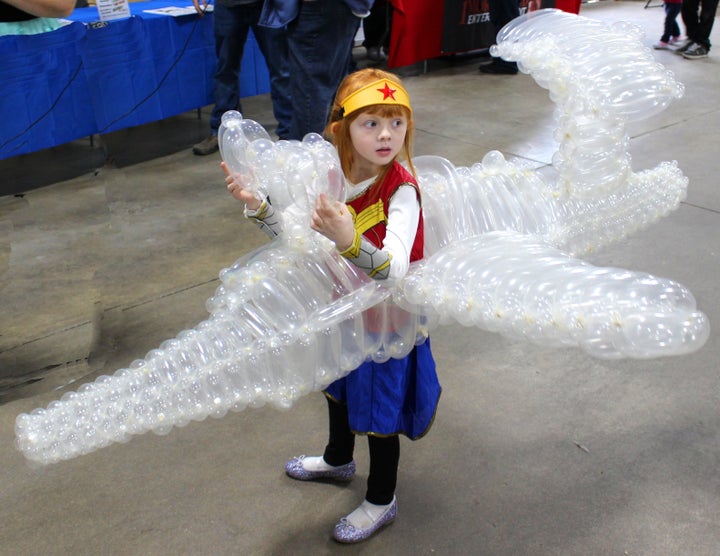 On Feb. 11, Penny wore her Wonder Woman costume and jet to the convention and was more than happy to take photos with other kids. Pants loved watching his daughter show off what they had created together.
"As a professional stage entertainer, I'm used to being 'front and center' on stage in the spotlight as my job," he told HuffPost. "For that day, it was nice for me to just be Penny's dad, step back and let her enjoy being the center of attention with all the 'fame and glory' of the day's festivities."
Before you ask, yes, some of the balloons on the jet popped, but Pants came to the convention ready to tackle any obstacles, as any balloon artist would.
"The first thing you learn in this business is that some balloons will always pop," he said. "I always carry spare uninflated balloons to repair anything needed on-site, if necessary. When dealing with balloons, always be prepared!"
Wonder Woman's invisible jet wasn't the first balloon project Pants has taken on for his daughter. Every year, he builds a balloon tower for her birthday, and last year, he created a green dress that he said was "a big hit."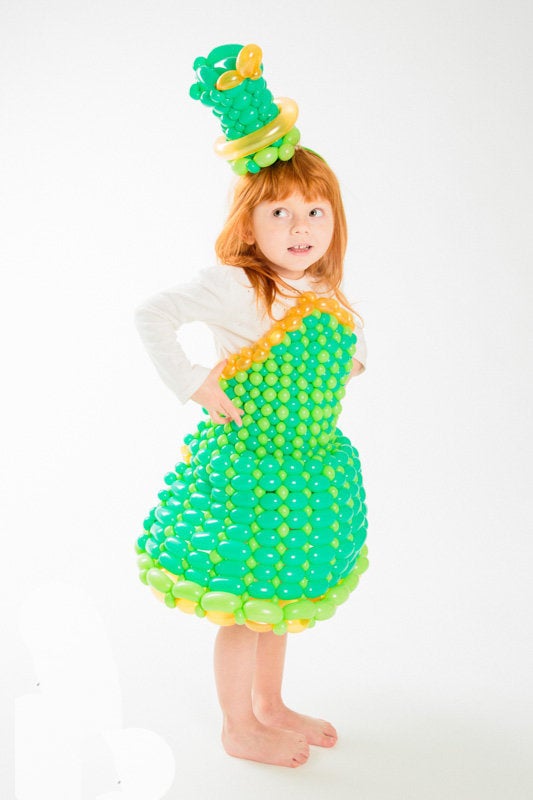 Pants told HuffPost he's more than happy to do these projects for his daughter because she brings him more joy than he "ever could have imagined."
"I was a kids' entertainer for some years before she was born, but she has made me a much better balloon artist, balloon entertainer and all-around person," he said. "People say often that she's lucky to have such a fun dad, but honestly I'm the lucky one."
The HuffPost Parents newsletter offers a daily dose of personal stories, helpful advice and comedic takes on what it's like to raise kids today. Sign up here.
Related