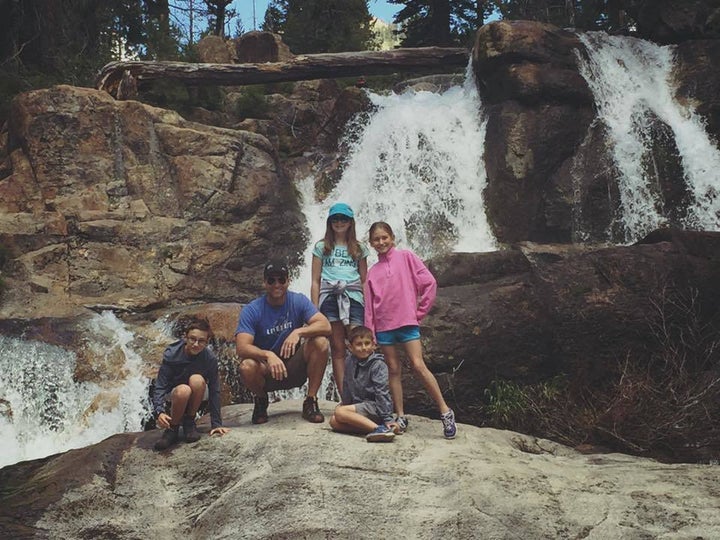 My children have had two amazing fathers in their little lives. The man who gave them life and loved them deeply. The man who couldn't wait for them to be born and cried tears of joy when they took their first breath. This same father was deeply saddened to leave for a few weeks shortly after his son's birth and the dad who adored his daughter and loved to carry her in his big strong arms. My children call this man, "Daddy in Heaven" because he died before his oldest daughter turned three and just after his son's first birthday. This man will always be their father, and as their mother, I will make sure that our kids understand his eternal love for them. Kids shouldn't be asked to forget their parent after they are gone.
My kids have another incredible father. This man has picked them up when they have fallen, taught them to ride a bike, has attended father daughter dances and thrown many footballs. He has cleaned up bloody knees and cheeks, held their hands up mountains, and given tough love on the days when parenting duties call. This dad has no blood relation to my children, but he holds their hand and tells them he loves them daily. This father asked for the job, even though he wasn't required to do so and he stays when it's hard, and he loves each one of his four children as his own. My kids call this man, "Daddy on Earth" and just because he didn't help make them, it doesn't take away from the incredible father he is and the heart and soul he brings to each moment of our daily lives.
We place our value on the labels we carry and the social norms taught to us from a very young age. Mom and Dad are blood family, but sometimes blood walks away or becomes emotionally unavailable or, in our case, blood dies far too young. When Keith married me, he respectfully asked to be the father of my children and take on the difficult job of helping to raise someone else's babies as his own. That's not a decision made lightly by a man or a woman. That's a choice that holds tremendous responsibility and takes a rare human being to fulfill. Marrying a widow means he is marrying her children too. There is no split custody, no weeks off every month, no "other" parent to help in the duties. There is just parenting, figuring out a new family dynamics, helping kids grieve but also allowing them to thrive.
My son, who could hardly walk when his father passed was the first to call Keith Dad. It happened seamlessly and with little effort. It's both amazing and heartbreaking to watch him ask (as if it's just a routine question) if someone is referring to his Dad on earth or his Dad in Heaven. It's just his norm, and it doesn't phase him to know he has two. My daughter, who was slightly older when her father died, took a little longer to call Keith Dad but with no pressure from us, and no timeline defined, she now does it effortlessly and beautifully.
Our family doesn't fit into a mold that can be defined by labels and biology. It turns out many parents don't conform to traditional rules. The men who play the role of dad come in all shapes, sizes, and configurations. Fathers are the people who develop, guide, listen and choose to parent, on the good days and the bad and create the emotional bond a child will carry for life.
When my kids lost their father so young, I assumed my dream of a happy family died with him. I mourned the death of not only his life but also the life we had created and the dreams we had for the future. When Keith stepped into my world, he didn't fill the role of my late husband, Mitch, nor did he fix my broken dream. Instead, we created a new and different path forward together, and while that path isn't what we planned, it is beautiful and amazing all on its own.
Life doesn't often turn out as we hoped and so often we miss the opportunities the future holds because our expectations and pain from the past keep us from moving forward. We tell ourselves it's unfair (and it is) and we tell ourselves we can't possibly be happy again (untrue). Life won't ever be the same, but it can indeed be wonderful if you are open to new possibilities and a different path forward.
So today, I'd like to wish all the men who stand up and stay a happy Father's Day. The grandfathers, uncles, family friends, and especially the dads on earth. It's not an easy job, but you do it beautifully. This day is for you because you encompass fatherhood in every sense of the word.