Ohio photographer Aaron Sheldon has always enjoyed documenting everyday life with his 4-year-old son Harrison. For his latest father-son project, Sheldon added a fun fantasy element.
"Small Steps Are Giant Leaps" is a series of photos of Harrison dressed as an astronaut in ordinary situations in order to illustrate the sense of wonder kids feel as real life explorers discovering everyday adventures.
Sheldon told The Huffington Post he first got the idea for the project while riding the bus with Harrison through downtown Columbus.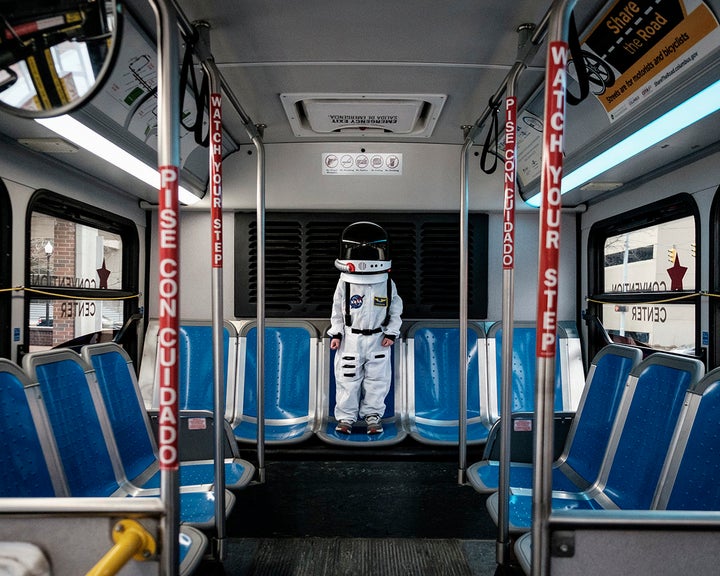 "What was a normal, everyday event to me had him completely transfixed," he said. "Seeing that look of amazement on his face at something so commonplace really struck me. I realized that my son is an explorer, and the world I take for granted, to him, is an amazing place filled with new sights and experiences."
Sheldon wanted to figure out a way to document his son's exploration of the world. He later that same week when Harrison went to the doctor's office with an ear infection.
"Unlike most 3-year-olds, my son loves the doctor's office ― every part that is, except for the exam table," the dad explained. "My son had two fears: hand dryers and exam tables, and I was continually trying to find ways to help him face and overcome those two fears."
As they waited for the doctor, Sheldon asked Harrison to sit on the exam table, and the little boy unsurprisingly said no. The dad then asked his son what sorts of people he thought were brave enough to sit on an exam table. After listing the usual cast of characters traditionally associated with bravery, like firefighters, Harrison had another idea.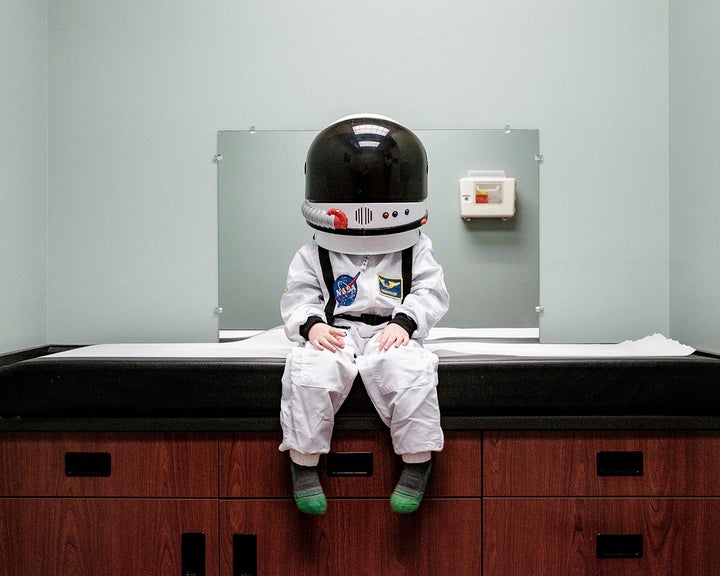 "He said 'What about astronauts, Dad. Are they brave enough?'" Sheldon recalled. "I said 'Sure they are. After all, they sit on top of rockets and get blasted into space and, before they do that, they have to go to the doctor's office A LOT!'"
Together, they pretended that Harrison was an astronaut, which helped him face his fears that day. When the exam was over, Sheldon told his son that he was proud of him for being so brave. "He then said to me 'Next time I get sick, I can wear my astronaut helmet here and you can take a picture of me, right dad?'" the photographer recalled.
That's when Sheldon's vision for "Small Steps Are Giant Leaps" fully formed.
Initially the project consisted of the photographer and his son going to local stores, restaurants, libraries and other similar locations. Sheldon would snap a couple of photos of Harrison wearing an astronaut suit, and they'd carry on with their days. As the project progressed, they did some slightly longer photo shoots at exciting locations like the Capitol Building, NASA's Goddard Space Flight Center and Kennedy Space Center.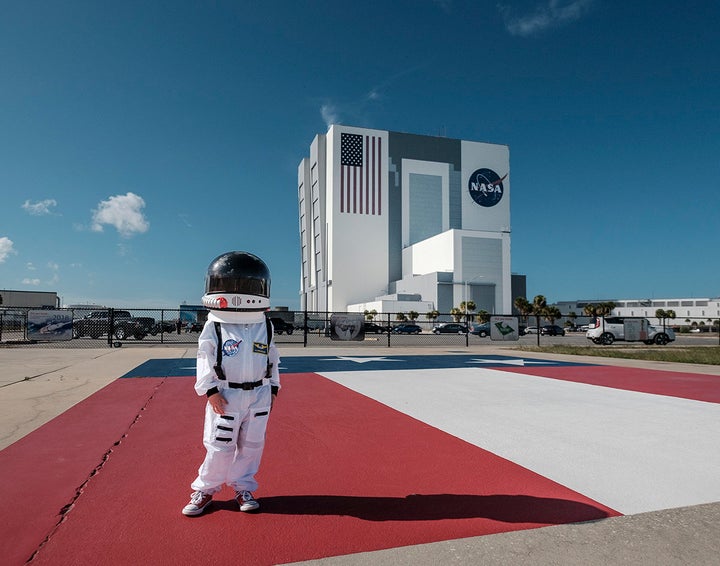 When Harrison's mom isn't working, she likes to join the duo and help her son get suited up, adjust his helmet and provide Pez candy as fuel in between shots.
For Sheldon, the message behind the project is simple. "'Small Steps Are Giant Leaps' is about reminding parents that everywhere you go, there is a new and exciting world just waiting to be explored," he told HuffPost. "Our job as parents is to help our children as they explore and make discoveries."
"I hope that our project will help be a reminder to busy parents to take a moment and help their little explorer make a new discovery or explore a little bit more of their world every single day," he added.
The dad hopes to turn "Small Steps Are Giant Leaps" into a children's book. He is currently seeking out publishers and also launched a Kickstarter campaign to help raise funds. Sheldon hopes to parlay the project into an opportunity to promote science education in central Ohio as well.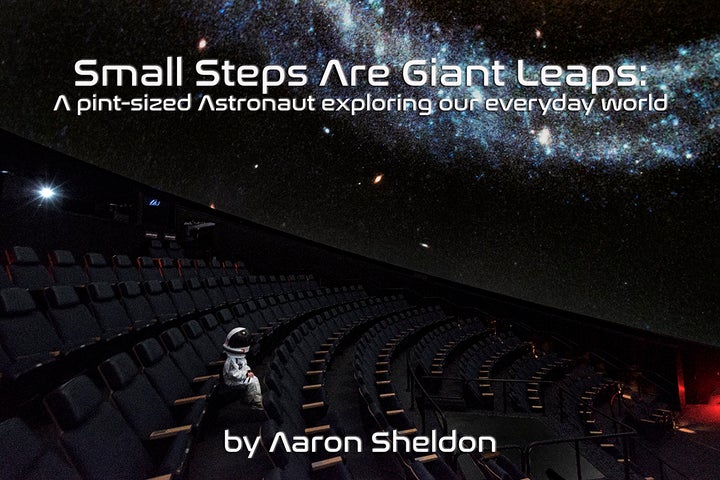 As for Harrison the little astronaut, Sheldon said he loves the photos.
"Anytime I'm sitting at my laptop he'll climb onto my lap and ask to look at our astronaut pictures," he said. "When we started getting feedback from other parents after we launched our Kickstarter, I shared that with him too so that he knew the impact that he and I were having on other people."
"Right now he is very excited without we are putting the book together, and he is helping me select which of the images will be going into it," he added.
Keep scrolling to see Sheldon's amazing photos of Harrison, the adventurous astronaut.
Before You Go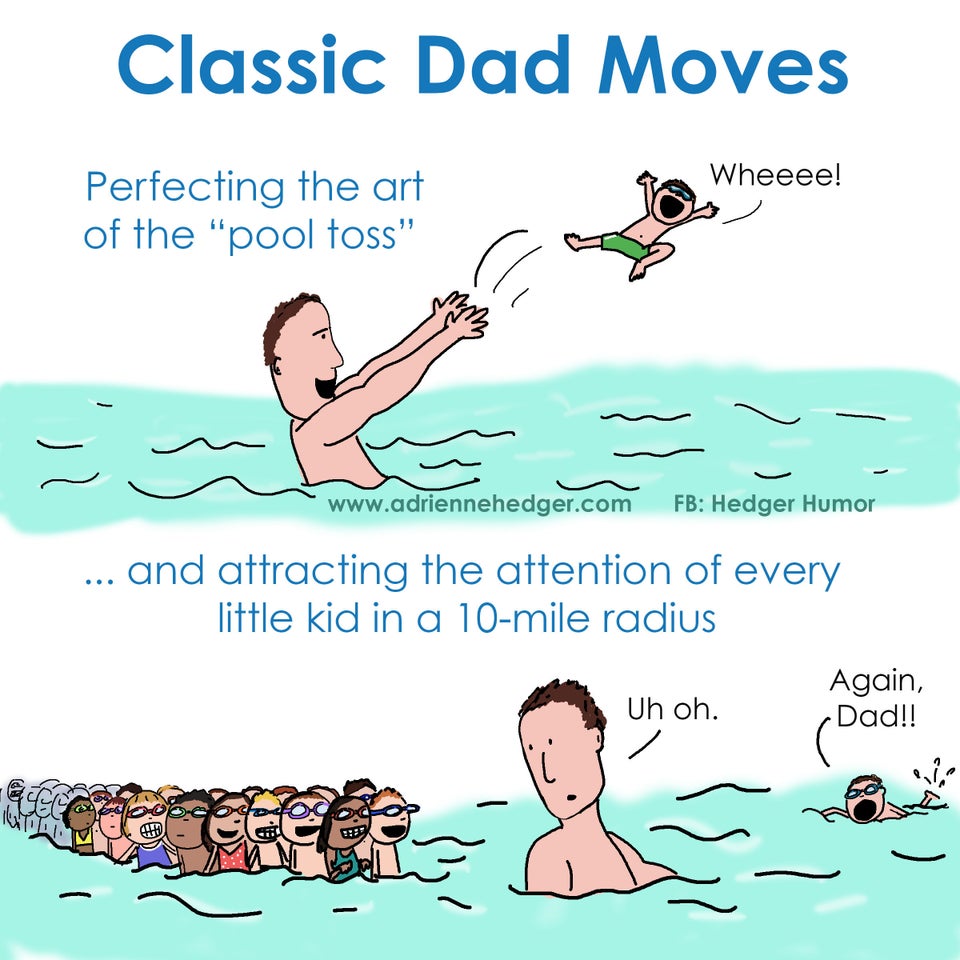 Comics That Sum Up Being A Dad
Popular in the Community