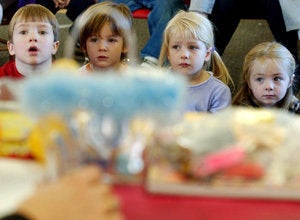 Aside from the fact that my wife was robbed, our son's birthday party was perfect.
She's fine, thanks, just a little disillusioned. It happened at a popular Upper West Side establishment that caters to children. I won't name names because the staff there is wonderful and it's not their fault. Rather, it appears to be the work of someone who specifically targeted the chaos created by dozens of children.
Just in case you've never experienced a kid's party in NYC, let me explain a few things. First, most parents choose to host them somewhere other than their own apartment because (a) they haven't got the space or (b) they don't want to subject the little space they do have to little maniacs hopped up on birthday cake and ice cream. There are plenty of these types of places from which to choose and if you raise your kids here I guarantee you'll visit them all. For a substantial fee, (not the larceny I'm speaking about however) a place like this will take care of everything from invitations to party favors.
Second, as you can imagine, these places are always packed, usually handling more than one birthday party per day. There's always a brief and awkward transition period when the crowd exiting from the early party mixes in the common area with the crowd arriving for the later party. It can be disconcerting for the parents of the birthday boy or girl as they realize their precious little offspring isn't the only one worthy of being feted that day.
Oh, and if there's a gym involved, you'll probably be asked to remove your shoes and leave them and other belongings in the aforementioned common area (also known as "the crime scene" for the purposes of this story.)
My wife remembers leaving her bag open when she reached in and took out the video camera. The reason she remembers is because she excused herself as she reached across a woman who had conveniently taken a seat next to it in the crowded common area. "No problem," the woman (who my wife assumed was a mom or a nanny) replied in a friendly way. Who could have known she was about to reach into the bag and steal a credit card as soon as my wife turned away? But she was...and she did. According to the rogue charges, she then proceeded to go on a binge of fast food and booze. Talk about a party!
We became aware of the theft the next day when the credit card company notified us of the "suspicious activity." I'm happy to know they don't associate me with cheap wine and Big Macs. Too bad the party spot doesn't have security cameras because my wife swears she could identify the woman. I'll definitely be asking about security measures before I book another event. Lesson learned.
In the end the whole episode has made me long for the good ol' suburbs where I grew up. My birthday parties were legendary, complete with great food, fun games and lots of kids, and we never left my backyard. My parents never got charged for exceeding a silly "head count" and very rarely did anyone have to file a police report afterward.