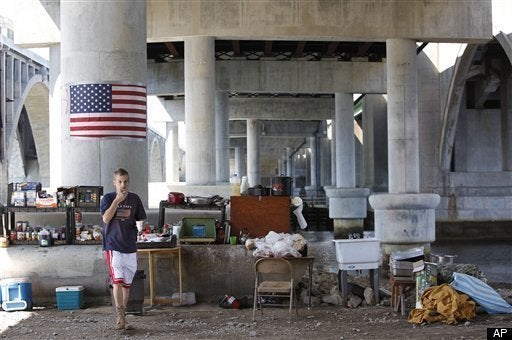 "Daddy's getting a job?!?!"
My little boy was uneasy as my wife explained to him I was going back to work. He was still two years old when I left my last gig 16 months ago. Therefore, he'd never known me to be anything other than the guy who picked him up from preschool ... took him to the playground ... fixed him dinner and tucked him in. He cried as he watched me put on an unfamiliar suit and asked innocently, "are you ever coming home?"
Oh, I'll admit there were times over the past year and a half that I cursed my stay-at-home status. I resented the way it was thrust upon me and sometimes, privately, I worried if I'd ever have the chance to resume my career. However, I never lost sight of the fact that I'd been given a rare opportunity. I had the best seat in the house to witness my son grow from toddler to little boy.
I started this blog because I recognized that millions of men faced similar circumstances as me. This recession has hit men disproportionately harder than women. Traditional family roles have been turned upside down. The cover story of today's USA Today underscores how difficult it can be to be out of work for an extended period of time.
I approach my return to the workforce with a newfound gratitude both for the time off and for the opportunity to go back. For the millions of still unemployed men out there, I hope that their hardships are also tempered with countless blessings.
To quote Jerry Garcia, as I often do, "Once in a while you can get shown the light in the strangest of places if you look at it right."

Calling all HuffPost superfans!
Sign up for membership to become a founding member and help shape HuffPost's next chapter