For many brides, showing their love for their fathers is an important -- and super emotional -- part of their wedding day. So why not make it even more special than tradition dictates? Sure your dad can walk you down the aisle, but there are plenty of other ways to include your pops in your wedding.
1. Invite him to do a reading or a blessing. This is a simple way to include your dad, but you can make it more personal by choosing a reading that has meaning to the two of you. Maybe it's a passage from a book he used to read to you as a child (we love the popular wedding reading from The Velveteen Rabbit), or a prayer or poem that is traditionally associated with a father's love. Even the time you spend together looking for the perfect passage for him to read can be a great bonding experience.
2. Make your "something old" a tribute to him. A lot of brides wear jewelry that has been passed down to them from women in their family, or feature a bit of lace from their mother's or grandmother's wedding dress in their bouquet. But you could honor your dad by wearing his watch, fastening his favorite tie pin to your bouquet, or having a pair of his cuff links turned into earrings.
3. Get down the aisle in style. You don't have to walk down the aisle. You can roll up in a tractor, like the bride above, or find another creative way to get down the aisle together in a way that represents your relationship.
4. Ask him to officiate. While he may prefer to be a spectator, your dad would likely be honored if you asked him to lead the ceremony. He can get ordained online and work with you and your new partner to write a meaningful, personal ceremony. We once saw a wedding where the bride's and groom's fathers officiated together, and it was incredibly touching.
5. Tap into his talents. If your dad is musically inclined, ask him to be the accompanist to your wedding singer or sing a short song at your ceremony. If he's a skilled builder, ask him if he'd be willing to construct your wedding backdrop. These kinds of personal contributions are so special and the kind of thing you'll always remember.
6. Plan a special first dance with him. While a father-daughter dance is often a given, you can make it more special by taking dance lessons together in the months before the wedding, or choreographing a special dance that you'll bust into after a minute of slow dancing. Or just choose a first dance song that has meaning for the two of you (hint: if it's not a slow song, search the web for an acoustic or ballad version to use).
And don't forget, you can always ask him for input! Since the role for dads in weddings has traditionally been to just cut a check for everything and get you down the aisle, he might not know you'd like to have him get more involved. Reaching out and asking him how he would like to be involved could be the perfect way to find a meaningful way to include him.
Related
Before You Go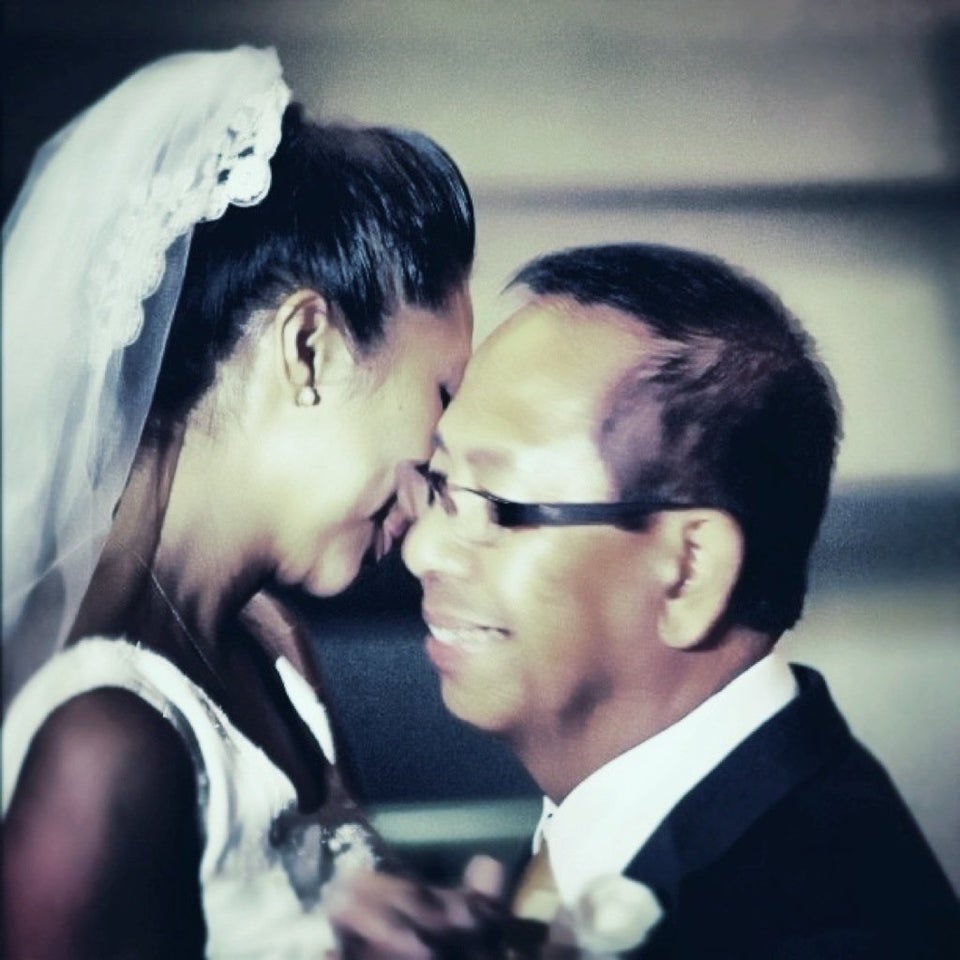 Father-Daughter Wedding Photos