After being called his wife's third kid, one dad is calling out harmful stereotypes about fathers.
Charlie Capen of How To Be a Dad wrote an open letter on Facebook on Aug. 15 to a woman he encountered at the grocery store. Capen told The Huffington Post that during a visit to the store with his kids, he jokingly slipped some ice down his older son's back after they had talked about the hot weather. After the incident, a woman asked Capen's wife, "Did you know you have three kids?"
In response, Capen wanted to offer the woman a not-so-typical apology:
I'm sorry I didn't tell you that I love my kids but don't consider myself one. I'm sorry you can't tell the difference between having a good time with your kids and being immature. I'm sorry if you think men are irresponsible or babysitters but that's an outdated way of thinking. More than anything, I'm sorry for the men in your life who've convinced you of this idea.
Capen wrote that he's written about fatherhood and the stereotypes that come with being a dad for more than five years and explained to HuffPost how harmful this limited thinking can be.
"When men are considered babysitters or children instead of parents, it simultaneously disinvites us from the parenting conversation and keeps sexist views in place about their female partners," he said. "It narrows our place and our contribution."
In a follow-up Facebook post, Capen wrote that he has been called "whiney" and a "coward" for writing about his feelings during his grocery store encounter and emphasized how the feedback contributes to more stereotypes about men.
"I've been on the internet long enough to brush this stuff off, but I wonder about the thousands of men who have inner dialogues and shut themselves down to keep the status quo," he wrote.
Despite the negativity, Capen stands by his request to stop calling dads "babysitters" and offered an important reminder that dads are parents, too.
"Most of us want to jump in. We like adventures and will treat our lives with kids as such," he told HuffPost. "We aren't afraid to get dirty, to console, to play the fool, to dance, to caretake ― the more we invest, the more emotional dividends parenting pays out later."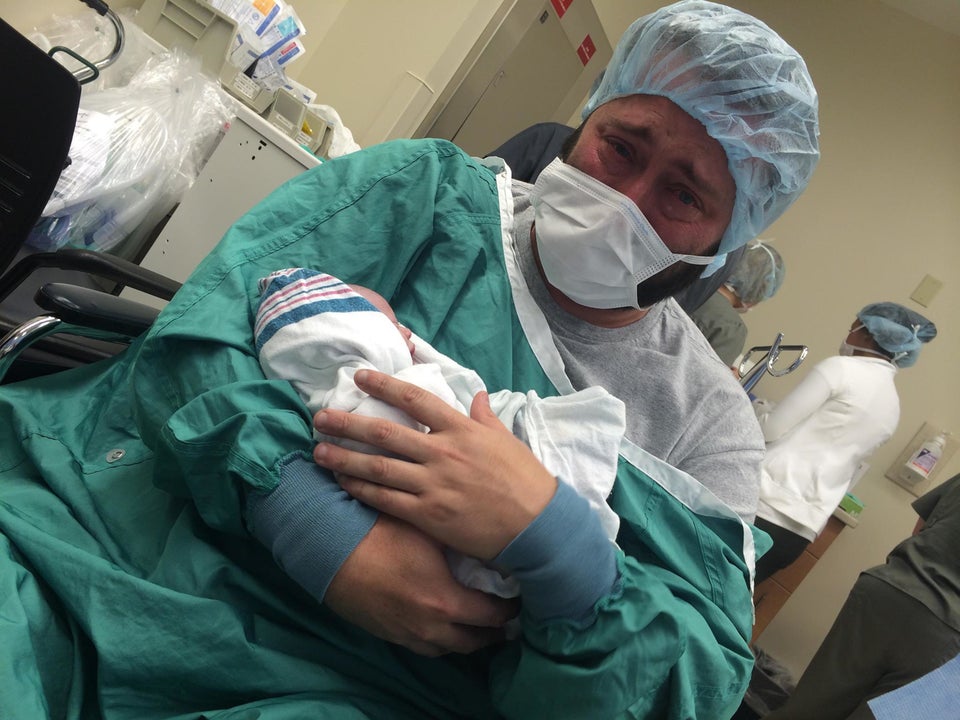 First Photos Of Dads With Their Babies