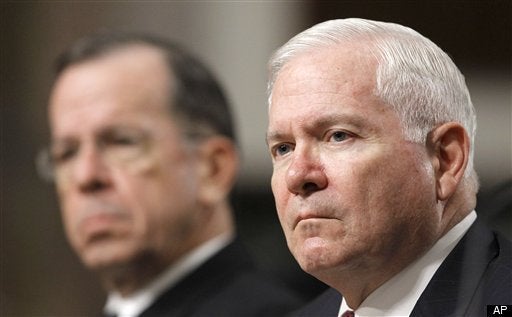 The Senate held hearings this morning on the Pentagon's recently released report about the effects of repealing the military's 'Don't Ask, Don't Tell' policy. The report fully endorsed repealing DADT, noting that "70 percent of servicemembers believe the change in policy would have a positive, mixed or no effect."
Secretary of Defense Robert Gates, along with military leaders, testified in front of the Armed Services committee and rebutted the many attacks on the study from Republican senators. (Read HuffPost's liveblog of the hearings HERE.)
Much of the GOP senators' criticism focused on there not being universal support among service members for the repeal of DADT (Marines are the branch most opposed). Senator Chambliss (R-Ga.) offered the dubious speculation that hundreds of thousands of soldiers might simply leave their posts if the policy is repealed, an outcome that Gates dismissed as unfounded.
Perhaps Gates' most important point was his warning to the senators that polling troops on policy decisions is a dangerous affront to our nation's unbroken history of civilian control over the military:
GATES: I can't think of a single precedent in America history of doing a referendum of the American Armed Forces on a policy issue. Are you going to ask them if they want 15-month tours? Are you going to ask them if they want to be part of the surge in Iraq? That's not the way our civilian-led military has ever worked in our entire history . . . I think in effect doing a referendum of the members of the Armed Forces on a policy matter is a very dangerous path.
ThinkProgress has put together a highlight reel of Gates and Admiral Mullen testimony. Watch it below.
Popular in the Community