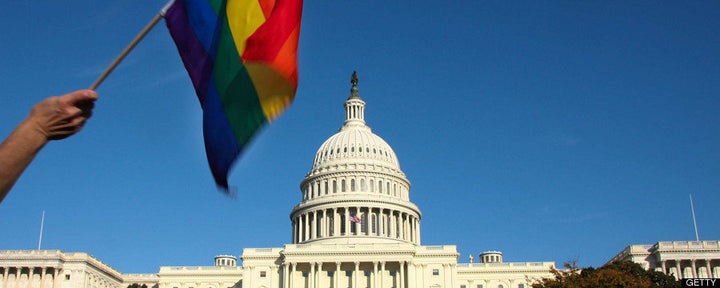 WASHINGTON -- The Pentagon released its much-anticipated study on repealing Don't Ask, Don't Tell (DADT) on Tuesday, finding that 70 percent of servicemembers believe the change in policy would have a positive, mixed or no effect. The announcement was accompanied by a full-throated endorsement of allowing gays and lesbians to serve openly by the study's co-authors, who concluded that there is little risk of disruption to the military if implementation is properly carried out.
Co-authors Defense Department General Counsel Jeh Johnson and Army Gen. Carter Ham told reporters in a press briefing on Tuesday that the study found strong support for implementing repeal, and activists are hoping that lawmakers who were waiting to see the findings will now come out in support of allowing gays and lesbians to serve openly. Furthermore, they made clear that much of the opposition to repeal springs from misinformation.
"The reality is that there are gay men and lesbians already serving in today's U.S. military, and most Service members recognize this," said Johnson in his prepared remarks to reporters. "Further, in the course of our assessment, it became apparent to us that, aside from the moral and religious objections to homosexuality, much of the concern about 'openly' gay Service members is driven by misperceptions and stereotypes."
"We conclude that, while a repeal of Don't Ask, Don't Tell will likely, in the short term, bring about some limited and isolated disruption to unit cohesion and retention, we do not believe this disruption will be widespread or long-lasting, and can be adequately addressed by the recommendations we offer," added Ham. "Longer term, with a continued and sustained commitment to core values of leadership, professionalism, and respect for all, we are convinced that the U.S. military can adjust and accommodate this change, just as it has others in history."
Johnson also addressed concerns about what having servicemembers "out" would entail, noting that workplaces do not require people to keep sexual orientation secret yet nevertheless, "most gay men and lesbians still tend to be discreet about their personal lives, and guarded about the people with whom they share information about their sexual orientation. We believe that, in the military environment, this would be true even more so."
Some of the recommendations for repeal:
-- Repeal needs to have "strong leadership, a clear message, and proactive education." Commanders in the field need to be equipped with the proper education and training tools to educate the force on the changes.

-- Military does not need to establish an extensive set of new standards of conduct for repeal, but does need to issue guidance making clear that all standards of conduct apply uniformly, without regard to sexual orientation.

-- A large number of servicemembers expressed religious and moral objections to homosexuality. While the report's co-authors noted that these concerns should not be dismissed, members of the U.S. military already serve alongside people of different faiths and values. An important message of repeal needs to be servicemembers "will not be required to change their personal views and religious beliefs; they must, however, continue to respect and serve with others who hold different views and beliefs."

-- Certain benefits should be accorded to same-sex partners and families of gay servicemembers, although full benefits cannot be legally extended because of the Defense of Marriage Act. For ones that are not barred by this law, the report's co-authors recommend "the benefit be refashioned to become a member-designated one -- in other words, to give the Service member, gay or straight, the discretion to designate whomever he or she wants as beneficiary."

-- Servicemembers who have been discharged under DADT should be allowed to apply for re-entry.
The findings conclude nine months of work by Johnson and Ham, who had a 66-member team. They solicited the views of 400,000 servicemembers and received over 115,000 responses, along with 150,000 spouses of active and reserve component servicemembers, receiving more than 44,000 replies. They also received more than 72,000 comments from servicemembers and their families online.
The Plum Line's Greg Sargent points out that "84 percent of Marine combat corps combat arms units who said they thought they'd worked with homosexual service-members in the past found the experience either very good, good, or neutral," undercutting a key talking point by repeal opponents about how opposition remains strong in the Marines.
UPDATE, 2:23 p.m.: The report has been posted here. The study's executive summary concludes that while there are still some objections, these should not be overstressed:
The general lesson we take from these transformational experiences in history is that in matters of personnel change within the military, predictions and surveys tend to overestimate negative consequences, and underestimate the U.S. military's ability to adapt and incorporate within its ranks the diversity that is reflective of American society at large.

Our conclusions are also informed by the experiences of our foreign allies. To be sure, there is no perfect comparator to the U.S. military, and the cultures and attitudes toward homosexuality vary greatly among nations of the world.However, in recent times a number of other countries have transitioned to policies that permit open military service by gay men and lesbians. These include the United Kingdom, Canada, Australia, Germany, Italy, and Israel. Significantly, prior to change, surveys of the militaries in Canada and the U.K. indicated much higher levels of resistance than our own survey results -- as high as 65% for some areas -- but the actual implementation of change in those countries went much more smoothly than expected, with little or no disruption.
Image on the risk of repeal from the report:
UPDATE, 2:29 p.m.:
Another significant recommendation in the study says the military should "repeal Article 125 of the Uniform Code of Military Justice and remove private consensual sodomy between adults as a criminal offense. This change in law is warranted irrespective of whether Don't Ask, Don't Tell is repealed, to resolve any constitutional concerns about the provision in light of Lawrence v. Texas and United States v. Marcum. We also support revising offenses involving sexual conduct or inappropriate relationships to ensure sexual orientation neutral application, consistent with the recommendations of this report. For example, the offense of adultery defined in the Manual for Courts-Martial should be revised to apply equally to heterosexual and homosexual sex that is engaged in by or with a married person."
UPDATE, 2:35 p.m.: Reaction from Ashwin Madia, Iraq War veteran and interim chairman of VoteVets.org: "Today's report from the Pentagon states what we already knew - serving alongside openly gay or lesbian troops is just not an issue for today's service member. A repeal of the policy can be implemented and must be implemented. The question, now, is whether certain Senators who want to do the right thing will instead cave to party leadership that owes a political vote to anti-gay groups. We hope they don't, and stand up for what's right."
From Aubrey Sarvis, Army veteran and executive director for Servicemembers Legal Defense Network: "This exhaustive report is overwhelmingly positive and constructive. The Pentagon validated what repeal advocates and social scientists have been saying about open service for over a decade. Still, some initial resistance may come from one or more of the service chiefs -- the very leaders who will be charged with implementing this change. Those chiefs will need to salute and lead in bringing about this needed change. Fortunately, the chiefs have already made it clear they will do precisely that if Congress acts. Now, it's up to the Senate to make repeal happen this year."
From Human Rights Campaign President Joe Solomnese: "This issue has been studied for fifty years, including by the military itself, and the results from over twenty-two studies are uniform: open service does not harm effectiveness. The small handful of Senators blocking repeal no longer have any fig leaves behind which to hide. The time for repeal is now."
Support HuffPost
The Stakes Have Never Been Higher
Popular in the Community