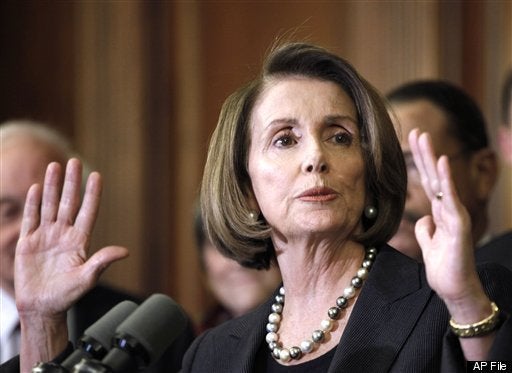 Just hours after the Senate failed to pass a defense authorization bill that included the repeal of the gay military ban known as "Don't Ask, Don't Tell," House Speaker Nancy Pelosi (D-Calif.) and the White House suggested there were other ways to get it through Congress.
Pointing to a standalone bill to repeal the ban, championed in the Senate by Joseph Lieberman (I-Conn.) and Susan Collins (R-Maine), Pelosi's Twitter account issued the following statement: "If new Lieberman & Collins #DADT bill passes Senate, an army of allies stands ready to pass standalone repeal in House."
White House spokesman Reid Cherlin, meanwhile, said in a statement, "The President is committed to working with Congress to achieve a repeal of 'Don't Ask, Don't Tell' this year. The White House is willing to explore all legislative options to reach this goal during the lame duck session."
Of course, President Barack Obama could simply issue an executive order rolling back the ban on openly gay servicemembers, but the White House has chosen to press its luck with what administration officials argue is a more permanent solution.
The numbers for repealing DADT are much more favorable in the House than the Senate, so it stands to reason that a standalone bill which could pass through the upper chamber would face few obstacles in the lower chamber, which has already passed a repeal this session.
Earlier Thursday afternoon, a Senate leadership aide confirmed Lieberman's proclamation that Senate Majority Leader Harry Reid (D-Nev.) would not only cosponsor a standalone repeal bill, he would get it floor time during the lame-duck session.
It remains to be seen if the 11th-hour gambit will work. But it certainly raises the question: Why didn't Democrats consider DADT repeal outside of the defense authorization to begin with?
The answer is a bit complex, but also illustrates just how far the DADT debate actually has moved in the past year. Back in January, Senate Armed Services Chairman Carl Levin (D-Mich.) was convinced that the defense authorization bill would be the lone vehicle for getting DADT repealed. It had been, after all, 48 years since Congress failed to pass an authorization.
House Democrats felt the same way. But while they dutifully passed their own version of repeal later in the spring, they were left waiting for the upper chamber to act. The Senate did not.
Support for repeal then became conditioned on the results of a Pentagon study as well as the procedural underpinnings of the defense authorization bill. The study, in the end, was favorable for repeal proponents. But the procedural process of the defense authorization remained a loophole for Republicans to kill the legislation.
Had DADT been considered alone, one Senate aide suggested, it might have had a better shot of passage on Thursday night. Republicans, of course, would still have argued that tax cuts and budget issues should be considered first. But their votes against repeal, as it stood alone, would have carried far more moral weight than their arguments against the process for considering defense authorization.
In the end, Senate Democrats may not have misplayed the hand they were dealt -- they just wound up playing a different game.
REAL LIFE. REAL NEWS. REAL VOICES.
Help us tell more of the stories that matter from voices that too often remain unheard.