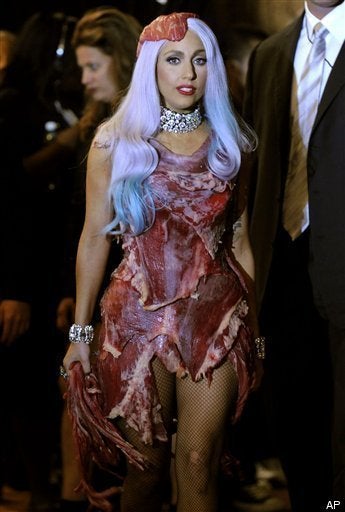 It's a "gorgeous day" in Portland, Maine, where opponents of the "Don't Ask, Don't Tell" policy are already beginning to gather at University of South Maine park, says Aubrey Sarvis, whose organization, Servicemembers Legal Defense Network, is hosting a rally with Lady Gaga.
The rally begins at 4:00 pm and the pop star is expected to go on stage by 5:00 Monday afternoon, on the eve of a critical repeal vote. The provision to repeal DADT is attached to the annual defense authorization bill, having been approved by the Armed Services Committee with the support of every Democrat and Republicans Scott Brown and Susan Collins. Brown opposed the amendment to repeal the policy but voted for the final package to move out of committee; Collins supported repeal and backed the final bill, which authorizes spending for the military.
The concert in Portland is aimed at the three New England Republicans who could break the logjam. "Senator Collins is very much with us on repeal. We think she can be a broker to come up with a resolution that will allow a winning vote tomorrow," Sarvis told HuffPost. Collins, Snowe and Brown have yet to say publicly whether they will block the bill from coming to the floor. A top Senate Democratic aide said that Sen. George LeMieux (R-Fla.) was still a possible pickup for Democrats. [UPDATE - 4:45 p.m.: Scroll down for a statement from Snowe.]
Senate Republican leadership is working to keep its 41 members united in filibustering the bill. Democrats need one to break ranks in order to move the authorization bill on to the floor, where it can be debated.
The DADT vote is additionally complicated by Senate Majority Leader Harry Reid's decision to allow a vote on the DREAM Act as an amendment to the defense bill. Opponents of the DREAM Act, which would give undocumented young people a path to citizenship by enlisting in the military or attending college, are reluctant to help break the GOP filibuster of the defense bill, distinct from objections they may have to repealing DADT.
Collins spokesman Kevin Kelley said that his boss still hopes to come to an agreement with Reid (D-Nev.) that would satisfy her party's demand to be allowed to amend the measure.
"She believes that our Armed Forces should welcome the service of any qualified individual who is willing and capable to serve our country," Kelley said in a statement. "Senator Collins recognizes, however, that many of her colleagues have a different view. She would like the Senate to proceed to a full and open debate on the Defense Authorization bill, with members able to offer amendments on all relevant issues. She has encouraged Senator Reid to work with Republican leaders to negotiate such an agreement so that the defense bill could be brought to the floor this week."
Reid has been planning to "fill the tree" -- meaning that only a set number of amendments would be in order. He has, however, offered Republicans an amendment that would strip out the repeal of DADT. Republicans, however, don't have the votes to pass that amendment.
The GOP has fallen back on the argument that Democrats are trying to attach unrelated amendments to the defense bill, a charge that Sen. John McCain (R-Ariz.) leveled on the Senate floor Monday. Senate tradition, however, has long allowed and even encouraged an amendment process not limited by the underlying bill.
And McCain himself has attempted to attach extraneous measures to the defense bill. In 2008, he worked to amend the defense bill to include campaign-finance restrictions. Both the repeal of DADT and the DREAM Act, meanwhile, are related to the military; citing its potential boon to recruiting, the armed forces support the DREAM Act. (A third amendment, which has not been finalized, would eliminate tax breaks for corporations who shelter profits overseas.)
Squashing the entire defense authorization bill simply to stall the repeal of DADT would be a radical move, Sarvis said. "This is the funding for all the troops," he said. "For almost 50 years, this bill has been voted on in every Congress, whether Democratic or Republican. It would be extraordinary if the Senate didn't take up and pass the defense authorization bill."
Even if Democrats still had their 60-seat majority, said Sarvis, social change as dramatic as repealing DADT should be done in a bipartisan way. "Our view is that this needs to be bipartisan. We don't want to see a party line vote on the defense authorization bill. That is not a good outcome."
Sarvis said he was not certain that all 59 members of the Democratic caucus would vote to move forward with the bill, but so far had detected no defectors. Sen. Jim Webb (D-Va.) voted against repeal in committee, but voted to approve the final package, which included the repeal language.
Organizers decided that taking the fight to the senators' home state would be more effective than having Lady Gaga walk the halls of Congress. Plans were hashed out Saturday night and first reported by the Advocate. "We realized our only other option was to run the same action alert" urging people to call their senators, said SLDN spokesman Trevor Thomas.
Lady Gaga's campaign to bombard the Senate with calls urging repeal has taken on a life of its own online, as first-time activists have been making videos of themselves calling senators. In the case of Colorado Democrat Michael Bennet, two students in Colorado got a video response from the freshman senator, who is up for reelection, in a video that has gone viral.
Lady Gaga's public role in the campaign has increased dramatically. Last week. Senate Majority Leader Harry Reid (D-Nev.) tweeted her; Sens. Tom Udall (D-N.M.) and Kirsten Gillibrand (D-N.Y.) followed. Gillibrand and Lady Gaga spoke on Monday, a Gillibrand spokesman said. "I asked her to keep pushing for #DADT repeal," Gillibrand tweeted.
A federal judge recently ruled the explicitly discriminatory DADT policy unconstitutional. Its repeal is a matter of when, not if. Sarvis said it's too soon to know if Tuesday will be the day. "It is very hard to call," he said. "It's too close to call."
UPDATE: Olympia Snowe leaned toward opposing the effort to debate DADT on the Senate floor, but appeared to leave open the possibility of voting yes:
First and foremost, the Senate should have the ability to debate more than the three amendments the Majority Leader is allowing, especially as this bill is the largest discretionary authorization measure that Congress considers, that the bill describes the policies and programs that provide resources and direction to the nearly 2.4 million men and women of the military -- active, reserve and civilians, including the courageous Americans serving in Iraq and Afghanistan, and that two of the three amendments don't even relate to the military. It is therefore imperative that Senate deliberations on the defense bill be conducted without limitations and in a manner that allows for the consideration of all related amendments that Senators may wish to offer.

Moreover, as I have previously stated, given that the law implementing the "Don't Ask, Don't Tell" policy has been in place for nearly 17 years, I agree that it is overdue for a thorough review. The question is, whether we should be voting on this issue before we have the benefit of the comprehensive review that President Obama's Secretary of Defense ordered in March, to secure the input of our men and women in uniform during this time of war - as the Joint Chiefs of Staff from all of the services have requested prior to any vote. We should all have the opportunity to review that report which is to be completed on December 1, as we reevaluate this policy and the implementation of any new changes.
Lucia Graves contributed reporting.
If you're going to the rally this afternoon, sign up below to cover it as a citizen journalist.
Popular in the Community