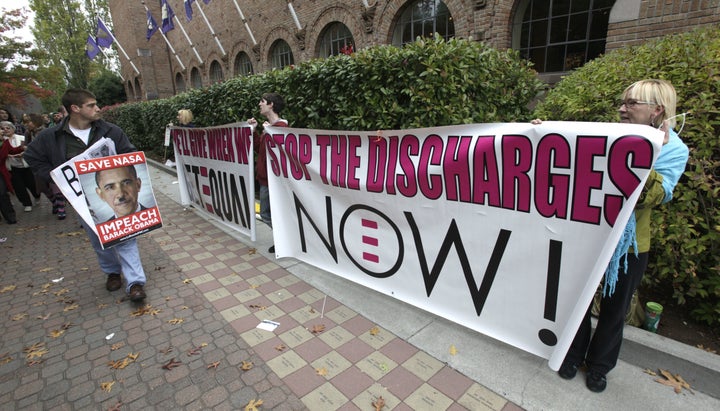 WASHINGTON -- Time is running out to repeal the Pentagon's Don't Ask Don't Tell (DADT) policy, with Republicans poised to take control of the House and increase their power in the Senate -- which will make repealing the ban even more difficult.
Meanwhile Senate Armed Services Committee Chairman Carl Levin is under pressure from Sen. John McCain (R-Ariz.), the chairman and ranking member on the Senate Armed Services Committee, to introduce a revised version of the defense bill that would remove the provision repealing DADT.
The White House, gay rights advocates and Senate Democrats -- including House Majority Leader Harry Reid -- are pushing Levin to proceed forward with a bill that includes language to repeal the ban on gays openly serving in the military.
A decision is expected to be reached before the start of the Senate's lame-duck session.
Reid has been outspoken in his support for repealing the measure, but "he, of course, can't do it alone," his spokesman Jim Manley told The Washington Post.
In September, Republicans voted down a motion to proceed to debate after Reid added an immigration measure to the defense bill and prohibited Republicans from adding amendments of their own.
But with the Pentagon preparing to release its report on the effects of repealing DADT, top Senate Democrats may find themselves in a better position to repeal the ban, according to senior members of a progressive think tank.
In a conference call on Tuesday, Winnie Stachelberg, the senior vice president for external affairs at the Center for American Progress Action Fund, told reporters that the liberal think tank has identified ten senators who have said they might be willing to vote for repeal given the chance to review the Pentagon reports.
"They want to take a look at what the study says, and hear from the troops and military leaders before deciding," said Stachelberg.
That sentiment is echoed by Defense Secretary Robert Gates, who told reporters traveling with him to Australia this weekend that he would like to see Congress take action after the Pentagon releases its report. "I would like to see the repeal of 'Don't Ask, Don't Tell,' but I'm not sure what the prospects for that are," he added. "We'll just have to see."
Senators who've claimed their ultimate decision will rest on the Pentagon report include Sens. Brown, Lindsey Graham (R-S.C.), Judd Gregg (R-N.H.), Sen. John McCain (R-Ariz.), Mark Pryor (D-Ark.), Olympia Snowe (R-Maine), George Voinovich (R-Ohio) and Jim Webb (D-Va.), as well as Senator-elect Mark Kirk (R-Ill.) and Senator-elect Joe Manchin (D-W.Va.). Though the fact that McCain is the very member in negotiations with Levin to strip the ban from the defense bill calls the validity of Stachelberg's list into question.
Other senators are vocally supporting repeal of DADT, but it's not clear their support will be enough.
On Tuesday, Democratic Sens. Kirsten Gillibrand of New York and Mark Udall of Colorado, along with Connecticut Independent Joe Lieberman, called on Congress to "act immediately" and "pass a defense authorization bill and repeal 'Don't Ask, Don't Tell' during the lame duck session."
And on Monday the Obama administration reiterated its support for repealing the ban as well. "The White House opposes any effort to strip 'Don't Ask, Don't Tell' from the National Defense Authorization Act," White House communications director Dan Pfeiffer said in a statement. "It's not whether" the ban will end, White House spokesman Robert Gibbs told Huffpost's Sam Stein, "but how."
The Pentagon report is scheduled to land on Gates's desk on December 1.
Popular in the Community