The eminently photogenic ladies of Game of Thrones are rocking magazine covers everywhere. Emilia Clarke (Daenerys) is on the cover of The Hollywood Reporter looking very un-Dany-like. Natalie Dormer (Margaery) is looking "strong and sexy" on Self's cover. Clarke, who stars as Sarah Connor in summer's franchise reboot of Terminator: Genisys, also rocks one of the four collectible covers of Entertainment Weekly, along with Maisie Williams (Arya Stark). It could be that the female characters are so well drawn in HBO's record-breaking fantasy drama, which premieres its fifth season (April 12).
The guys may seem a little lost in their dust but they're doing their best to contribute to the massive publicity campaign that GoT engenders: Kit Harrington (Jon Snow) and Peter Dinklage (Tyrion) also appear on EW's collectible covers, and Nikolaj Coster-Waldau (Jamie Lannister) graces the covers of both Movie Entertainment and GQ España.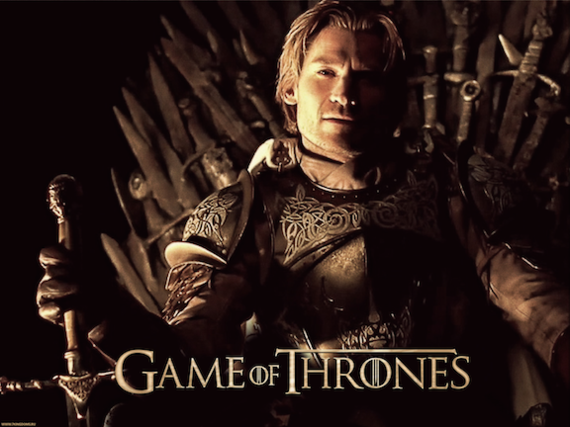 Danish heartthrob Coster-Waldau, who appeared alongside Cameron Diaz in last year's rom-com, The Other Woman, doesn't live in Hollywood, preferring to still live near his native Copenhagen. Called a "big goof" by GoT co-star Lena Headey (Jamie's sister Cersei) and described as having an on-set "twisted sense of humor" by Gwendoline Christie (fabulous warrior Brienne), Coster-Waldau has an insightful take on celebrity, even though he's recognized worldwide.
Taking a short break after completing filming of GoT's Season 5, family man Coster-Waldau visited LA and talked about his journey and his choices along the way:
I love my job, I love to go to work with my fellow actors, I take it very seriously and do the best job I can. And, I'm not judging anyone else, but the whole Hollywood thing, all the celebrity crap is not real, it's smoke and mirrors. I don't think it's any more prestigious to be an actor than it is to be carpenter or doctor or writer...we all have our own paths and should be respectful to one another. I'm not sitting here with some halo, that's just how I conduct my life. It's a lot more fun if you don't put yourself on a pedestal, that's not a good place to be for anyone. There are a lot of positives to not living in Hollywood. It's great when you're working here but, understandably, everything tends to be about this industry, as everyone kind of works doing the same thing. The whole celebrity culture may not be the healthiest thing. But there is a special energy here when you come visit. So it's great to come in for a few days, feel the sun, see the ocean, but then nice to leave again.
GoT is primarily shot around Belfast, but also in Croatia and Spain for this season. Coster-Waldau, who lives with his wife and two daughters in Europe and is an ambassador of a couple of schools for at-risk children in both Denmark and Greenland where his wife was born, says he loves the basic things in life:
The simple things are the most profound. I love my life, my family, my children. When we're filming in Belfast, I'll always try to get home when I can, it's only a two-hour flight back to Denmark. There's a Danish saying -- "Don't fly any higher than your ears will carry you" -- which says it all for me. So keep your feet on solid ground, and don't think you're better than anyone else.
While Coster-Waldau's own family life is normal, he admits with a wink that GoT's fictional Lannister clan, including Jamie, his twin sister Cersei, and brother Tyrion, are a little dysfunctional, explaining:
Jamie is such a great character. When you're defending the throne and your family, you have to do horrible things. But he's not a psychopath, enjoying killing for the sake of it. And, when he has an emotional connection to someone, he'll step up. Like when Locke is about to rape Brienne, Jamie steps in and it costs him his sword-hand, I like that about him. His is a ruling family in very extreme circumstances, because of the power they yield. The fact that we three siblings have grown up without a mother and had a very controlling, demanding father has turned us into what we are. They're very complicated. That dysfunction may attract viewers because we all have some element of that in our lives. There aren't many who'd say their families are perfect, right, without any conflict and troubles. It comes with the territory.
As for Season 5, he says tongue-in-cheek, to expect "some more light-hearted comedy," adding, "All I'll say is, it's going to be pretty intense, and they're very good at not giving you what you might expect, and that's kind of addictive, so you'll just have to watch!"
Check out Nikolaj Coster-Waldau's kids charity.
Calling all HuffPost superfans!
Sign up for membership to become a founding member and help shape HuffPost's next chapter