 Daft Punk's Paris studio sits on an ugly, bustling thoroughfare on the south side of town, near a train station and a hospital, behind a green garage door. To enter, you press a buzzer and present your face to a security camera, at which point the door lurches upward to reveal a lovely cobblestone courtyard and a cluster of beige buildings covered in whorls of ivy. On an early spring afternoon, Guy-Manuel de Homem-Christo and Thomas Bangalter – lifelong Parisians, longtime friends and the compulsively secretive musicians behind the Daft Punk robot masks – are standing on the cobblestones, blinking in the sunshine like they've emerged from a deep cave. Which they sort of have. "It's the first beautiful day we've had in weeks," de Homem-Christo says. Nodding toward a windowless room where he and Bang­alter have spent untold hours hunched over synthesizers, chasing new sounds, he musters a resigned Gallic shrug: "We're always in the darkness, anyway."
Bang­alter plucks a key from his pocket and unlocks the room – it was here, in April 2008, on the heels of a world tour, that Daft Punk withdrew to write songs for their fourth album, Random Access Memories. On the road, they'd transformed packed amphitheaters, baseball fields and soccer stadiums into euphoric raves, manning an arsenal of ­custom-built supercomputers from within a 24-foot-tall aluminum pyramid covered with screens and centered within an Atari honeycomb of glowing LED beams. Daft Punk had first broken big during the Nineties electronica boom, but the tour – a hallucinatory spectacle of pop stagecraft without precedent – made them several orders of magnitude more popular, transforming them from survivors of a bygone fad into unwitting pioneers of a dance-music craze that has since swallowed the pop world whole. Another act in a similar position might have coasted – selling out bigger and bigger venues, pumping out the same throbbing beats – but Daft Punk quit the road after 48 shows, and when they started on their new material, it was with a fidgety desire to reinvent themselves. "Electronic music right now is in its comfort zone, and it's not moving one inch," Bang­alter says. "That's not what artists are supposed to do."
Tall and bony, Bang­alter, 38, is wearing a gray sweater and skinny jeans with a hole in the knee big enough to toss a tennis ball through. He has a long, bearded face and curly brown hair grown into a modest Jewfro. (Bangalter's father, a Seventies-era disco artist and producer who recorded as Daniel Vangarde, is Jewish, but the Bangalter household was not religious.) When Bang­alter is feeling relaxed, his eyes twinkle and his body language grows demonstratively warm: He'll lean in close, nudge you heartily to emphasize a point. At other times, though, while someone else is speaking, he'll scrunch up his nose in apparent disdain, like he's noticed a bad smell. The director Michel Gondry, who's known Daft Punk since they hired him to make the video for their percolating 1997 hit "Around the World," says that Bang­alter has a blunt criticality that can be off-putting. "We were in a coffee shop in Paris one time, and he told me he hated my first movie," Gondry recalls with a laugh. "He said it was lacking in life, it was contrived! Really harsh, right? Some people, they just say what they think."
De Homem-Christo, 39, has a wide face, delicate features, stubbled cheeks and long brown hair. As a teenager he wore his mane greasy and stringy, and he was often spotted wearing a fur coat and carrying his possessions in a plastic shopping bag. Phoenix guitarist Laurent Brancowitz, who first met the duo in 1992, says that de Homem-Christo used to resemble "a girl" and "a crackhead," but today his look is more hygienically scruffy: brown leather jacket, scuffed motorcycle boots, a tiny wishbone pendant hanging over a black velour sweatshirt. He's not overly fond of eye contact, and he's taciturn where Bang­alter is expansive. "Guy-Man doesn't talk too much," says Daniel Dauxerre, who used to work at a Paris record store, New Rose, where the Daft Punk guys crate-dug as teens for Augustus Pablo and Beach Boys vinyl. "When he does talk, he's got a very dry sense of humor – he might be making fun of you, you never really know."
Daft Punk are the most enigmatic superstars in pop. In addition to hiding their faces at performances, in videos and in photographs, they operate largely in secrecy and keep a tight grip on biographical details in those rare instances when they grant interviews. So it's with widened eyes that an outsider enters their work space, where even mundane objects thrum with seeming Talmudic significance. In the synthesizer room, there's a weathered vinyl copy of Rod Stewart's Blondes Have More Fun in one corner and a dinky JVC boombox for listening to rough mixes nearby, with a black plastic pyramid perched on top. Blu-ray copies of Tron: L'Heritage (Tron: Legacy, for which Daft Punk composed the music) and Star Wars: L'Integrale de la Saga occupy a shelf near a book of Saul Bass designs, a Walker's Rhyming Dictionary, and an old Life Science Library volume called The Mind. Tacked to the wall is a snapshot of the Daft Punk robots standing with R2-D2 and C-3PO at an Adidas advertising shoot. "This was the moment I felt we truly entered pop culture," says Bang­alter.
He moves toward the room's centerpiece: a massive modular synthesizer roughly four feet tall and six feet wide. "This is a custom system, new and handmade for us by a guy in Canada," he says. Bolted into four dishwasher-size wooden cases are dozens of oscillators, noise generators and envelope followers; above these are Borg filters, Boogie filters, step sequencers and a vintage oscilloscope. Blinking lights, silver switches and 933 different knobs sprout from the facade within an overgrowth of red, gray and yellow cables. "With a synthesizer like this, there are so many elements affecting the sound, from room temperature to capacitors – thousands of chaotic little parameters," Bang­alter says proudly. "It's the opposite of the sterile environment of a computer." He heard that the Canadian producer Deadmau5 caught wind of the setup, contacted the manufacturer and "ordered the exact same one."
Over the past decade, Daft Punk's influence has grown gargantuan – it's hard to name another act with its fingerprints on as many bands, sounds and trends. You can hear them in the reference-dizzy dance punk of LCD Soundsystem, who made their admiration explicit on "Daft Punk Is Playing at My House"; in the ­Auto-Tuned bleat pop of T-Pain and his imitators (Daft Punk got to the effect before anyone but Cher thought it was cool); in the hazy loops of chillwave acts like Toro y Moi and Washed Out; in the rehabilitated easy-­listening cheese of Phoenix and Chromeo; in the brash new meld of hip-hop and electronic music that Kanye West staged when he turned de Homem-Christo's vocoder-bent voice into a chart-topping hook on "Stronger." In 2011, backstage at Madison Square Garden after a Watch the Throne show, Jay-Z told de Homem-Christo that Daft Punk's pyramid had been "a huge influence" on the tour. Even Disco Stu wore Bang­alter's chrome robot helmet on The Simpsons. But when Bang­alter invokes the sterility of computer music with a scowl, he has in mind Daft Punk's most direct musical descendants: the heroes of the mainstream dance takeover, all of whom are bananas for Daft Punk. David Guetta spins their tracks in Ibiza and called their debut, 1997's Homework, "a revolution." Avicii has described his earliest entree to electronic music as "listening to a lot of Daft Punk, way before I knew what house music was." Deadmau5 owes them his helmets. Skrillex has commented that seeing Daft Punk's pyramid "changed my life." Swedish House Mafia proclaim that "Daft Punk are our heroes in all ways possible."
All that love notwithstanding, Bang­alter and de Homem-Christo are deeply ambivalent about these heirs, with their pummeling buildups and clockwork kiloton bass drops. "Today, electronic music is like an audio energy drink," Bang­alter says. "Artists are overcompensating with this aggressive, energetic, hyperstimulating music – it's like someone shaking you. But it can't move people on an emotional level. It's a way to feel alive, but . . ."
"It's not deep, it's surface," de Homem-Christo offers.
"Maybe it's the difference between love and sex, or eroticism and pornography," Bang­alter says.
As Daft Punk got deeper into making the new album, they were eager to junk old habits and proceed "from scratch," Bang­alter says. Their longtime technique of sampling funk, disco and soft-rock vinyl suddenly struck them as canned, over­familiar. The drum machines they'd once used to propel tracks sounded rote – "­autopilot," Bang­alter says. They struck upon a new plan of attack that would lead Daft Punk further away from electronic music than they'd ever gone: "We wanted to do what we used to do with machines and samplers," Bang­alter says, "but with people."
The idea was to overhaul their sound while keeping its DNA intact, and to outpace their successors in the process. "In electronic music today, there's an identity crisis," Bang­alter says. "You hear a song: Whose track is it? There's no signature. Everyone making electronic music has the same tool kits and templates. You listen, and you feel like it can be done on an iPad." He frowns. "If everybody knows all the tricks, it's no more magic."
Bang­alter shows me a little magic on the fly. He tweaks an oscillator on the massive synthesizer, and a piercing drone rings out. He drops to a knee, runs a cable from an output into an input, turns a knob a millimeter. Scratchy distortion musses the edges of the signal. He fiddles some more, and the drone flips into a hypnotic hiccup, then down into a mighty house-music thud. Bang­alter beams like a kid with a chemistry set. The synthesizer is "a little bit everywhere" on the new album, he says, played by hand each time: "With this, you'll never get what you're getting again – there's no Save As. It's a playground for building a sound from the ground up."
De Homem-Christo checks the time on his phone. The plan is to go for a drink and then get dinner across town, but we've got some time to kill.
"What do you want to do?" Bang­alter asks de Homem-Christo. "Un café? Un thé? Chocolat?"
"Strip club," de Homem-Christo deadpans.
No musical act strikes the same balance between gravitas and goofiness as Daft Punk. On one hand, they speak loftily about artistic evolution and music being "an invitation to a sonic journey"; on the other, they wear kitschy helmets straight off the covers of Eighties-era Isaac Asimov paperbacks. Bang­alter describes the robot look as both a high-concept philosophical gambit – "We're interested in the line between fiction and reality, creating these fictional personas that exist in real life" – and a way to enfold Daft Punk's music within a tradition of flamboyant pop theatricality that includes "Kraftwerk and Ziggy Stardust and Kiss; people thought the helmets were marketing or something, but for us it was sci-fi glam."
The robots also let Bang­alter and de Homem-Christo, both receding gearhead types, exert a gravitational pull on audiences that their bare faces – handsome in rough-hewn but unremarkable ways – could never equal. "We're not performers, we're not models – it would not be enjoyable for humanity to see our features," de Homem-Christo says wryly, "but the robots are exciting to people."
Back in the Nineties, the duo placed black bags on their heads during promotional appearances and bought creepy Halloween masks to wear at photo shoots. The robot helmets, designed by French artist friends, originally featured campy brown wigs – curly for Bang­alter, flowing for de Homem-Christo. En route to the 2001 magazine shoot where they first unveiled the helmets, though, Daft Punk yanked off the hair, deciding the robots looked better bald. "Sleeker," Bang­alter says. Today they own several different versions of the helmets – some with built-in air conditioning and communications systems, for live shows; others constructed of materials that photograph better, for shoots and projects like 2006's Electroma, the trippy, dialogue-free feature film that Daft Punk directed. Their latest helmets were made by a Hollywood special-effects shop "that worked on the new Spider-Man," Bangalter says, adding that the firm signed a nondisclosure agreement regarding the helmets' exact specifications. He compares Daft Punk to "Warhol, mixing mass production and art," but the duo can also resemble the Walt Disney Company, or Coca-Cola – a big-money multinational safeguarding its IP. Homemade robot helmets proliferate online, modeled on fan sites and sold on eBay, "but the proportions are really hard to get right just by looking at pictures, so they all seem a little bit off," says Bangalter.
With the sun about to set, Daft Punk leave the studio, grab espressos at a cafe down the block, then descend into the Metro and board a waiting train. The car is three-quarters full, and no one pays the pair any mind. It's impossible to imagine riding the New York subway with comparably famous American musicians – you trade in your MetroCard the day you start booking arenas – and this speaks to the paradoxical, and enviable, position that Daft Punk occupy: They're anonymous icons. "One thing I like about the masks is that I don't have people constantly coming up to me and reminding me what I do," Bangalter says. "It's nice to be able to forget." (There are occasional downsides: Several years ago in Ibiza, Bangalter says, some guy ran up exorbitant bar tabs at clubs while claiming to be him.)
We come aboveground in the tony Ninth Arrondissement. De Homem-Christo lives 15 minutes away, in the arrondissement that includes the pretty neighborhood Montmartre. Bangalter splits time between a home in the fashionable Marais and a glass-walled house in the Hollywood Hills that he bought in 2004 from one of the producers of Natural Born Killers. Both are the fathers of young children, though they don't like discussing their families publicly. (Bangalter does note that his son is currently enjoying a biography of Jim Morrison.) En route to a famous old bar called Harry's New York, we pass the stately music hall L'Olympia. "When we were kids, Guy-Manuel and I went to see My Bloody Valentine there," Bangalter says. "It was incredible. Guy-Manuel was bare-chested, with his long hair, pogo'ing!"
"Crazy pogo!" cries de Homem-Christo, smiling at the memory.
"I ran into a guy I knew a few days after, and he said, 'Was that your girlfriend at that show, jumping with her shirt off?' " Bangalter continues. "I told him, 'No, it was my friend Guy-Man!' We would go to concerts and dance. We were in the pit for sure."
They claim a burnished wood table at Harry's and order sidecars. Bangalter starts wolfing down nuts from a ­ramekin and describes the duo's origins. "I met Guy-Man in eighth grade," he says. "At the end of the year we took a class trip to Pompeii, and in the car ride we began making up songs. When we got back, we recorded them with a little Casio keyboard."
"It was Italo disco by 12-year-olds," de Homem-Christo says. I ask if the tapes still exist, but he shakes his head: "Just our first music video. My father still has it. It's Thomas singing, and I'm laughing at him while I hold the camera."
Daft Punk grew up comfortably. The school where they met was the Lycée Carnot, whose alumni ranks include Jacques Chirac, Dominique Strauss-Kahn and World Trade Organization head Pascal Lamy. Bangalter and de Homem-Christo would rent horror movies like The Texas Chainsaw Massacre and The Omen on VHS, watching them together at Bangalter's father's Montmartre apartment, which Dauxerre, the onetime record-store clerk, remembers visiting in the early Nineties: "It was beautiful – a big apartment with two floors, a room with a piano in it and a room for the studio equipment. I didn't go to nearly all the rooms." (Bangalter père has since moved to Brazil, living in a tiny coastal village so remote it was without electricity until recently.) The first thing Brancowitz remembers hearing about the teenaged Bangalter, before he met him, was that he bought a different new record every day. "That meant a lot when we were kids," Brancowitz says. "It meant you had to be very rich."
De Homem-Christo's parents ran an advertising agency together, and he hails from a clan of dubiously distinguished Pan-European extraction: His great-grandfather, Francisco Manuel Homem Cristo Filho, was a writer, described by present-day historians as "the first authentic and indisputable Portuguese fascist" and a personal friend of Benito Mussolini's. "I know him only from photographs, of course," de Homem-Christo says. In the Portuguese city of Aveiro there is an Homem Cristo street and an Homem Cristo school, both named after his ancestors.
In their late teens, Bangalter and de Homem-Christo formed a scrappy rock trio called Darlin' with Brancowitz, who joined through a guitarist-wanted flier. Darlin' had a bald hamminess notably in contrast with Daft Punk's coy MO: Onstage they covered "Love Theme From Kiss"; de Homem-Christo wore his fur coat, with glitter on his hands and a star on his cheek. They were "talented," says Dauxerre, who helped Darlin' book the only two shows they played, but "a lot of people thought they were wankers." (At one show, in Versailles, they shared the bill with a local act called Loveboat, featuring Thomas Mars, Deck D'Arcy and Christian Mazzalai, who would later form Phoenix with Brancowitz.) "Some people thought maybe they were pretentious, because they said, 'We want to be stars' and things like that," Dauxerre continues. "They knew exactly what they wanted."
Daft Punk's division of labor has always been murky to outsiders, and the pair prefer it this way. Bangalter says that he's more "hands-on" when it comes to "technology" but that he and de Homem-­Christo typically feel like they have a special connection, "like Siamese twins." Gondry says, "To me, Guy-Manuel is a little bit like Meg in the White Stripes – she was quiet, but she anchored Jack White." Dauxerre remembers being stunned by de Homem-Christo's facility with melody: "He'd hear something, say, 'That's great, just change one chord,' and it was obviously better." House-music hero Todd Edwards, who's collaborated with Daft Punk numerous times, says, "Thomas is more the frontman, the one setting everything up, taking the lead on all the executive decisions – so the work is getting done, then Guy-Man comes and puts his input in, which is crucial." For the new Daft Punk album, Giorgio Moroder, the disco godfather, delivered a spoken-word performance into three microphones from three different decades. "Thomas has superears," Moroder says. "I asked the engineer, 'Who will ever hear the difference between these microphones?' He told me, 'Nobody. But the boys will.'"
In the early Nineties, Bangalter and de Homem-Christo lost interest in rock music and gravitated toward underground raves in Paris. "The story I heard is that the girls were not so much beautiful and sexy in the rock scene," says Dauxerre, "but they went to the rave, they saw so many beautiful girls, and they said, 'That's the music we have to do!'" In 1993, after completing high school, Bangalter – who spent several summer vacations as a kid at sleep-away camp in Maine – took an impromptu three-week trip by himself to Manhattan, checking into "some hotel on Madison Avenue" and partying nonstop: "I was out every night, going at four in the morning to NASA, seeing Junior Vasquez at the Sound Factory," he recalls. "I remember the energy of these drag queens – I wanted to move to New York." With $1,500 he received for his 18th birthday, Bangalter bought some synthesizers and samplers and started noodling in his Paris bedroom with de Homem-Christo. They both dropped out of college, naming their new dance outfit in honor of an unimpressed U.K. review of Darlin' that referred to their lone single as "daft punky thrash."
Around this time, Daft Punk experimented with party drugs, briefly. "I did Ecstasy for one year, from early 1993 to early 1994," says Bangalter. "The problem was that I was liking any music I'd hear, any crap – I had no critical judgment. The last time I did Ecstasy was the day Kurt Cobain died. We were at a party in Glasgow when I heard. Then we were going to an afterparty and I almost got hit by a truck."
"That was the first night I tried Ecstasy," de Homem-Christo, who tugged Bangalter out of harm's way, says. "And also the last."
Intent on becoming an international presence, Daft Punk signed with Scottish dance label Soma rather than a French imprint. They made their debut album, Homework, in Bangalter's bedroom, using synthesizers, drum machines and samplers associated with early techno and hip-hop. ("When we toured, we re-created everything live," de Homem-Christo says.) Homework is relentlessly propulsive and assuredly spare, breaking into squelchy acid-house riffs here, syncopated funk beats there. "The first time I heard them, I was like, 'Is this too simple or is this great?'" Gondry says. The album has a prankish air and a prescient genre-agnosticism. Lead single "Da Funk" was inspired by West Coast gangsta rap; for "High Fidelity," they reassembled louche sax snippets from Billy Joel's "Just the Way You Are" into epileptic house. "For us, there's no separation between what's hip and what's not," Bangalter says.
Much dance music withers when it leaves the floor, but Daft Punk's imagination exceeded raves nearly from the jump. "Music was a vector that we wanted to build a universe around," says Bangalter. Like the other flagship Nineties electronica artists, Daft Punk presented more like a band than DJs: touring behind an album of proper songs, placing singles on alt-rock radio, commissioning inventive videos with then-fledgling directors like Gondry and Spike Jonze. "Dance music is not cool," says DJ A-Trak, who's known the duo since 2007, and who introduced Kanye West to their music. "It has the worst fonts, the worst artwork – let's not forget what a rave flier looks like. And then here come Daft Punk with these crazy videos, beautiful album art. They have a flash and an elegance that other dance acts envied."
It took Daft Punk three years to make their second album, 2001's Discovery. Densely woven but improbably buoyant, it consisted heavily of obscure disco and rock samples plucked from the music of Bangalter and de Homem-Christo's youth. Daft Punk strafed these samples with filter effects that made them seem to glimmer and degrade like memories blossoming and fading; the album, by turns naive, audacious and elegiac, established Daft Punk as pop visionaries. "I call it the Thriller of France," says Chromeo's Dave Macklovitch, who says Discovery was "the blueprint" for his band. "They were fearless on that album," says Pharrell Williams, whom Daft Punk commissioned to remix the single "Harder, Better, Faster, Stronger" in 2003. "When you're listening to their music, you feel like you've been enlightened."
This past march, five years after Daft Punk began work on Random Access Memories, a commercial aired during Saturday Night Live, serving cryptic notice that the duo were back. The spot featured eight bars of a song called "Get Lucky" along with a graphic of the robot helmets fusing together. The music – jaunty throwback disco played with whip-snap precision on guitar, bass, drums and keyboards – heralded the earthbound shift in the duo's sound. It was over in 15 seconds.
Fans promptly uploaded the ad to ­YouTube; someone looped the bars over and over into a 10-hour marathon. Music sites and message boards went into red-alert Daft Watch mode, breathlessly relaying the news, for instance, that 13 untitled songs attributed to Daft Punk had appeared in the database of a British royalty-distribution agency: "They range in length from 3:48 to 9:04," one writer noted.
"Our output is rare," Bangalter says, "and that means people pay attention more." A few weeks later, Daft Punk dropped a second SNL ad, which revealed the album title. Posters and billboards featuring the album art went up in cities, as part of the masterfully suspenseful, deliberately old-school rollout. "When you drive on the Sunset Strip and see these billboards, it's more magical than a banner ad," says Bangalter. In a matter of weeks, Random Access Memories had gone from a stunningly well-kept secret to one of the decade's most hotly anticipated releases.
Daft Punk's last album, 2005's Human After All, was a lean exercise in mechanized dance rock, bashed out in under two months. The album sounds bracing today, but it severely underperformed its predecessors, critically and commercially. Perhaps in reaction to this, Random Access Memories is, in extreme contrast, the most ambitious, costly and time-consuming album of Daft Punk's career: an opulent suite of gold-plated disco grooves, purple lyrics and prog-operatic flourishes, precision-engineered to overwhelm. "We spent more than a million dollars making it, easily," Bangalter says. "But that's not important."
When Pharrell, visiting Paris, first sang his verse for "Get Lucky," Daft Punk told him to "sing it again, again, again," Pharrell recalls. "Then I did four or five more takes, they picked what they liked, then I sang each of those parts over and over. The robots are perfectionists." Daft Punk hired choirs, string sections, trumpeters and pedal-steel players; they recorded sound effects on the foley stage at Warner Bros. They played parts themselves, then paid session pros who'd worked on Thriller and Off the Wall to play them better. They coaxed vocals from guests like Panda Bear and Julian Casablancas; Chic mastermind Nile Rodgers played guitar on three tracks. They flew to legendary recording studios in New York and Los Angeles, like Electric Lady and Henson, to capture the unique sounds and vibes of the classic rooms. Wherever they went, they kept the mics running, capturing freewheeling jams – "We had Ampex reels everywhere," says de Homem-Christo – that they edited later using Pro Tools, conjuring songs out of the footage "like we were making a film," Bangalter says. "There are songs that span two and a half years and five different studios."
Finishing a second round of sidecars, we take a cab to the restaurant at Amour, a boutique hotel in nearby Pigalle co-owned by Daft Punk's friend Monsieur André, a graffiti-writer-turned-scene-king who greets them warmly in the lobby. Conversation about the new album continues over dinner: "The Seventies and Eighties are the tastiest eras for us," says de Homem-Christo, tucking into a sausage salad. "It's not that we can't make crazy futuristic-sounding stuff, but we wanted to play with the past."
Their gaze wasn't entirely backward-facing, though. Kanye West swung by the Paris studio at one point, and they took a break to work on music ostensibly for his next album. "We had a combination of live drums and programmed drums going," says Bangalter. "And Kanye was rapping over it," de Homem-Christo recalls.
"Not even rapping, more like screaming in this very primal way," Bangalter says. A few months ago, West played rough demos for A-Trak, who describes them as "futuristic, electronic monsters" with no melody, just "very distorted percussion and Kanye screaming – they're incredible." In the Chicago hip-hop auteur, Daft Punk clearly see a kindred spirit. "Kanye feels comfortable around us, so he allows himself to be vulnerable," Bangalter says.
"He's radical in the choices he makes," says de Homem-Christo. "He doesn't give a fuck."
On a sun-baked Friday in the Mojave Desert a month later, de Homem-Christo is sipping yerba mate tea poolside at a gorgeous old Palm Springs mansion, his ass crack sailing out of black Dior Homme swim shorts. Bangalter is a few feet away, wearing tiny blue Lacoste trunks and a fraying Borsalino straw hat, telling Pharrell he's totally got to see Oz the Great and Powerful. "Really, man?" Pharrell says. "All right, I gotta check that out." Disco blasts from wall-mounted speakers; hired chefs work a barbecue grill; empty bottles of Veuve Clicquot litter tables. Two dudes sit in the kitchen with a large baggie of weed, rolling joints.
It's the first weekend of the Coachella Valley Music and Arts Festival, and Daft Punk have rented the mansion, which used to belong to Bing Crosby, for a long weekend. Pharrell's just stopping by, but 10 or so of the duo's other friends are crashing here – sharing bedrooms, playing ping-pong in the living room, fixing cocktails from the stocked bar, climbing up to the roof and cannonballing into the pool out back. (Daft Punk's families are elsewhere.) The duo are here to drop a surprise on the crowd tonight, but they're tight-lipped as to what it might be. Are the robot helmets here? "No," Bangalter says. "We can't tell you where they are." Todd Edwards, the DJ, is in the living room, drinking tequila. "Even I don't know what they're doing," he says. "If they don't tell me, I don't pry."
There's an air of bygone music-biz excess to the place that's fully in keeping with Random Access Memories' throwback ostentation. A Porsche Carrera is parked out front, near a massive gong that visitors can bang to announce their arrival. "Guy-Manuel is staying in a bedroom where JFK is supposed to have had his affair with Marilyn Monroe," says Bangalter. Quips de Homem-Christo, "It puts a lot of pressure on me to do something interesting in there."
What they will not do tonight, Daft Punk insist, is perform. Bangalter says there aren't even plans in place to tour the new album: "We want to focus everything on the act and excitement of listening to the album. We don't see a tour as an accessory to an album." (When they do finally hit the road, he adds, it will be with a career-encompassing set list, not one overly focused on the new material.)
Around 7:30 p.m., Daft Punk and their friends – Edwards, DJ Falcon, Maison Kitsuné designer Gildas Loaec and a handful of others – hustle into a van, headed for the festival. Pharrell and his crew follow in a black Sprinter. Bangalter plugs his phone into the stereo, starts blasting Quincy Jones and Led Zeppelin, then turns around and confers in hushed tones with Daft Punk's manager, Paul Hahn, about the imminent surprise: It turns out that an extended trailer for the new album, featuring video of Daft Punk performing "Get Lucky" in sequined tuxes alongside Pharrell and Nile Rodgers, will play on the HD jumbotrons flanking each of the festival's stages. "Will the sun have set by then?" Bangalter asks. "Will people be able to see it?" Hahn says it will be fine.
Security waves us through to the edge of the Coachella grounds, where two idling golf carts haul us to the artists' area. De Homem-Christo darts off to take a piss while Bangalter sketches out a battle plan: The video will be staggered between the various screens, and he wants to catch as many airings as possible. With a dozen-odd friends in tow, he and de Homem-Christo soon make their way to a railing at the edge of the VIP section with a view of the main stage. If any people recognize them, they don't make it known.
At 8:35, the Yeah Yeah Yeahs are about to take the main stage, the sun has set and the jumbotrons suddenly burst to life. The Daft Punk logo pops up, and "Get Lucky" rings out on the speakers. People begin dancing instantly, lifting up their camera­phones, shrieking when the robots appear in the video. In less than two minutes it's over, and the screens go black. The collective mood is one of ecstatic confusion: What the hell was that? The Daft Punk crew exchange congratulatory backslaps. Pharrell gives Bangalter a high-five. In a few days, hand-held footage of the trailer will have racked up more than a million views on YouTube, threatening to overshadow the rest of the festival. Right now, Bangalter throws his arm around de Homem-Christo and murmurs in his ear in French. Then they turn from the railing and walk off together, just two more grinning faces in the crowd.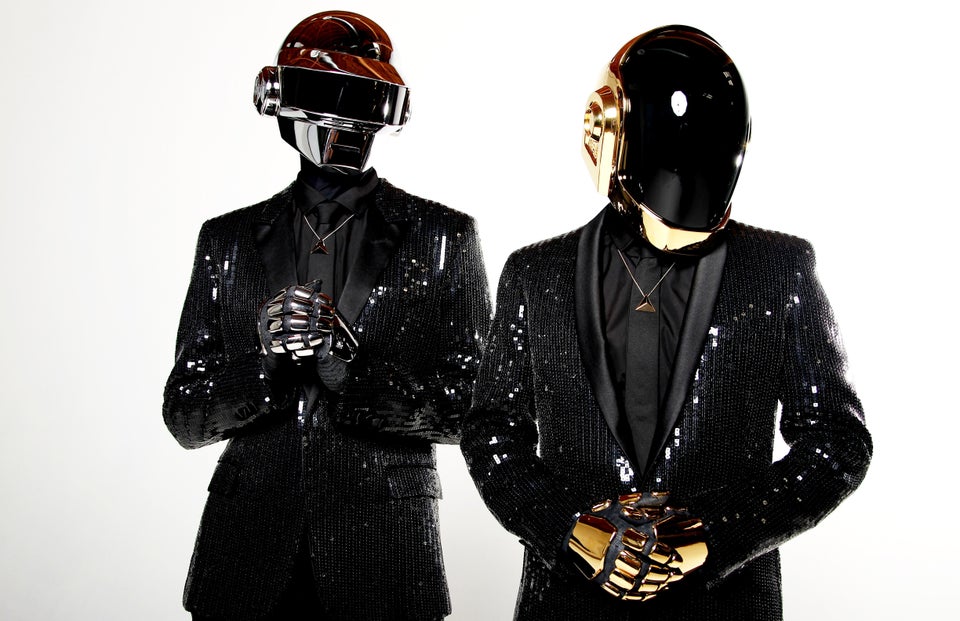 Daft Punk Frenzy
Popular in the Community