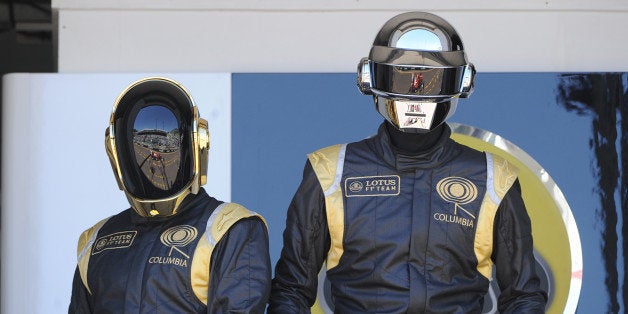 Here's something for folks who don't ever use Google's image search: A photo of Daft Punk unmasked, sipping on champagne at Sony/Columbia's offices has made its way online.
The photo, which was apparently floating around, was popularized when it was posted by The Knocks, a New York-based electro pop duo. Shortly after it was posted on their Facebook (and screenshot-ed by crafty tumblr users), The Knocks deleted it, presumably because folks at Sony and/or in the French robots' camps were upset that their long streak of no non-helmeted photos had been snapped.
However, since it's the internet, Gawker, Business Insider and pretty much every dance music blog on the world wide web has posted the photo, most of them crediting The Knocks. And, because there's nothing an electronic music act fears more than disappointing Daft Punk, The Knocks have spent their whole day blasting anyone who assumed they took a photo that they posed to their own Facebook.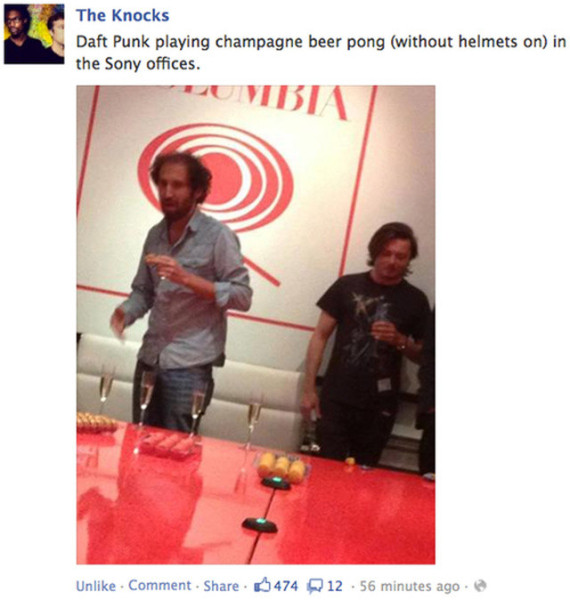 PHOTO GALLERY
Daft Punk Frenzy
Calling all HuffPost superfans!
Sign up for membership to become a founding member and help shape HuffPost's next chapter