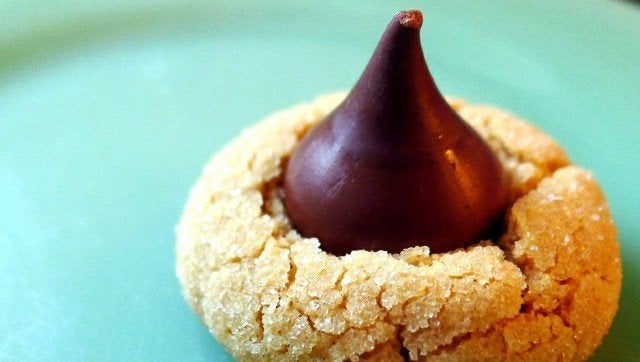 If anyone ever throws a pie in my face, I hope it's a Tom Douglas pie. Whether it's the celebrated Seattle chef's triple coconut cream pie that's so luscious even the president's been known to knock back a few, or his maple banana cream pie that tastes like an autumn day in paradise, the bottom line is, these are the kind of desserts you'd like to smear on your face, they're so sensual and delicious.
So when I found a copy of Tom Douglas and Shelley Lance's The Dahlia Bakery Cookbook (William Morrow, 2012), under the Christmas tree, I was thrilled. At last, I'd never want for a calorie again. A few recipes under my belt (quite literally) and I'd have the fat reserves to last a lifetime and wouldn't give a damn if they had to bury me in a piano crate. I was mastering those pies, calories be damned.
Like everything Tom Douglas touches, his most recent cookbook is fast turning to gold as bakers swoop it up to recreate not only that notoriously good pie, but the Nora Ephron peanut butter cookie that Ms. Ephron termed "the greatest cookie ever, ever, ever" or the tomato soup with homemade croutons and grilled Beecher cheese sandwich on homemade bread, or the pecan-studded cinnamon rolls his grandma used to make.
How in the world can a cookbook boasting of coconut cream pie, peanut butter cookie, grilled cheese sandwich and cinnamon roll recipes possibly stand out amidst the plethora of bakery cookbooks? Not by updating these classic desserts with the likes of wasabi-infused pastry creams, duck-liver chocolates or the occasional sprinkling of crystallized-fungus. No, the Tom Douglas approach to good eating has no need of goofy "flavor profiles" that boost our anti-oxidants after we've raced to every corner of the planet in search of outlandish ingredients to be applied with microscopes and tweezers. About the most esoteric ingredient you'll find in The Dahlia Bakery Cookbook is a spoonful of maple sugar and about the most esoteric technique is using a brûlée torch to make a crème brûlée. What you will find are not only excellent recipes, but plenty of photos of the final dish and the cooking process, explicit directions, instructions on various baking techniques, and even recommended brands.
The Tom Douglas approach to baking is as uncomplicated as using excellent, locally produced ingredients, keeping it relatively simple, and mastering basic techniques -- which he and co-author Shelley Lance explain in brilliant detail. With those few principles in mind, Douglas has surpassed even Oregon's James Beard in transforming the Pacific Northwest into a prominent culinary playground.
With three cookbooks, a dozen restaurants, a catering business, radio show, line of spice rubs, enough awards to paper a few of his dining rooms, and a 10,000-square foot multiplex in the works, Tom Douglas has done for American cooking what Julia Child did for French cuisine -- brought it back into our kitchens, shown us that superb food can be achieved by simply following some directions, and demonstrated why certain classic dishes are first and foremost delicious, and made even more so when cooked with what's in season and close at hand.
And again like Julia Child, Douglas doesn't cater to the latest dietary fad; he doesn't shy from fat or sugar, and his restaurants serve enough meat to make a Texan cattleman swoon. Here in Seattle, deep in the heart of vegan territory, Tom Douglas's restaurants and recipes are as rich with fat, sugar and meat as they are wildly popular. They're also rich in flavor.
"I don't like that 'no' in food," he explains, when I ask him about his cooking. We've met in the cluttered cubicles of his corporate offices, where restaurants are managed, deals are brokered, food is purchased and priced, and the media -- and staff -- are entertained. What he means by the no in food, is the trend toward no fat, no refined sugar, no dairy, no gluten, or no meat diets. But neither is he pushing a laissez-faire approach to cooking and eating all that is sugary, fat-soaking bad. If anything, his food tends toward organic, local and fresh which is to say, healthy.
"Our CEO is also our CVO," he says, "chief vegetable officer. And when I hired her, a part of her job description was to re-look at our plate and the process and the rainbow, and get some of the emphasis off the protein, and onto the vegetables... We're getting more vegetable-centric. We're growing them ourselves, we're understanding the process, we are celebrating vegetables in a way that they sort of take center stage in some of our dishes. Before, to get a chef to make a vegetarian menu was like pulling teeth, but now it's so exciting and delicious."
I ask if he would consider teaching a course on vegetables. "Absolutely," he says, "I think that would be a great one." Courses taught by his chefs fill up quickly, and Tom Douglas himself teaches a week-long Summer Culinary Camp. "I look forward to it a lot. It's five days, pretty much just debauchery. We eat and drink and drink and eat and then we stop for lunch and then we eat and drink and drink and eat and stop for dinner. This will be the seventh camp this year and I think probably there's a group of 12 that have been there every year. It's a hoot!"
In the Seattle area few have done more than Tom Douglas to inspire cooking. But there remains a large number of people who would never dare bake a pie crust, pipe pastry cream into an éclair, or knead a loaf of bread. Where there once was a time that anyone with an ovary was taught to cook and can, the dual-income household has all too often come at the cost of good home cooking. What might it take to get more men and women into the 21st century kitchen?
"Close all the restaurants!" he jokes, before adding, "If you just feel lazy and don't want to cook, then don't cook. But the whole written-off thing kind of bothers me. Because it really is an effort; it's an effort for yourself, and for your family. . . I think you owe it to your kids to teach them how to cook, you know, self-survival. It should be a part of teaching them how to do their checkbook and how to get up and go to school on time and how to cook and do the laundry. . . And on top of that, if you don't cook, I think you're missing a really fun opportunity." For those who do enjoy cooking, it's a no brainer. Buy one of Tom Douglas's cookbooks and have at it. But for those who are less inspired to get into the kitchen, does he have any tips?
"Stocking freezers," he says, makes a big difference, as does a well-stocked pantry. "One pot meals make a lot of sense . . . because so much of what people hate about cooking is really the cleanup, the mess, the grease." Douglas suggests that by focusing on convenience, the home cook can discover that if the process feels easier mentally, it actually becomes easier.
"Two things you can do to make you a better baker is get a thermometer in the oven," he says, "and make sure you actually have the right temperature that you think you have. . . . And another thing is before you open the cookbook, get a tare-weight scale that you can put a bowl on, tare it out to zero and then weigh everything." And use jumbo eggs. "We think that when you bake with jumbo eggs it kind of makes everything a little bit fluffier." I don't mention that The Dahlia Bakery Cookbook calls for large, not jumbo, eggs. I figure this is one of those chef's secrets that didn't make it into the published book, but I make a mental note to buy and use only jumbo eggs from now on and never let anyone know my secret. Anything more?
"Follow the directions," he says, though as obvious as that sounds, it's surprisingly difficult to do sometimes -- most of us either fail to read the directions closely, or tend to impose our own shortcuts or substitutions. But even experienced cooks can benefit from following directions. As for inexperienced cooks, it's the key to kitchen mastery. "If you don't have the confidence in baking, commit to making the recipe three times. The first two, do it exactly the way I've told you to make it. Twice. The first time you'll screw it up. The second time it will come out pretty good, and then the third time, make your adjustments. If you like a crispier cookie, turn down the temperature and cook it a little bit longer. If you like more raisins, or less raisins, go ahead and make your adjustments. You'll have the confidence at that point to kind of figure out what it is that you like better."
With those thoughts in mind, I decided to tackle the triple-coconut cream pie. I made and chilled the dough, exactly as he said. I made the pastry cream, exactly as he said. I made the whipped cream, exactly as he said. I rolled and crimped the pie, exactly as he said. But when he said to fill the entire shell with parchment paper and fill it with dried beans as pie weights, I knew a better way. I put a 9" round of parchment on the bottom and placed my serpentine string of store-bought pie weights on the bottom, like a single strand of stainless steel pearls dropped nonchalantly onto an empty pie shell.
The crust came out perfectly -- on the bottom. The sides, unsupported by any stainless steel pearls, much less a pound of dried beans, had slid to a curled and crumpled heap. It's a tart, I decided as I spooned the coconut pastry cream and whipping cream on top, a most delicious tart, one worthy of smearing on my face, it was that divine.
It was indescribably delicious. But good as it was, I knew that Tom Douglas was right. The first time I screwed it up. I clearly have to make it again. And again. After all, he said so.
In the meantime, The Dahlia Bakery Cookbook is ready to be devoured right now. If you pick up a copy, and you should, just be sure to do as you're told. Because Tom Douglas is one authority you won't want to question. His food really is that good.
Related