A Korean friend once told me, "In the American diet, you only have build-up foods like meat and cheese. We have breakdown foods: daikon, cabbage, leeks and scallions. Daikon helps the body burn fat."
So, I really enjoyed reading about these incredible Asian superfoods from a medical doctor's perspective. I thought people might enjoy some recipes and tips on how to cook and eat these amazing foods. The following recipes are tried and true ways that I've prepared and eaten daikon over the last 13 years after adopting a plant-based diet to help support my breast cancer treatment.
Daikon is a radish that looks like a white carrot. Eaten raw, it has a spicy taste. It can be grated and eaten with soy sauce. It can upset your stomach, so it's best not to eat too much of it. When I have it raw with a meal, I grate about one tablespoon.
A word of caution, though! This does not mean that you want to eat this dish every day! Our American way of thinking sometimes leads us to believe that more is better, this is not always so. Enjoy, but don't overdo. Eat a wide variety of fresh (organic, if possible) vegetables.
Washed daikon, with or without the tops
Water
½ teaspoon soy sauce
Cut the white root (what we consider the daikon) into half-inch slices. Put in a saucepan with one-half to 1-inch of water, depending on how many you're cooking.
Bring to a boil, cover, reduce heat to medium-low and cook for 2-3 minutes. Chop the washed tops into one-half to 1-inch pieces. Add some of these to the same pot. Add a little more water if necessary, cover, return to a boil, then reduce heat to low and simmer for 3 more minutes.
Add soy sauce and simmer for 3 more minutes, or until the root is soft but firm. Try it. You'll be pleasantly surprised.
This dish is kind of exotic and tastes great. It's one of my 21-year-old daughter's favorite foods I make!
I prepare and eat it the same day, and leftovers keep well refrigerated for two to three days. I think I made this side dish weekly or every other week the first several years of following a macrobiotic (plant-based) way of eating. It's still definitely on my list of frequently-made dishes.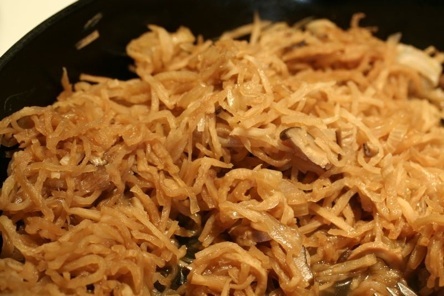 Dried Daikon and Shitake Mushrooms
1 6-ounce package of dried daikon (I used Eden brand), soaked in water and reconstituted
3-4 dried shitake mushrooms, soaked in water and reconstituted and sliced
1 onion, cut into half moon slices
2 tablespoons of mirin (a Japanese cooking wine)
2 tablespoons of soy sauce (I use Eden brand)
soaking water from shitakes and daikon
1 teaspoon of sesame or other oil
Heat oil in a cast-iron or stainless-steel skillet on a medium-high flame. Add the onion and saute 2-3 minutes.
Add dried daikon and shitake and saute another few minutes. Add enough of the soaking water to the skillet to have it come halfway up to the daikon, onion and shitake. Turn flame to high to bring to a boil, turn to low. Simmer, covered, for 40 minutes.
During the last 10 minutes, add the mirin and soy sauce and continue cooking uncovered to cook off any extra liquid in the dish. I like a little liquid left in the pan so that this dish is not completely dry.
Serve warm or at room temperature.
This stores well in the refrigerator for three days. To reuse, take out of refrigerator an hour or so before eating. No need to reheat!
Note: To make this wheat- and gluten-free, use tamari wheat-free soy sauce, or for a soy-free version, substitute soy sauce with 1/2 teaspoon of sea salt.
Have you ever tried daikon, dried or fresh? Would you consider adding it to your diet?
Related