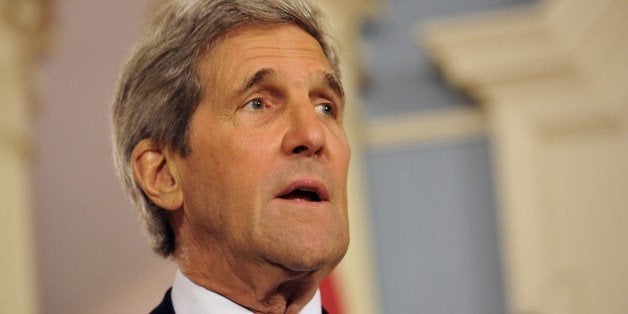 NEW YORK -- Daily Beast Executive Editor Noah Shachtman said Tuesday that reporter Josh Rogin "didn't break any rules" in reporting Secretary of State John Kerry's private remarks that Israel risks becoming an "apartheid state" if a two-state solution fails.
On Tuesday morning, Rogin published his third story referencing Kerry's comments made on Friday during a closed-door meeting of the Trilateral Commission, a non-partisan, policy-focused organization formed in early 1970s to promote dialogue between North America, Europe and Japan. Before the Commission, Kerry said that a "unitary state winds up either being an apartheid state with second-class citizens -- or it ends up being a state that destroys the capacity of Israel to be a Jewish state."
How the Daily Beast reporter landed the Kerry scoop drew scrutiny Monday night as Joseph Nye Jr., a Harvard University professor and North American chairman of the Trilateral Commission, alleged in a letter to Kerry that Rogin snuck into the event himself. Rogin has not said whether he personally attended the event, either in his articles or subsequent interviews.
In the letter, Nye apologized to Kerry and expressed "dismay" that Rogin "somehow sneaked into the meeting room" where the secretary of state was speaking to the Commission. (Politico first reported on Nye's letter, which was also obtained by The Huffington Post.)
"He was not invited," Nye continued. "Although how Mr. Rogin slipped past both Commission staff and Diplomatic Security is unclear to me, we have confirmed that he indeed was present and apparently recorded the session."
Rogin declined to comment on his sourcing when reached Tuesday, but said that he "didn't break any rules or agreements" in reporting the story. His editor echoed that statement.
"As a journalist, all you've got is your word," Shachtman told HuffPost. "If you agree that something is off the record, it has to stay off the record. Period."
"On the other hand, a journalist can't be bound by ground rules to which he didn't agree," Shachtman continued. "And Josh did not agree to the Trilateral Commission's rules."
In his letter to Kerry, Nye said that Commission members and guests were aware "that nothing said in the room may be used without explicit permission of the speaker" and that Rogin "undoubtedly heard me reiterate this rule at the time of your remarks."
Supposing Rogin attended, and heard or understood the event to be off the record, should he be bound by those guidelines?
If Rogin was a Commission member or invited guest, the answer is yes.
But Rogin was not invited to the event, as Nye acknowledged. So if Rogin attended and did not explicitly agree to any off-the-record ground rules, and did not misrepresent himself in the process, the comments are fair game to report from a journalistic standpoint.
But there's still the question of whether Rogin himself was even physically present at the event.
In a Friday article referencing Kerry's remarks, Rogin attributed the secretary of state's remarks to "an attendee" of a "private meeting in Washington."
Two days later, Rogin reported on Kerry's politically charged comment as being made "during his remarks to the Trilateral Commission, a recording of which was obtained by The Daily Beast."
Senior Israeli officials have expressed concerns similar to the one Kerry articulated at the meeting -- that the failure of a two-state solution and demographic trends could lead to a Jewish minority ruling over a Palestinian Arab majority without equal voting rights. Columnist Jeffrey Goldberg, a prominent Israel supporter, has also suggested the possibility of Israel becoming "an apartheid state."
Still, it appears unprecedented for the secretary of state to use the word "apartheid," which President Barack Obama, as a candidate, described as "historically inaccurate" in relation to Israel. Kerry walked back the remarks Monday evening after an ensuing controversy.
Then on Tuesday, Rogin reported more of Kerry's comments made before the Commission -- this time remarks related to the Ukraine crisis. He cited "a recording of Kerry's remarks was obtained by The Daily Beast."
In an email, Nye told HuffPost that he knows Rogin was in the room during the event because "he was recognized by a member who is a friend of his but did not know he was not invited." Nye did not name the friend. "All members, whether from the press or not, are expected to follow the Chatham House rules that I clearly stated," Nye added.
If Rogin recorded the remarks himself, it's unclear why he'd then cite "an attendee" or having "obtained" the recording.
During a Tuesday MSNBC interview, Rogin again declined to discuss his sourcing, but maintained that "it's the job, actually the responsibility, of reporters to report for the public what our leaders are doing and saying about important issues both in public and private."
While Rogin wasn't invited to the Washington meeting of the Trilateral Commission -- a group primarily comprised of academics, policy wonks, executives and former government officials -- some journalists were.
HuffPost obtained a list of participants for last week's gathering, which included New York Times columnist David Brooks, Washington columnist David Ignatius, Time Magazine Executive Editor Michael Duffy, and Wall Street Journal Washington Bureau Chief Gerald Seib.
If those journalists, or others, attended as invited guests, they would presumably not report what transpired inside. However, it's unclear if any were there on Friday afternoon.
Seib told HuffPost he didn't attend; Brooks, Ignatius and Duffy did not respond to calls and emails seeking comment.
This story was updated with a comment from Joseph Nye.
REAL LIFE. REAL NEWS. REAL VOICES.
Help us tell more of the stories that matter from voices that too often remain unheard.