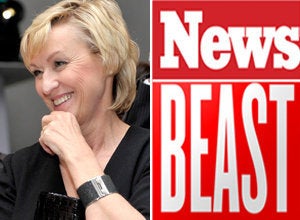 UPDATE: In a Monday memo to staff, Newsweek CEO Tom Ascheim and owner Sidney Harman claimed that they, not the Daily Beast, withdrew from discussions of a merger between the two organizations.
"As I'm certain you've all heard, we have been engaged in discussions with The Daily Beast about the possibility of an alliance which included the potential for a new editor at Newsweek," Ascheim wrote. "We have withdrawn from those conversations. If anything changes on that front, we will be back to you."
Ascheim also said that Newsweek and IAC, the Beast's parent company owned by Barry Diller, were releasing a joint statement, reading, "Barry Diller and Sidney Harman explored the possibility of uniting The Daily Beast and Newsweek. In the end, they mutually decided not to pursue the possibility. Each wishes the other well."

ORIGINAL POST: After months of rumors, and amidst mounting speculation that a deal was imminent, The Daily Beast announced that it has withdrawn from talks with Newsweek about a merger between the two organizations. Had the deal gone through, Brown was widely expected to have become editor of the magazine.
In a staff memo, Daily Beast editor-in-chief Tina Brown wrote that "the engagement was fun but the pre-nup got too complex. We wish Newsweek all the best. The Daily Beast is on a tear and any partnership we think about has to build on that incredible growth."
The Wall Street Journal broke the news. In its story, the Journal reported that the talks between the Beast and Newsweek were stalled over what roles the three main people involved in the organizations -- Brown, the Beast's chief financial backer Barry Diller, and Newsweek owner Sidney Harman -- would play in any merged institution.
All three "are heavily invested financially and emotionally in their respective news operations and not inclined to cede control," the Journal wrote, adding that "talks broke down because the two parties couldn't come to an agreement on governance and editorial control."

Related
Popular in the Community