" Daily Blast Live ," a daily live-streaming show on social media, has scrubbed its social media of a contentious discussion about political correctness and white privilege between hosts Al Jackson and Beau Davidson that aired on the program Wednesday.
Jackson was asked to respond to those saying that the cartoon was not racist.
"Racism is depending on who is privileged and who isn't," said Jackson. "The person who wrote [the cartoon] I'm assuming is a white male. And a white male can never understand what marginalized people feel and think."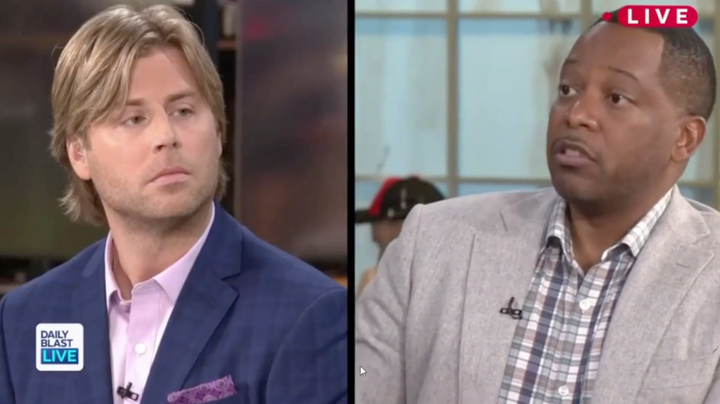 Jackson went on to highlight the different experiences of a white man and a man of color, using his colleague Davidson as an example of someone with white privilege.
"People don't believe in white privilege, they don't think that it's a thing," said Jackson. He addressed Davidson:
I'll ask you this, and this is going to sound like a shot but it's not. You're on a social media show and you have a hundred Twitter followers. You have a thousand Instagram followers. I have 30,000. I have a master's in biomedical sciences. I have over 200 TV appearances. You are the living embodiment of white privilege. You have no business on this panel with us, but you're here because of your privilege. I have hundreds of black people, brown people in my phone that are more qualified, have done more in their career to deserve to be in that seat. But you sit there, because of your white privilege.
In response to Jackson's comments, Davidson said, "Well I'm sorry you feel this way." Jackson responded: "No, these are just facts. We need numbers."
Davidson went on to say that Jackson has "no idea" what he's been through and cited that he was once sexually harassed on a job, worked hard to get good grades to get into college, and has to struggle to get acting roles.
Jackson countered, asking Davidson to imagine he was a black woman dealing with those same problems. Davidson responded that he isn't a rich man and that God guides him.
The clips of the conversation, and posts connected to the clips, have since been removed from the show's social media pages.
One individual on Twitter noted that when they shared video of the moment on their page, they received a Digital Millenium Copyright Act takedown notice from the producers.
A spokesperson for "Daily Blast" told HuffPost that one of the company's core values is "that we remain personally respectful when we disagree. We have spoken to our hosts directly about yesterday's panel." The spokesperson did not elaborate further.
The spokesperson confirmed that the show's staff submitted four DMCA notices Wednesday night and "no additional notices have been submitted."
When Wednesday's conversation shifted back to the cartoon of Williams, Jackson cited his experiences as a black man in America and explained that he saw cartoons as a child that made fun of black people's facial features.
"I don't think that there's a lot of people that understand that that's what we grew up with. In my lifetime, I've seen it in my face. I've been made fun of, I've seen friends made fun of for the size of their lips," he said. "If you look at that and don't see where the racism is in that, that's even worse."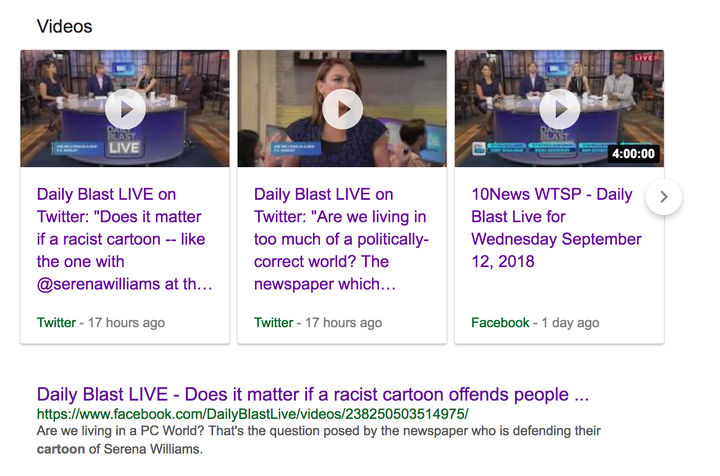 Davidson responded by offering an iteration of a quote by the late Justice Antonin Scalia about the American flag: "He said, 'It kills me and I'm offended that the flag gets burned, but I believe in the First Amendment.'"
Jackson followed that up by saying that he didn't understand how someone could say something like that when segregation still exists and there's a "prison pipeline for young black males."
"You look at things in a vacuum," said Jackson. He later added: "I don't want to talk to you because I don't want to normalize you and your hate speech. Me working with you will be the biggest regret of my career."
You can watch the entire moment above via Vimeo.
Popular in the Community