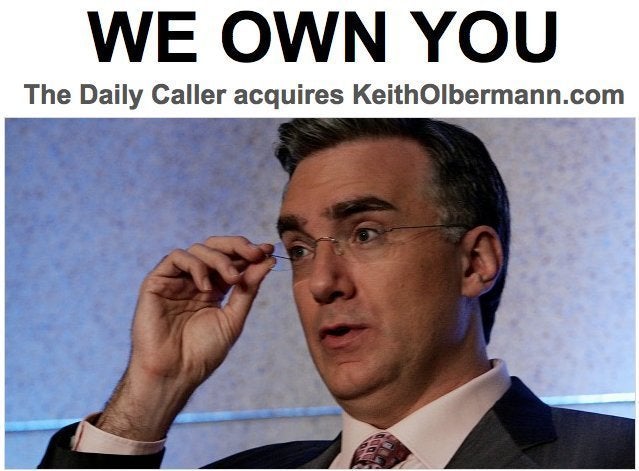 The Daily Caller now owns Keith Olbermann--or, at least, it owns his domain name.

"We plan to make The Daily Caller the one-stop online shop for Keith Olbermann commentary," said Editor-in-Chief Tucker Carlson. "We will be THE Keith Olbermann superstore."

As it stands, KeithOlbermann.com is identical to the Daily Caller's regular website. The lead headline, over a large picture of Olbermann: "We Own You."
The site has been a thorn in Olbermann's side for some time, mocking his ratings and accusing him of only bringing on guests he agrees with. Olbermann has responded in kind, often on Twitter. This morning, Olbermann and Tucker Carlson, the site's editor, took their feud to Politico. Carlson told the site:
"This is just the beginning of an online public service project. We'll be rolling out more in the coming weeks and months but I'd love to get your suggestions. Email me anytime at my personal address, keith@keitholbermann.com."
Olbermann responded to the acquisition, telling Politico, "I hope whoever sold the site got cash."
UPDATE: Keith Olbermann has spoken out again on Twitter, saying that the Daily Caller's purchase of the domain name is illegal:
"Also regarding @TheDailyCaller and KeithOlbermann.com - the law's pretty clear on this, so, nice waste of money, Tuckie."
"it's a copyright case and remarkably settled law"
REAL LIFE. REAL NEWS. REAL VOICES.
Help us tell more of the stories that matter from voices that too often remain unheard.