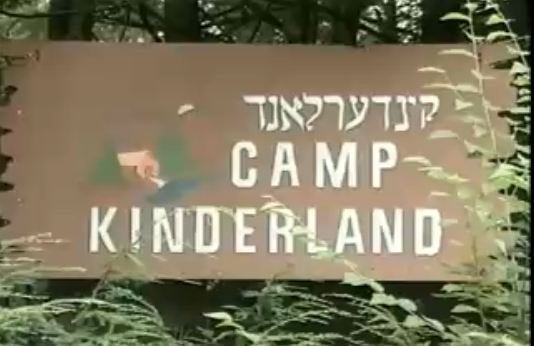 Good news for people who love breathless paranoia! Matt Boyle, who by day serves as the Daily Caller's "Fast and Furious" muckraker, landed a hot scooplet about an Obama administration appointee to the Bureau of Labor Statistics with a shady past that involves sending her children to a summer camp. A Jewish summer camp! Run by seriously liberal Jews. And this is HUGE, because McCarthyism, or something:
Obama nominated Erica Groshen to be the BLS commissioner in February, but this new report — obtained by The Daily Caller and set to be released on Thursday — reveals for the first time publicly that she sent her children to Camp Kinderland. The ALG report reveals how "Groshen and her husband are listed in the Kinderland Directory 2011-2012, which indicates that they sent children to the camp during the 1990s and 2000s."
Well, when you put it like that, it sure sounds like something that I am supposed to give a hot hoot about, so what's the dilly with ol' Camp Kinderland?
Turns out that way, way back in the day -- 1923, to be precise -- Camp Kinderland was established by members of an organization known as The Workmens Circle at Sylvan Lake in Hopewell Junction, New York, as a way of providing the children of working-class Jews in New York City with an escape from tenement life. In the latter part of that decade, however, the Workmens Circle experienced a complicated internecine philosophical battle, resulting in a factional split. The more leftist faction of the Workmens Circle went on to found the International Workers Order, a Communist-affiliated labor organization. They took Camp Kinderland to Tolland, Mass., where it was re-established the camp under the aegis of the IWO. The non-IWO affiliated members of the Workmens Circle were left to found a new camp -- Camp Kinder Ring -- in Hopewell Junction. [CORRECTION: While the schism in the Workmens Circle in the late 1920s resulted in the formation of both the new, IWO-affiliated Camp Kinderland and the new, non-IWO-affiliated Camp Kinder Ring, the former camp's relocation to Tolland, Mass. was not a result of the factional divide, and, in fact, the camp did not move to Tolland until long after the IWO was dissolved and Camp Kinderland had ceased to be associated with the organization. It's not a material point, but I apologize for the error.]
As you might expect, it's all these ancient affiliations to the IWO that have put this bee in Boyle's bonnet. Per Boyle:
The U.S. House Un-American Activities Committee and New York state investigated the camp for its communist ties in the 1950s — something the camp's website calls "red baiting witch hunts." The investigation prompted Camp Kinderland to make a "legal determination" that it was not a part of the IWO.

Camp Kinderland says on its website that since then, it "has remained to this day an independent entity run as a not for profit organization."

But, on another part of its website, Kinderland says it "is true to the vision of its founders" — which, according to NYU, included members of the Communist Party.
There's a lot to unpack here. Scrutiny of the IWO began in 1944, when it was investigated by the Dies Committee. The camp's website refers to the activities of the post-war Red Scare era as "red baiting witch hunts," because that was what they objectively were, and that is how they have been conventionally remembered. (Very few people left of the John Birch Society look back on the days of the Hollywood Blacklist and the House Committee on Un-American Activities with particular fondness.) Whether or not the camp made a "legal determination" that it was "not a part of the IWO" is completely irrelevant -- by 1954, the IWO no longer existed.
Does Camp Kinderland claim to be "true to the vision of its founders?" Absolutely! Here is the full sentence, though, from their website: "Founded in 1923 by Jewish activists as a retreat for their children from the tenements of NYC, Camp Kinderland is true to the vision of its founders." And Camp Kinderland's motto is this: "Summer Camp with a conscience since 1923."
The reason I emphasize 1923 is this: if Camp Kinderland claims to be true to the vision of those founders -- the 1923 founders -- then it is specifically referring to its original founders from the period before the Communist faction of the Workmens Circle split from the group, founded the IWO, and re-established Kinderland under its auspices.
In a difficult world, we are an oasis for children; a place where they can be themselves, feel at ease, and work and play in an atmosphere of cooperation and trust. As at many camps, our campers play sports, swim and hike, gain new experiences in arts, drama, music, dance, nature and camping. But at Kinderland they also encounter ideals of social justice and peace. They don't hesitate to sing a Yiddish labor song, paint a mural of Harriet Tubman or write a skit about putting an end to war—that's just what you do at Camp Kinderland, where it is okay to think, to care, to question and to act.
Every few years, someone writes an article about Kinderland in a nationally read publication. They write about our campers' murals depicting social and political movements. They write about how we sing classic union songs, Yiddish folksongs and songs of the civil rights movement. They write about how the bunks are named after Paul Robeson and Joe Hill, Anne Frank and Harriet Tubman.
The Atlantic's Jeffrey Goldberg -- whom you'd hardly mistake for a Communist -- snarks at Boyle:
The Workmen's Circle! The most harmless organization in America! This is what they're worried about? You should have seen my Jewish summer camp, Camp Shomria, a Socialist Zionist outpost in the Catskills. Kinderland was for bourgeois pantywaists. We, on the other hand, almost succeeded in forcibly collectivising Grossinger's.
He goes on to note how Boyle's piece carries the grand Nixonian tradition of "Jew-counting" into the 21st century:
The Bureau of Labor Statistics, you'll recall, was the organization Richard Nixon believed was overpopulated with Commie Jew-types. He became so obsessed with this, in fact, that he tasked an aide, Fred Malek, to count all the Jews in the bureau, some of whom were subsequently demoted. But it's hard to keep those Commie Jews down, apparently.
attn @mboyle1 more gold for you--new york public library contains plays and books by known communists--my name cant come out--im in too deep

— max read (@max_read) July 19, 2012
UPDATE, 4:20pm: Camp Kinderland's Ileana Font-Soloway forwards a statement to the Huffington Post:
Camp Kinderland condemned a McCarthy-style smear published today by The Daily Caller, owned by right-wing pundit Tucker Carlson.

Camp Kinderland, a children's summer camp in Western Massachusetts, has been an institution of the secular Jewish community and progressive movement since its founding by Jewish labor movement activists living in New York City's tenements in 1923. Today, it's a summer haven for children from around the country whose families believe in values like peace, justice and equality.

An article in the Daily Caller cites a new "report" from the conservative organization Americans for Limited Government that questions President Obama's nomination of Erica Groshen to the Bureau of Labor Statistics because she once sent her children to Camp Kinderland.

"We've seen these kind of ridiculous old-school tactics before--unfortunately, the Daily Caller and Americans for Limited Government believe McCarthy style attacks are a legitimate approach to politics," said Camp Kinderland Board of Directors Chairman Billy Rothberg. "We at Camp Kinderland reject that approach. We are extremely proud of our progressive roots--and of our vibrant community of families committed to teaching social justice to the next generation."
Calling all HuffPost superfans!
Sign up for membership to become a founding member and help shape HuffPost's next chapter