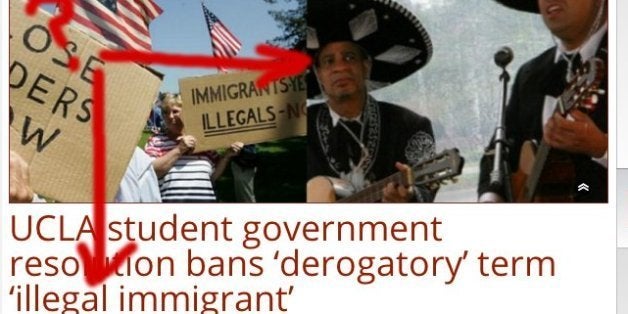 The Daily Caller has got its own ideas about what undocumented immigrants look like.
The article, covering the University of California at Los Angeles student body's resolution to stop using the term "illegal immigrant," featured a split photo, with one side showing an anti-illegal immigration protest and the other side featuring mariachis wearing wide-brimmed sombreros. The photo bears no caption that might help explain why the musicians should symbolize the estimated 11.1 million undocumented immigrants living in the United States.
Despite its inaccuracy, the image selection highlighted one of the issues described in the article.
The UCLA students' resolution says "racially derogatory language used in media" has "historically bolstered the foundation for racially harmful actions including racial profiling."
The Daily Caller took issue with the statement, writing: "The resolution does not explain how a term describing people from other countries who don't have the right consular paperwork is racist."
But the conservative publication proves the students' point, using a stereotypical image of Mexicans to symbolize the undocumented immigrants as a group.
Mexicans accounted for 58 percent of the undocumented population in the United States as of 2010, according to the Pew Hispanic Trends Project. Statistics for undocumented mariachis were not readily available, but they presumably do not make up a significant portion of undocumented Mexicans in particular or undocumented immigrants in general.
Yes, we know that TDC [The Daily Caller] is just TDC, and they really don't care, but come on, this is just lazy and straight-up ignorant. But what do you expect from a page that has not one, but two auto-ads about Spanish on the same story about how UCLA students are just a bunch of liberal whiners.
The Daily Caller referred to the UCLA student group's choice to drop the term "illegal immigrant" as a "ban," though the resolution does not prohibit students from using the term -- it only states a position and encourages students to adopt alternatives.
UPDATE: Daily Caller Education Editor Eric Owens responded to a request for comment by email, writing in Spanish:
"El Daily Caller es una organización que no tiene una posición sobre inmigración. Pero, nos encantan bandas de mariachia y acogemos favorablemente ninguna razón que podemos incluir sus fotos."
We appreciate the Spanish, though it's a little broken. Our rough translation: "The Daily Caller is an organization that doesn't have a position on immigration. But, we love mariachia [sic] bands and we favorably embrace no reason that we can include their photos."
This post was updated on Wednesday, Sept. 4, at 1:55 p.m.
Before You Go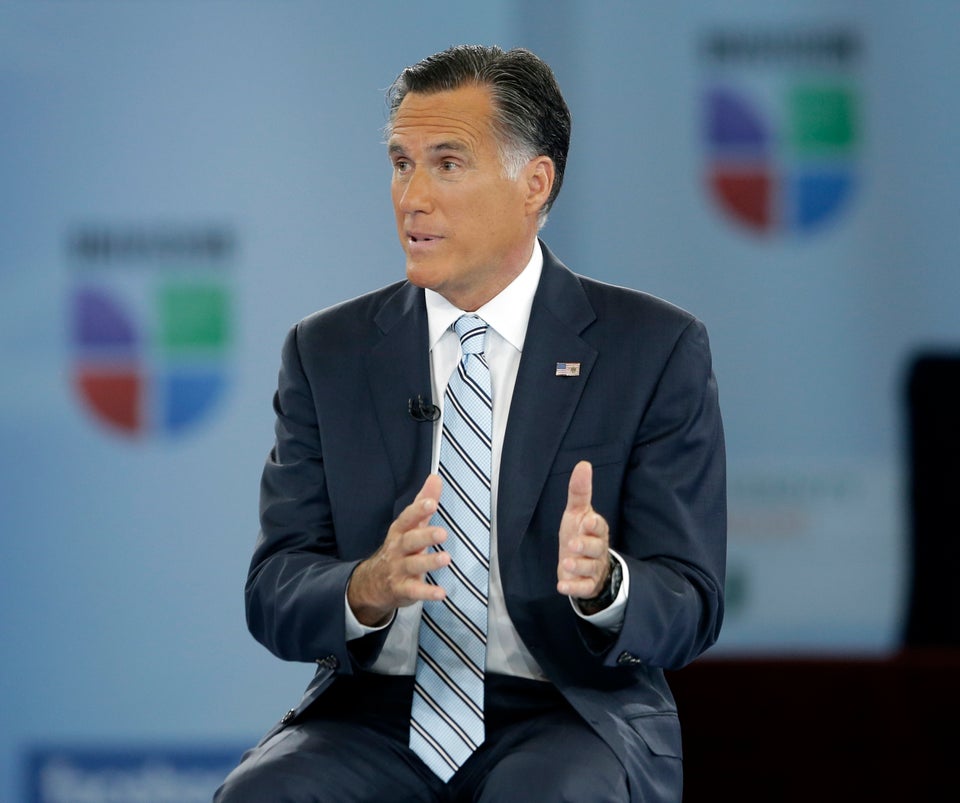 Dumbest Commentary About Latinos In 2012
Popular in the Community