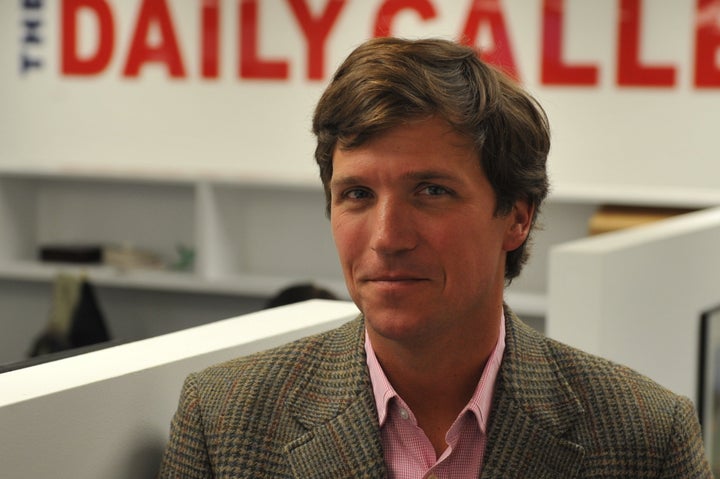 NEW YORK -– The Daily Caller's editor-in-chief, Tucker Carlson, denied Friday that his news site paid Dominican lawyer Melanio Figueroa to find women who would lie about having sex with Sen. Robert Menendez (D-N.J.), an allegation that had surfaced in a Washington Post article.
"It seems clear to me Figueroa is under pressure to change his story," Carlson said in a statement provided to The Huffington Post. "What I know for certain is this claim is a lie. The Daily Caller never paid anyone, was never asked to pay anyone and of course never would pay anyone for this story."
On Nov. 1, The Daily Caller reported the claims of two women from the Dominican Republic on video that Menendez had paid them for sex. But the unsubstantiated allegations against Menendez had initially been pushed more than six months earlier, beginning with an anonymous tipster contacting the group Citizens for Responsibility and Ethics in Washington (CREW) and later operatives approaching several news organizations.
HuffPost has reported that both The New York Post and New Jersey's Star-Ledger investigated the claims last summer but did not find enough information to warrant writing stories. CREW, which lacked the resources to adequately investigate the claims, reached out to ABC News, which then tried confirming them to no avail.
On the same day that The Daily Caller -- a conservative site co-founded by Carlson in 2010 -- interviewed two of the alleged prostitutes by Skype, ABC News reporters spoke to all three. HuffPost has reported that ABC News was approached about doing the interviews in mid-October, and ABC has described those arranging the interviews as Republican operatives. ABC News indicated that it was not convinced by the women's accounts because "none of the women could produce identity cards with their names, and they all provided the same story almost word for word, as if they had been coached."
The Daily Caller was supposed to interview a third woman that day, but said it could not because a laptop battery in the Dominican Republic died.
While ABC News didn't trust the women's accounts, The Daily Caller quickly completed and published a story. Matthew Boyle, a Breitbart News reporter who wrote the original Menendez piece while at The Daily Caller, began reaching out to the senator's staff for comment around 4:30 p.m. on Oct. 31, the day of the interviews. The Drudge Report began teasing a supposed "scandal" that evening, with The Daily Caller publishing its Menendez story around 1:40 a.m. on Nov. 1.
Given that the prostitute allegations were never substantiated, many news organizations did not cover them and recent reporting only gives more reason to doubt their veracity.
On Monday, the Associated Press reported that "three women were paid to falsely claim in videotaped interviews that they had sex for money" with Menendez, according to a spokesman for the police conducting an investigation in the Dominican Republic. The AP wrote that authorities were seeking to interrogate Figueroa.
The Washington Post reported Friday that Figueroa said a foreign man identifying himself as "Carlos" had "offered him $5,000 to find and pay women" to make such claims against the senator, according to the district attorney for the La Romana region.
"The accusations made Thursday by Melanio Figueroa about The Daily Caller are categorically false," The Daily Caller said in its own statement on Friday. "At no point did any money change hands between The Daily Caller and any sources or individuals connected with this investigation, nor did anyone named Carlos travel to the Dominican Republic on behalf of The Daily Caller. As recently as two weeks ago, Figueroa was on record with another news outlet as saying the women he represented were telling the truth about their initial allegations against Senator Mendendez [sic]."
ABC News reported Friday that Figueroa "has given contradictory public statements about the incident over the last several weeks," while also providing more details about the name "Carlos" coming up in conjunction with the Oct. 31 interviews.
When asked about "Carlos" during the interviews, one of the women said, "He says he works for a newspaper or something like that."

At the time, "Carlos" was described to ABC News by the lawyer Figueroa as an associate who was in charge of organizing the interviews via a Skype hook-up. There was no mention made of any connection between "Carlos" and The Daily Caller.

The Skype address used by ABC News to make contact in the Dominican Republic included the names Carlos and Martinez. A message sent by ABC News Thursday to the same Skype address seeking comment has not been returned.

A Republican operative who insisted on anonymity made the introduction between ABC News and Figueroa and "Carlos."

The Daily Caller published its own story Friday on Figueroa, reporting that the lawyer "blamed four news outlet -- CNN, The Daily Caller, Telemundo and Univision -- for allegedly encouraging him to fabricate false accusations about Menendez." According to The Daily Caller's story, Univision reported Thursday night that Figueroa claimed he had been paid $5,000, which he used to find the three women.
The Daily Caller also included a statement from Univision noting that the Spanish-language network characterized "Figueroa's claims as absolutely ridiculous, utterly false" and that the network has not had contact with the lawyer.
During an interview last month with HuffPost, prior to reports of the women being paid to make claims against Menendez, Carlson explained why The Daily Caller ran a story on the Menendez allegations and responded to criticism for doing so.
"We interviewed a couple of prostitutes on tape who said they, you know, knew Menendez and he was hiring hookers and having sex with them," Carlson said. "That seemed like a story to me. I don't know how you wouldn't run that. And we were attacked for it. ... I actually don't care that much, because I just assume that people are going to dismiss some of our reporting because they don't like my politics. There's nothing I can do about that, so I try not to pay attention."
REAL LIFE. REAL NEWS. REAL VOICES.
Help us tell more of the stories that matter from voices that too often remain unheard.
BEFORE YOU GO
PHOTO GALLERY
Longest Serving Senators In U.S. History