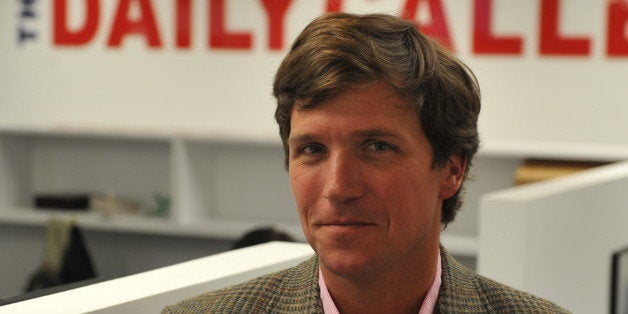 So much for editorial independence. Conservative blogger Mickey Kaus has resigned from The Daily Caller after the site's co-founder and editor-in-chief, Tucker Carlson, pulled a column critical of Fox News.
Kaus announced the news via Twitter on Tuesday evening.
Kaus, who's taken to crusading against amnesty!™ and "illegal aliens," wrote a piece criticizing the conservative network for "not fulfilling [its] responsibility of being the opposition on amnesty and immigration." It was up on the site Tuesday morning, but was quickly removed.
According to Kaus, Carlson -- a contributor to Fox News and the weekend host of "Fox and Friends" -- said The Daily Caller could not publish material critical of the network because of his affiliation. "We can't trash Fox on the site; I work there," Carlson said.
"He said it was a rule, and he wouldn't be able to change that rule. So I told him I quit," Kaus told Politico's Dylan Byers. "I just don't see how you can put out a publication with that kind of giant no-go area. It's not like we're owned by Joe's Muffler Shop, so we just can't write about Joe's Muffler shop."
"It's a larger problem on the right: Everybody is scared of Fox," he added.
Reached for comment, Carlson said he was "sorry to see him go."
Kaus has reposted the column on his blog, Kausfiles.
REAL LIFE. REAL NEWS. REAL VOICES.
Help us tell more of the stories that matter from voices that too often remain unheard.