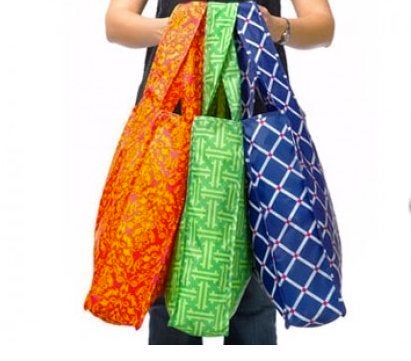 RuMe bags are designed for reusability, and it's easy to imagine 101 ways to use these versatile bags at home, school, work and on the go. The creators are Jae and Katy Lee, a husband-and-wife team on a mission to offer affordable products that use fewer resources without sacrificing style or functionality.
RuMe bags come in scores of patterns and sizes, and they all share a few key features: They're made from a very strong, water-resistant and machine-washable polyester material and constructed with double-bound seams. The sturdiness and attention to detail really distinguishes these bags, which are sewn in South Korea in a factory that adheres to fair trade practices.
You can stash snacks and sundries in the smaller bags, while the midsize tote bag can hold groceries, books and other cargo weighing up to 50 pounds. For travel pros, the see-through Reveal design makes it easy to keep your toiletries exposed (to abide by security regulations) without having to pack them in a flimsy throwaway bag. A clever option for on-the-go coffee drinkers is the Cuff, a protective sleeve for coffee cups that includes a zippered pocket for stashing essentials (and it also doubles as an armband carrier).
When you're not using them, the RuMe bags are easy to roll up and tuck in your purse, backpack or car so you always have one on hand.
Popular in the Community