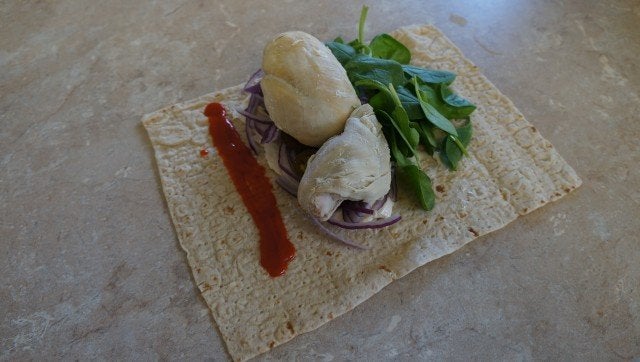 Daily Diets is a series chronicling what professionals in a variety of fields eat during a 24-hour period. We will focus on those whose eating regimes stray from the norm due to time constraints or dietary restrictions, in an attempt to reveal just how multi-faceted modern food culture is.
My name is Jamie McDonald, but everyone knows me as "The Bear."
I am a competitive eater and natural bodybuilder and have been training for bodybuilding for three years. I have only been involved in competitive eating for around eight months, but I recently consumed 287 wings in thirty minutes.
For my normal day job I work in the aerospace industry in aftermarket support. The common thread between both my hobbies is that they both require extreme will power and mental toughness. However, when it comes to food they are polar opposites. In order to maintain a low body fat percentage for my body building competitions, I am in the gym at 4:00 AM every morning weight training and, depending on how much damage I have done through competitive eating, a lot of extra cardio.
My bodybuilding experience enables me to prepare my body for the enormous amounts of food I can take in during an eating contest and also how to deal with the aftermath in the most efficient manner possible.
Outside of competition I restrict my diet to mostly vegetables, lean meats, and small amounts of fruit. This allows me to balance out the extreme calorie loads from events.
On a typical day I consume approximately 250-275 grams of protein, 100-150 grams of carbs, and 40 grams of fat. This is an extremely tight diet for someone my size (6'2", 218 pounds). By keeping my protein levels high while minimizing carbs and fat, I am able to spare as much muscle as possible while maintaining a caloric deficit.
Where my diet really varies from the typical bodybuilder is that, in my competitive eating training, I will typically take in 12-15 pounds of vegetables and fluid at breakfast and dinner to stretch my stomach capacity.
As a bodybuilder one of my biggest pet peeves is when people talk about "clean" or "dirty" foods. I think that I am the perfect example that if you are willing to balance your food intake (even in my extreme circumstances) nothing should be off limits. If you want a hamburger or piece of pizza go for it, but realize that you will have to pay the piper in the form of reducing calories elsewhere or adding some extra elements to your exercise regime.
For example since Wingbowl, I have eaten nothing but veggies and boiled chicken. I have reduced carbs and fat as much as possible and have also managed to fit five hard gym sessions in 3 days into my busy schedule. With this regime, I know that I will have dropped the added weight by the end of the week in prep for my next contest, this Saturday.

Read Jamie's 24-hour food diary:

Pre-workout
2 Rice cakes with 1 teaspoon of natural peanut butter on each
1 liter of water
Pre-workout supplement
The rice cakes give me a quick digesting source of carbs, while the fat and protein in the peanut butter help sustain an intense workout. If I am only doing cardio that morning I cut this by half.

Post-workout meal
1 serving of casein protein powder
6 oz fat free Greek yogurt
1 diced apple
2 cups wheat bran
1-1.5 gallons of fluid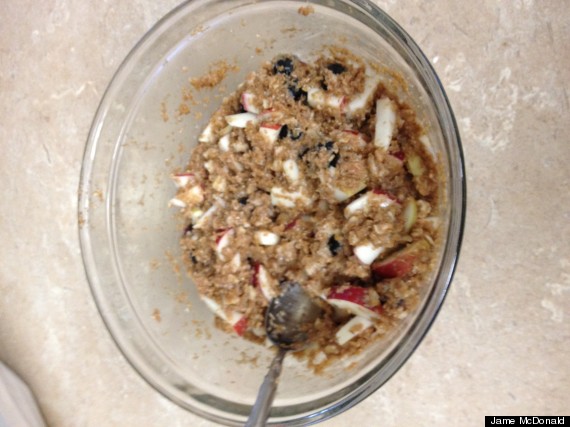 This is my first real meal and I want it to keep me full until lunchtime. The casein and yogurt are a mix of slow and faster digesting proteins, while the apple and wheat bran are a mix of faster and slower or even non digesting carbs. This provides my muscles the nutrients needed and keeps my fat intake post workout to a bare minimum. While the fluid helps stretch my stomach.

Lunch
1 lb of steamed veggies
7 oz of lean meat
Lots of Sriracha Hot Sauce
½ gallon of water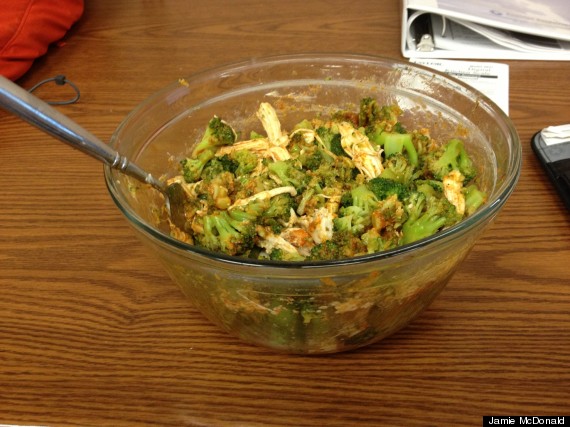 Again, this meal provides a good amount of protein and complex carbs and helps me get through to midday. I will vary the meat source just depends on what I am feeling like that day (beef, chicken, pork, fish). With this meal I will also take 8g of fish oil supplements to add some healthy fats

Mid afternoon Meal
Low carb/high fiber wrap
7 oz lean meat
Red onion
Hot peppers
Reduced fat cheese
Dijon mustard
½ gallon of water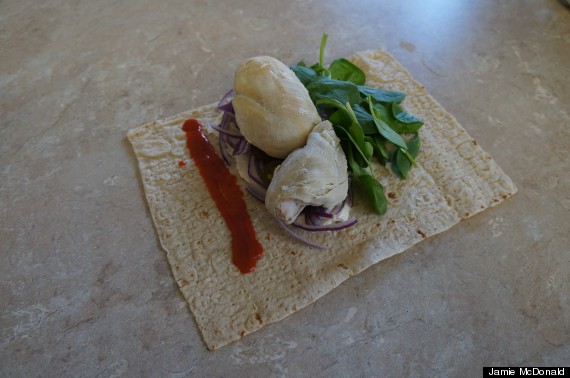 With this meal I get some starchy carbs and some additional fat to help carry me along until dinner time.

Dinner
4 lbs of mixed salad (spinach, various lettuces, peppers)
7oz lean meat
Fat-free Feta cheese
Homemade dressing (a mix of balsamic vinegar, apple cider vinegar, Dijon mustard and Sriracha)
1-1.5 gallons of fluid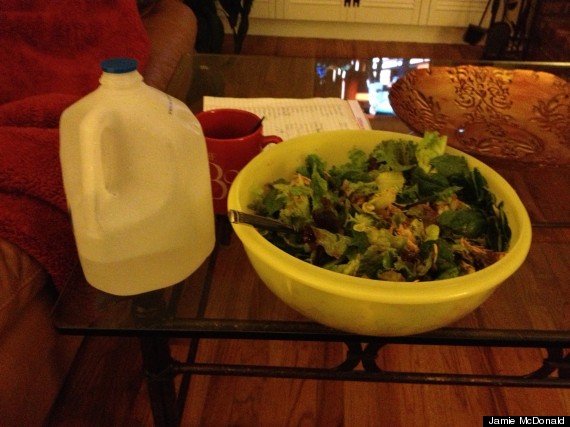 For Dinner, I am trying to take in as much as I can in order to stretch increase my capacity. This is one of my favorite meals and making my own dressing gives me something that I can really enjoy. It tastes great and yet has zero fat.
Pre-bed snack
2 scoops casein protein mixed to a pudding consistency and frozen
30g of PB2 sprinkled on top, which is a defatted powdered peanut butter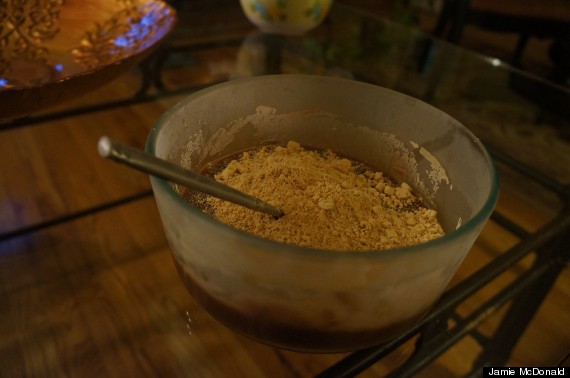 This provides a good slow digesting protein that will last through the night while adding the peanut butter makes it taste fantastic while adding more needed carbs and fats.
If you or someone you know has an interesting or abnormal eating regimen, drop us a line!