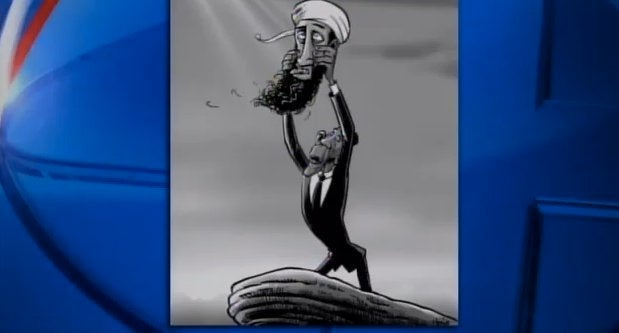 The editor of the University of New Mexico's student paper has apologized for a cartoon printed in the publication's Wednesday issue that was deemed racially insensitive by some students.
The cartoon, which was given the green light by Daily Lobo Editor Chris Quintana, depicted President Barack Obama holding Osama bin Laden's head in triumph, modeled after the classic scene from the Lion King in which Rafiki, a monkey, held baby Simba above his head.
The Daily Lobo itself reported that 30 students gathered on campus Wednesday to protest the depiction of Obama as a monkey:

[African American Student Services employee Christina] Foster said that, historically, African-Americans have been depicted as monkeys to show that they are less than human. She said such a cartoon sends the wrong message to the community.

"This is a continual use of racial propaganda," she said. "… And I stand here today to tell you that is not what we're going to stand for. This racial propaganda was used to justify the use of slavery and to keep the institution of slavery alive in this nation."
According to KOAT, Quintana took "full responsibility" for the cartoon after readers expressed offense.
"It was not published with the intent to perpetuate stereotypes, or infer African-American students are in any way inferior," Quintana wrote in an editor's note. "Someone in my position should be more culturally sensitive, and I and the staff plan to remedy the situation."
Calling all HuffPost superfans!
Sign up for membership to become a founding member and help shape HuffPost's next chapter