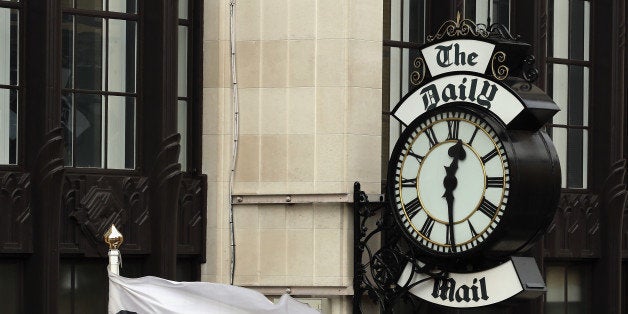 * Daily Mail plans to launch Australia news site next year
* The Guardian launched Australia site six months ago
* Pressure growing on local Fairfax, News Ltd sites
SYDNEY, Nov 27 (Reuters) - The world's most popular internet newspaper, the Daily Mail, will join another British daily in the online Australian news business next year, as global publishers jockey for a prime position to tap into Asia's growing English language readership.
Even as local media groups slash editorial staff in response to dwindling advertising revenues, the Daily Mail is wading in on the heels of a successful online launch six months ago by left-leaning British newspaper The Guardian.
News aggregator site BuzzFeed has also outlined plans for Australia while there are industry rumours that U.S. opinion and news site The Huffington Post is also interested.
In their sights is a potential launch pad into an English-language readership in Asia of potentially hundreds of millions of people. Australia is perfectly placed to set up a regional base, given its cultural similarities, transparent regulatory and legal systems and pool of quality potential employees.
"The game here is becoming a global English-language media brand to join the likes of the BBC, CNN and the New York Times," said Margaret Simons, director of the Centre for Advancing Journalism at the University of Melbourne.
"How many there can be and what sorts of alliances they will form will play out over the next five to 10 years."
Guardian Media Group Chief Executive Andrew Miller this month told local media publication Encore that that "building out from Australia into the region is definitely of interest".
MailOnline publisher Martin Clarke said on Wednesday that around one million of the site's 57.3 million monthly unique visitors globally are in Australia, making the country "an obvious market".
"We are going very nakedly for a scale play," he added.
Clarke plans to hire 50 journalists for the Australian version of MailOnline, the most read internet newspaper in the world. The Guardian, meanwhile, has built up a local team of more than 30 reporters since launching here six months ago.
The pair's investment contrasts with belt-tightening by Australian publishers, which are struggling with a massive shift online and declining advertising revenues.
Fairfax, News Ltd, Rupert Murdoch-controlled News Corp's Australian unit, and smaller rival APN News & Media Ltd have all announced restructures and sweeping job cuts during the past year.
The MailOnline Australian site, a joint venture between the Daily Mail and General Trust PLC with Nine Entertainment Co's digital arm Mi9, will be free to view, as is The Guardian, and will rely on advertising revenues for growth.
Revenues from digital advertising at the UK's MailOnline site are growing fast, whereas advertising at the company's print titles are declining. The site expects full-year revenue of about 45 million pounds ($72.82 million).
Providing local content free will likely put pressure on Fairfax and News Ltd's paywall models, which are central to their earnings growth plans.
Adding to the competition is the fact the left-leaning, investigative Guardian Australia and the right-wing, popular culture Daily Mail will cover opposite ends of the news spectrum.
The MailOnline's continuously updated vertical stack of celebrity photos on the front page that click through to stories, dubbed "the sidebar of shame", is a hugely popular drawcard.
The Guardian, meanwhile, is making waves in Australia with reports of Australian government spying on Indonesian President Susilo Bambang Yudhoyono, citing a secret document leaked by U.S. National Security Agency (NSA) contractor Edward Snowden.
"It comes down to the content they can get," said Stephen King, co-director of the Business Policy forum at Monash University in Melbourne. "If they have content that readers want, they will steal them away from the pay wall media."
The Guardian, backed by angel investor, Australian entrepreneur and philanthropist Graeme Wood, said earlier this month that traffic levels to the Australian site were up 30 percent on the launch, exceeding its expectations.
Clarke said he expected the Daily Mail venture to be profitable "pretty quickly". Mi9 Chief Executive Mark Britt declined to comment further on financial or audience information, because of Nine's imminent public float.
Calling all HuffPost superfans!
Sign up for membership to become a founding member and help shape HuffPost's next chapter