We all need help maintaining our personal spiritual practice. We hope that these daily meditations, prayers and mindful awareness exercises can be part of bringing spirituality alive in your life.
Today's meditation features a prayer written by His Holiness the Dalai Lama. The prayer calls on the Buddha to shed the light of truth on a tormented world.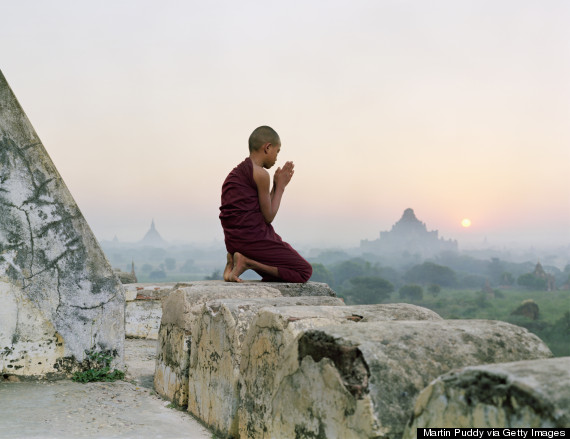 Words of Truth by The Dalai Lama
Honoring and Invoking the Great Compassion
of the Three Jewels; the Buddha, the Teachings,
and the Spiritual Community
O Buddhas, Bodhisattvas, and disciples
of the past, present, and future:
Having remarkable qualities
Immeasurably vast as the ocean,
Who regard all helpless sentient beings
as your only child;
Please consider the truth of my anguished pleas.

Buddha's full teachings dispel the pain of worldly
existence and self-oriented peace;
May they flourish, spreading prosperity and happiness through-
out this spacious world.
O holders of the Dharma: scholars
and realized practitioners;
May your ten fold virtuous practice prevail.

Humble sentient beings, tormented
by sufferings without cease,
Completely suppressed by seemingly endless
and terribly intense, negative deeds,
May all their fears from unbearable war, famine,
and disease be pacified,
To freely breathe an ocean of happiness and well-being.
And particularly the pious people
of the Land of Snows who, through various means,
Are mercilessly destroyed by barbaric hordes
on the side of darkness,
Kindly let the power of your compassion arise,
To quickly stem the flow of blood and tears.
REAL LIFE. REAL NEWS. REAL VOICES.
Help us tell more of the stories that matter from voices that too often remain unheard.
BEFORE YOU GO
PHOTO GALLERY
Meditation 101 Reading List