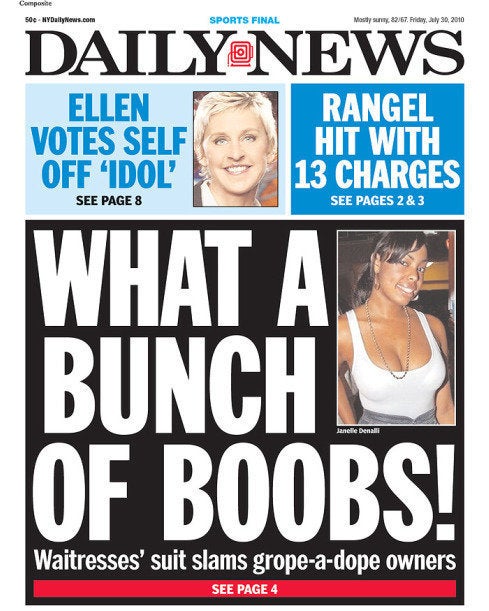 Both articles focus on Winslet's divorce from director Sam Mendes and the ex-couple's well-managed morning routine. And the Daily News article, written by staff writer Jacob Osterhout, even quotes directly from the Daily Mail article — although Osterhout credits the quote to an "observer," and not the Daily Mail.
The ledes of the two articles are near-identical.
Late afternoon in Chelsea, New York, and a scruffy-looking man, prematurely greying and carrying bundles of scripts, hurries from an apartment block. Accompanied by a two female assistants, he leaves in a black car.

Not more than three minutes later, his estranged wife arrives, driving herself in an Audi. With her blonde hair in a pony-tail, she passes unnoticed into the building.

The woman is Oscar-winning actress Kate Winslet, and the man she has so neatly avoided is her soon-to-be ex-husband, Sam Mendes.
There's a scene playing out in downtown Manhattan that has A-list celebrities, and the industry-types who manage their image, taking note.

It opens with an unremarkable-looking middle-aged man stepping out of an upscale warehouse apartment block trailed by two female assistants. The trio cross the wide, tree-lined street and disappear into a black town car, which departs briskly under the shadow of the nearby High Line Park.

A few minutes later, an Audi pulls up in front of the five-story, red-brick building and a casually dressed, pony-tailed blond alights.

Nobody looks twice at the blond (who is, of course, beautiful) as she walks by the young doorman (clad in jeans and a T-shirt) toward the elevator that whisks her to a triplex penthouse apartment topped with a roof-garden boasting a cinematic Hudson River view.

The blond is Oscar-winning actress Kate Winslet ("The Reader," 2008) and the man she just missed on the street is her estranged husband, Oscar-winning ("American Beauty" 1999) director Sam Mendes.
And Osterhout even quotes from Daily Mail writer Alison Boshoff's article directly, though he credits the quote to "one observer" and not the Daily Mail:
Day after day, they repeat this pattern. Their timing is so impeccable that it's clear their entrances and exits are being stage-managed.
"Day after day, they repeat this pattern," reports one observer who has been keeping a beady eye on the block between 10th and 11th Aves. since the couple split four months ago. "Their timing is so impeccable that it's clear their entrances and exits are being stage-managed."
"The Daily News was made aware this morning of an inadvertent omission of credit in our article about Kate Winslet in the "Your New York" Sunday section," a spokesperson told the Huffington Post. "The article should have credited the UK Daily Mail's Alison Boshoff for the comment that was quoted from 'one observer.'"
Osterhout does include many facts beyond what appear in the Daily Mail account, including interviews with celebrity-watchers and details on the couple's neighborhood and home.
But was it more than just an "inadvertent omission of credit"? Did the Daily News plagiarize the Daily Mail? Vote below.
Calling all HuffPost superfans!
Sign up for membership to become a founding member and help shape HuffPost's next chapter