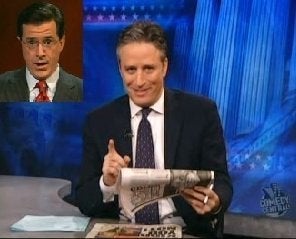 First reported by NoFactZone: "The Daily Show with Jon Stewart" and "The Colbert Report" will return to air on January 7, 2008, after being on indefinite hiatus since the WGA strike officially started on November 5, 2008. The news leaked late this afternoon, and was officially confirmed by Comedy Central at around 6:15 pm. Here's the official statement:
"'The Daily Show with Jon Stewart' and 'The Colbert Report' will resume production on January 7 with both shows returning to air that night without their respective writing staffs. The January 7 return follows a scheduled two-week, end-of-year hiatus that was previously built into the shows' production calendars. We continue to hold out hope for a swift resolution to the current stalemate that will enable the shows to be complete again."
— Comedy Central

"We would like to return to work with our writers. If we cannot, we would like to express our ambivalence, but without our writers we are unable to express something as nuanced as ambivalence."
— Jon Stewart and Stephen Colbert
"The Daily Show" and "The Colbert Report" are the last two late-night shows to announce a return to air; the rest of them — NBC's "The Tonight Show with Jay Leno" and "Late Night with Conan O'Brien," ABC's "Jimmy Kimmel Live" and CBS' "Late Show with David Letterman" and "The Late Late Show with Craig Ferguson" will all be returning to air on January 2nd — also without their writers (though CBS' late shows may have worked something out with the writers by then).
Related
Popular in the Community