If you liked Rickrolling and Piña Colliding, but want a side of political snark with your memes, then "Daily Show" creation #McConnelling is about to be your jam.
Jon Stewart couldn't contain his glee Thursday night, as he introduced his show's favorite new discovery: that Mitch McConnell's latest campaign ad is perfect when paired with alternate soundtracks. Watch above as he tries out a bunch of options his staff came up with, including Sir Mix-a-Lot and Bryan Adams versions.
Stewart also invites everyone to create their own versions of the meme and hashtag it #mcconnelling... because hope is a good thing, and no good thing ever dies.
Before You Go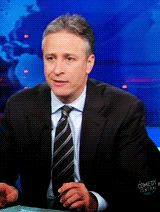 Jon Stewart GIFs
Popular in the Community