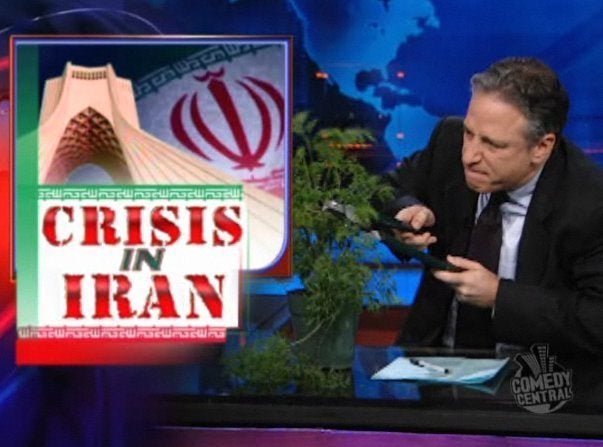 Jon Stewart devoted the bulk of his show to Iran last night, first mocking American talking heads for repeatedly asking if Obama was doing enough. "Someone should have the guts to entangle us in the politics of that region," Stewart quipped sarcastically. He then moved on to Iranian leaders who insist that this is not a popular uprising by the people, but an insurgence from the West and got increasingly upset at being blamed yet again for doing the wrong thing in Iran. "I just want to garden!" Stewart yelled, oddly.
Aasif Mandvi, the "Daily Show"'s senior foreign looking correspondent, then defended the Iranian regime saying, "Without their meddling [Western] eyes seeing and their trouble-making ears hearing, maybe this whole thing would go away."
Finally, Jason Jones revealed another package from his actual trip to Iran in which he spoke to three men that were subsequently arrested by the Iranian government. These men were all reasonable and engaging, and therefore a threat to Ahmadinejad's repressive regime.
For more of the "Daily Show"'s Iran coverage click here.
Full Episodes
Full Episodes
Full Episodes
REAL LIFE. REAL NEWS. REAL VOICES.
Help us tell more of the stories that matter from voices that too often remain unheard.