The 43-year-old Staten Island resident is the "gentle giant" who died on July 17 after being placed in a chokehold by police during an arrest for allegedly selling untaxed cigarettes.
On Monday night's show, senior black correspondent Larry Wilmore compared Garner's case to a recent incident in Michigan in which a man brandishing a rifle threatened police -- but instead of a chokehold, he got a conversation (and his gun back).
"Seriously, he was asking for a chokehold, and they still didn't give it to him," Wilmore told host Jon Stewart. "I mean, this guy could have shot his way out of Fallujah. The only thing Eric Garner was brandishing was his black."
Check out the clip for more.
Before You Go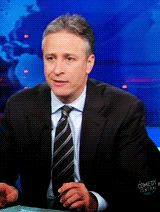 Jon Stewart GIFs
Popular in the Community