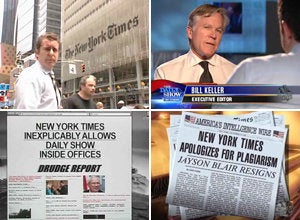 "The Daily Show" correspondent Jason Jones visited the New York Times offices on Wednesday night's show for a hysterical segment titled "End Times."
Jones got access to Executive Editor Bill Keller as well as Times Assistant Managing Editor Rick Berke and Communications Coordinator Kristin Mason.
At one point, walking through the office with Mason, he picks up a landline phone and asks, "What's this?"
When told that it's a phone, he jokes, "A landline phone? I'm a reporter from the '80s, making sure everything's factual. You guys are like a walking colonial Williamsburg!"
Later, walking past a stack of newspapers, Jones picks one up and says, "You know who would love this? My grandma."
Full Episodes
The heart of Jones' mockery of the paper is that it publishes yesterday's news — or, as he called it, "aged news."
"Even today there are some who still think there's merit in publishing the news 24 hours after it's happened," he said.
He challenged Berke to give him "one thing in [the paper] that happened today," to which Berke responded, "Nothing here happened today, but I can give you several things that didn't happen yesterday."
Keller defended his paper, calling it "the best package of firsthand witness, thoughtful analysis, intelligent commentary on what's happening in the world that you want to know." He also took a stab at online news aggregators, including the Huffington Post, saying, "The last time I was in Baghdad I didn't see a Huffington Post bureau or a Google bureau or a Drudge Report bureau there."
"It's a lot easier to sit home and riff on the work that somebody else does," Keller told Jones.
"And more fun to read!" he immediately replied.
Jones ended with a joke: "What's black and white and red all over?" Newspapers, Keller guessed. "Your balance sheets!" Jones told him.
Support HuffPost
The Stakes Have Never Been Higher
Related
Popular in the Community