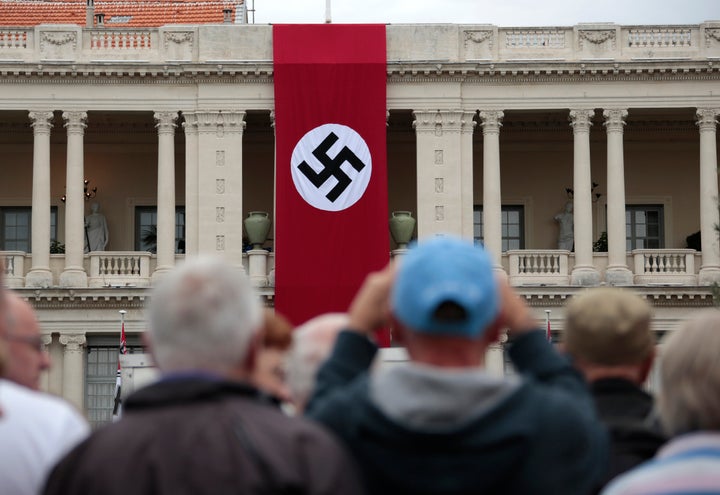 The Southern Poverty Law Center, a leading watchdog group monitoring hate and extremism, has filed a federal lawsuit against the publisher of The Daily Stormer, a top white supremacist website. The group says Andrew Anglin is responsible for a "coordinated, repulsive, threatening campaign of anti-Semitic harassment" directed at a Jewish real estate agent living in Whitefish, Montana.
The SPLC is filing the lawsuit on behalf of Tanya Gersh, who was one of several Flathead County residents who Anglin mentioned in a Daily Stormer article written in December. She, her husband and 12-year-old son received about 700 emails, phone calls and text messages filled with anti-Semitic language and even death threats, according to the suit. 
"In the old days, Anglin would have burned a cross on Tanya's lawn to intimidate her. These days he launched a troll storm against her with vile emails, text messages and phone calls," SPLC President Richard Cohen said Tuesday morning on a call with reporters announcing the lawsuit.
Anglin published his story following reports that Sherry Spencer, the mother of white nationalist leader Richard Spencer, was considering selling a building in Whitefish because of local protests of her son's extremist views. She and her husband have tried to distance themselves from their son's extremism. In December, they wrote an op-ed denouncing racism and saying that their son and his organization, the National Policy Institute, "have never had, do not have, and will not in the future have any office or professional activities" at their building.
Anglin's article, which was riddled with anti-Semitic slurs, listed phone numbers and email addresses of multiple Jewish residents of the county and called on readers to "take action" and "just make your opinions known." He also included photos that had been altered to show some residents wearing yellow stars similar to those Nazis forced Jews to wear in concentration camps, but those images have since been removed from the site. Anglin wrote that he was not advocating for "violence or threats of violence or anything even close to that."
In a follow-up post, Anglin said the "lying Jew media" had mischaracterized his original story as advocating for violence against Gersh and the other Montana residents identified in his story. But in January, he called on his followers to arm themselves and march on Whitefish. He referred to the event "James Earl Ray Day Extravaganza," in honor of the man convicted of murdering civil rights icon Martin Luther King Jr. It was later canceled because Anglin didn't properly fill out permit paperwork. 
In the old days, Anglin would have burned a cross on Tanya's lawn to intimidate her.

SPLC President Richard Cohen
An audibly shaken Gersh told reporters that the horrific threats haven't completely stopped. She also said she is having medical issues, losing her hair and going to therapy. She said she still does not feel safe.
"This was so far beyond harassment," Gersh said. "This was terrorism." 
She and her family were constantly afraid that someone would come after them, she said. Gersh recounted coming home one night to find her husband sitting in the house with all the lights off, suitcases packed. He wanted to "run for safety in the middle of the night," she said.
Gersh also recounted some threatening phone calls she had received. "You really should've died in the Holocaust with the rest of your people," Gersh said someone told her. Another time, she picked up the phone and "all I heard were gunshots," she said. 
Gersh said she decided to file the lawsuit "because Andrew Anglin and his white nationalist supporters have terrorized me and my family for months and my life has changed." She is claiming they invaded her privacy, intentionally inflicted emotional distress against her and violated Montana's Anti-Intimidation Act. The SPLC said it hasn't put a specific dollar amount to the damages it is seeking against Anglin.  
This was so far beyond harassment. This was terrorism.

Tanya Gersh
The Daily Stormer, which Anglin started in 2013 and named after the infamous Nazi paper Der Stürmer, is now the top hate website in America, according to a recent SPLC report. Alexa rankings indicate that it has even eclipsed the traffic of Stormfront, a large white supremacist online forum founded by former Ku Klux Klan leader Don Black in the mid-1990s. The Daily Stormer has become known for using overtly racist, anti-Semitic language and imagery in its articles. It frequently features white supremacist symbols or leaders on its front page.
SPLC has sued, and crippled, white supremacist organizations before. In 1999, the group filed a civil suit against the Aryan Nations after armed security guards chased down and fired upon Victoria Keenan and her son when their car stopped outside the sect's sprawling headquarters in northern Idaho.
The SPLC filed suit on behalf of the traumatized family. A jury awarded a $6.3 million verdict against the Aryan Nations and their leader, Richard Butler, for gross negligence in the selecting and supervising of the guards. By the late 1990s, the Aryan Nations' influence had already begun to wane, but the multimillion-dollar judgement against the hate group would prove to be a critical blow. It forced Butler to turn over the 20-acre compound to the Keenans, severely depleted its finances and further hobbled the sect.
America does not do a good job of tracking incidents of hate and bias. We need your help to create a database of such incidents across the country, so we all know what's going on. Tell us your story.
REAL LIFE. REAL NEWS. REAL VOICES.
Help us tell more of the stories that matter from voices that too often remain unheard.