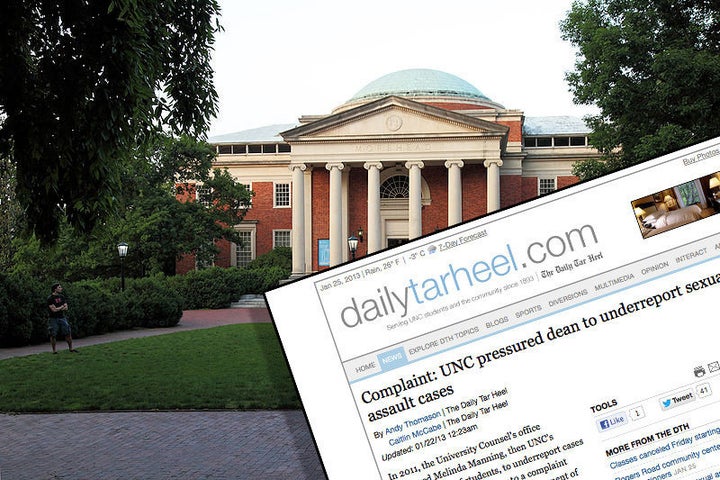 The student newspaper at the University of North Carolina-Chapel Hill, the Daily Tar Heel, published details of a federal complaint filed by survivors of sexual assault without their consent.
On Jan. 16, UNC alumna Annie Clark, UNC students Landen Gambill and Andrea Pino, a fourth unnamed woman and former associate dean of students Melinda Manning filed a complaint against the university with the U.S. Department of Education's Office of Civil Rights, alleging discrimination against victims of sexual violence and their advocates. On Jan. 17, the DTH revealed they had obtained the full complaint and reported more details of its contents, including Manning's claim that she was pressured to underreport the number of sexual assaults on campus.
The women who wrote the complaint did not leak it to the newspaper, and they aren't happy about the Daily Tar Heel's reporting.
"I condemn them for this," Clark wrote in a Facebook status on Jan. 18. "While my name and portions of the story are public, it was never my intention to have specific violations played out on a public stage or to re-victimize those who wrote this complaint."
Andy Thomason, DTH editor-in-chief and one of the article's authors, said he wouldn't reveal how they got a hold of the complaint, claiming he is protecting a source, but insisted there was nothing unethical about how they obtained it.
Thomason said in a statement to The Huffington Post:
After reading portions of the complaint, I determined it would have been wrong to sit on the information, given the seriousness of the allegations combined with their source: a former administrator who worked closely with the sexual assault reporting process. Being granted the consent of those who filed the complaint was not necessary because (a) we are bound by no agreement in our use of this document and (b) no information that compromises student safety or identity has been, or will be, revealed in our reporting.
Thomason said he consulted the Student Press Law Center and determined that complaints filed to the DOE as Clery Act violations are both public record and attainable through a Freedom of Information Act request.
While we understand the need for and importance of investigative journalism, the DTH did not give us timely warnings to even notify our families, and the release of that information is potentially harmful for our case. As we have been told, typically, the Office For Civil Rights does not even release information like this with a Freedom Of Information Act (FOIA) request during an investigation. While we understand that some of this information would have eventually became public knowledge, we strongly disagree with the manner the DTH handled our sensitive information. Furthermore, while the DTH references "as the complaint says" multiple times, much of this article was a copy/paste of our OCR report, making it even more damaging to the survivors involved as we feel our own words were used against us.
Popular in the Community