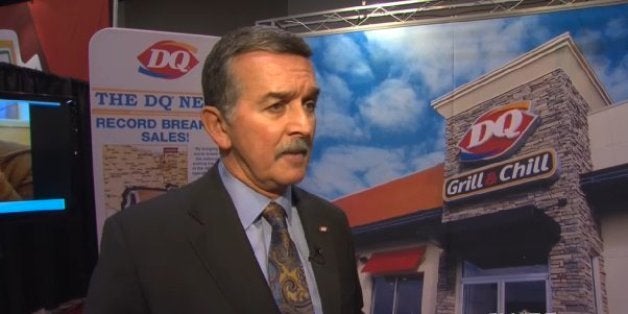 Another fast-food executive just said something shockingly reasonable about the minimum wage.
Dairy Queen CEO John Gainor, in an interview with CNN that aired on Thursday, joined Subway CEO John DeLuca in saying not completely negative things about the idea of raising the minimum wage.
"People need to be paid a fair wage," Dairy Queen CEO John Gainor told CNN's Poppy Harlow.
Gainor said his company was trying to figure out how much it might cost to raise wages for its workers, at a time when President Barack Obama and many fast-food workers are pushing to raise the national minimum wage from its current $7.25 an hour. Republicans and some corporate chieftains, including fast-food executives, have opposed the idea, saying it would raise costs and hurt the economy and low-wage workers.
But earlier this week DeLuca seemed to abandon his objection to the idea of a higher minimum wage, saying it probably wouldn't hurt business. And in a clue to his own thinking about the controversy, Gainor told CNN that low wages made it hard to keep good employees.
"It takes a lot of time to train people," he said, speaking at a convention for Dairy Queen parent company Berkshire Hathaway, the conglomerate owned by Warren Buffett. "You want to make sure you're paying a very good wage, otherwise you have a lot of turnover."
Much of the company's workforce is comprised of "teenagers and part-time" employees who make minimum wage, Gainor said.
Dairy Queen spokesman Dean Peters told The Huffington Post that all but three of the company's 6,300 locations – 4,800 of which are in the U.S. – are owned by franchisees. He said that made it difficult to estimate how many workers earn the minimum wage, or whether any of them would lose their jobs if the minimum wage were to rise. Salaries reported on the employer review site Glassdoor mostly hovered below $8 per hour.
Senate Republicans last week blocked a bill to raise the minimum wage to $10.10 and tie future increases to inflation. President Obama backed the bill last November.
Gainor's interview, filmed last Saturday, was broadcast a day after DeLuca offered his lukewarm support for a wage increase, telling CNBC he was "not concerned" by it. DeLuca had previously called a federal minimum wage hike "a bad idea."
Watch the full CNN interview here:
Popular in the Community